Review: FLIR ONE and Seek bring thermal imaging to iPhone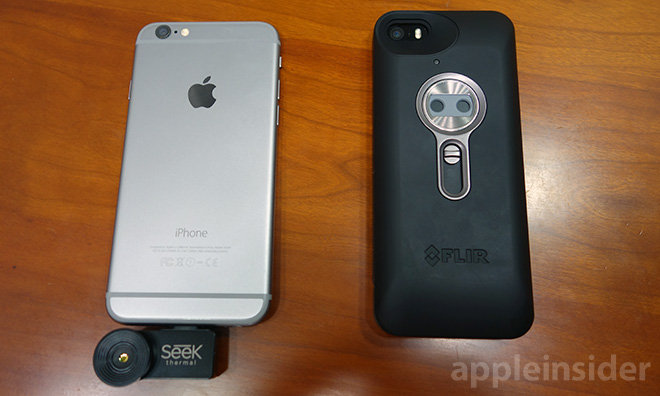 After decades spent in development, thermal imaging hardware has finally trickled down to the consumer, bringing with it the ability to "see" and measure infrared radiation using something as small as an iPhone. FLIR was the first to bring an iOS-compatible offering to market, but is now challenged by startup Seek, which stuffed similar tech into a smaller package at a lower price point.
FLIR, perhaps the most recognizable name in thermal imaging, introduced the FLIR ONE to consumers in January, bringing its highly complex technology to the masses. Priced at $349, the FLIR ONE is a fraction of the cost of FLIR's systems built for pros and the military.
In September, after two years in "stealth mode," Seek Thermal announced an eponymous long-wave infrared vision package to be sold at a more manageable $199 price point. Unlike FLIR ONE, Seek's product is not an integrated permanent design, but can instead be classified as an accessory you take on and off an iPhone when needed.
Both FLIR and Seek furnished AppleInsider with sample units for this review.
Design
There really isn't any reason to compare these two devices side by side as the FLIR is basically an iPhone case, while the Seek can be considered an attachment. Although they're different form factors, the devices do share a few attributes, like high build quality, stable performance and user friendly design.
Due to the size of FLIR ONE's dual-sensor array, which includes both a visible spectrum VGA camera and a "Lepton" long-wave infrared sensor, a simple plug-in dongle would have been infeasible. As an alternative, FLIR integrated the thermal imaging module, internal battery and onboard circuitry into a tidy detachable sled users can pop on and off as needed.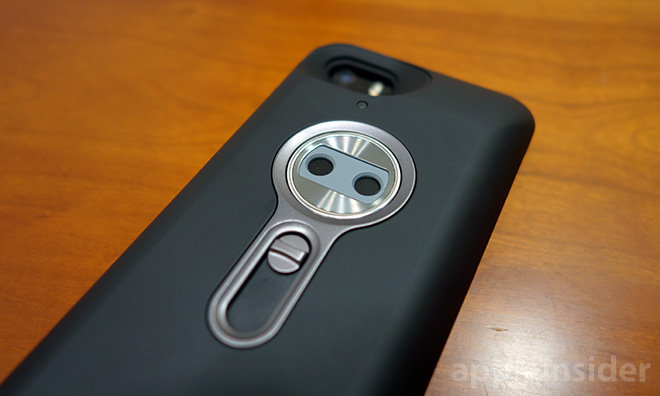 A bumper is designed to stay on the iPhone at all times, while the sled can be detached for charging via micro-USB. Unlike the Seek, which sucks power from an attached phone, the ONE contains a built-in battery. It should be noted that the FLIR ONE does not act as an external battery pack for the iPhone, all power goes to running the thermal sensor and camera.
Combining a battery with circuitry and a dual-lens imaging element, the ONE definitely adds some heft to the otherwise svelte iPhone 5s profile. The bulbous back and generous cutout for the iPhone's own camera and flash makes the design look much heavier than it really is. Soft-touch polycarbonate is used throughout the build.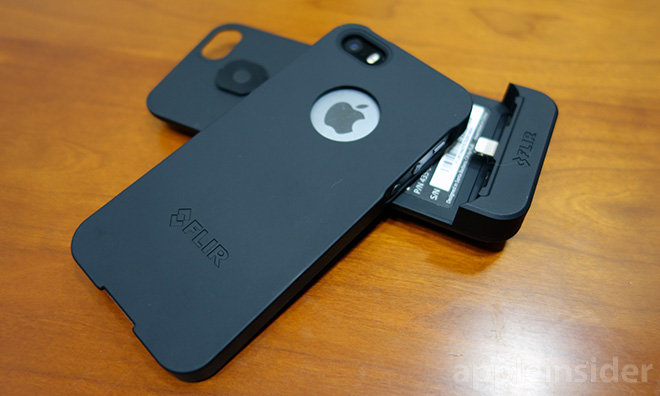 Aside from two FLIR logos, the sled features a no-nonsense design consistent with the company's high-end professional products. A micro-USB port, charging status light and headphone cutout make up the bottom portion, while the thermal imager and mode select/lens cover switch dominates the unit's rear. A multi-color LED sits just above the cameras to signal power status and successful calibration.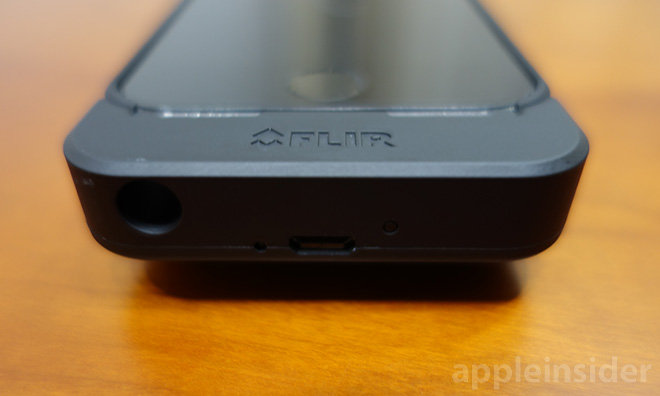 The slim bumper is a similarly spartan affair with cutouts for access to the iPhone's physical volume control and mute switch, rear-facing camera and an empty bottom lip for Lightning port, speaker, headphone jack and microphone. Quite ingeniously, FLIR cut out a circular hole in the case back to seemingly show off the iPhone's Apple logo. In actuality, a groove hidden in the cutout's top portion interacts with a protrusion on the sled to hold the phone in place during use.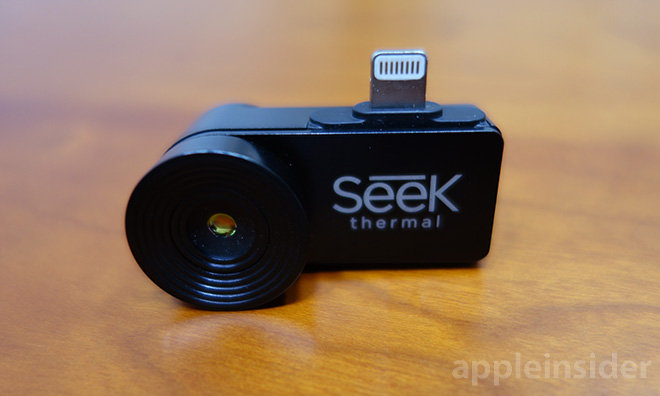 The Seek is on the opposite end of the size spectrum. As seen in the photo above, the module itself is scarcely larger than a person's thumb and, when connected to our iPhone 6, adds about an inch in overall height. It's also fairly thin so as not to stick out too far beyond the iPhone's profile, a plus when working in tight spaces.
With a magnesium housing, Seek's extra weight is imperceptible, but the extra "chin" takes some getting used to. Since Apple's Lightning connector is the only point of contact between Seek and its host iPhone, the thin metal tongue plays double duty as a lone structural support, meaning the entire module can fall off if jostled. In our time with Seek, we didn't find this to be a problem, though having the unit attached does require us to choke up on the phone a little more than normal to avoid obscuring the lens.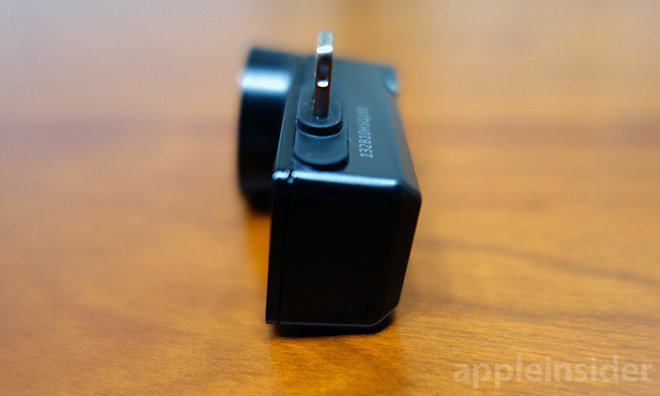 Seek's design is attractive; a small chassis with camera lens-inspired grooves notched into the area surrounding the chalcogenide lens, a material commonly used in photonics applications. On traditional lenses, these ridges deflect reflected light, but here they are more for show. For what it's worth, the design does draw the eye.
Included in the box is a sturdy carrying case filled with dense protective rubber cut to hold Seek firm during transport.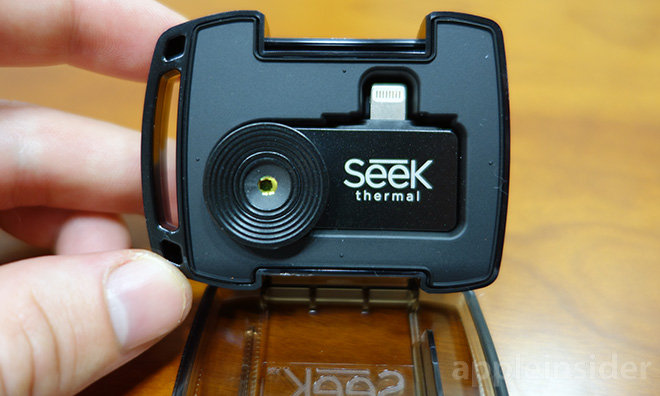 Usage
Like their respective attitudes toward portability, FLIR and Seek incorporate completely different hardware and software to achieve the same thermal vision capabilities.
As mentioned above, FLIR ONE uses two specialized sensors to output a hybrid thermal image. Branded as "MSX" technology, the system merges visual information from the VGA camera with raw thermal data captured by FLIR's 80 pixel-by-60 pixel Lepton array. This approach yields impressive results that lend form to otherwise blurry thermal reading representations.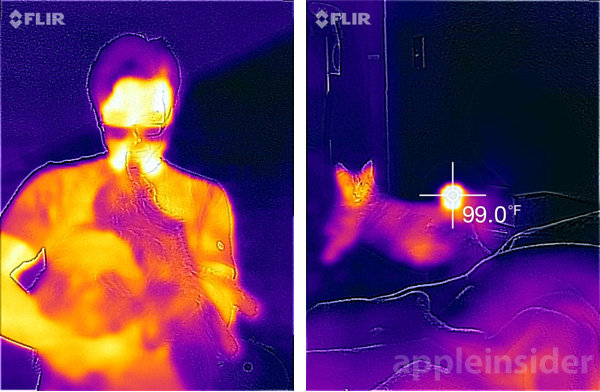 In practice, ONE's dual-sensor setup has been calibrated to be transparent to the user experience. Because the two apertures are situated in close proximity, there is no need to constantly adjust for parallax if objects are at a reasonable distance from the phone (about three feet).
At normal operating distances MSX blending is seamless, but parallax becomes more of an issue when viewing objects closer than an arm's length away. To compensate, FLIR has an app called FLIR ONE Closeup that lets users manually shift the MSX merge points horizontally. Closeup takes photos and video in standard color modes, but lacks finer controls offered by FLIR's flagship app, such as emissivity settings to adjust for a material's ability to radiate thermal energy.
Image response is snappy — lag is perceptible when panning — and processing of photos is equally quick. Videos start instantly and in-app image calibration tools provided by FLIR ONE are top notch. One of the more useful tools is a spot meter capable of pin pointing heat signatures that are displayed on screen as temperature readings.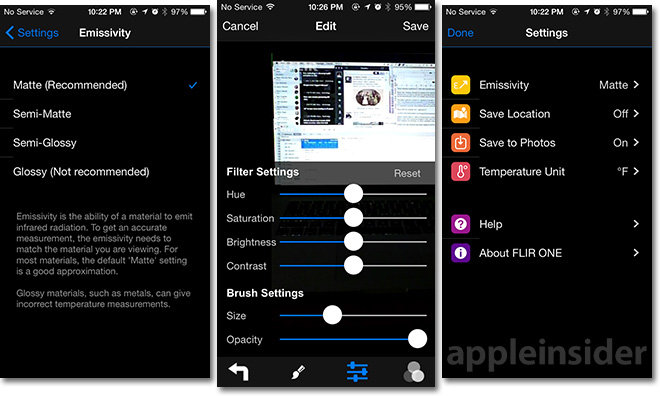 There is one aspect of FLIR ONE's design we found to be a hassle, and that is the self-calibration mechanism. From time to time, the operating app will require you to pull down the "tune" switch located just below the dual-lens assembly. Since our finger is usually situated in that position after turning ONE on, tugging down the spring-loaded slider is not a big deal, but the app constantly asks you to perform the operation. Operating the switch will likely cause the entire phone to move, something not ideal for video recording or time lapse photography.
To be clear, calibration performs a reset of ONE's Lepton sensor, not MSX parallax, so performing a tuning operation is not vital to image quality. To get the most accurate readings, however, FLIR says the periodic adjustment is necessary.
FLIR, with its rich history of military and professional thermal imaging solutions, taps into ONE's hardware with a solid software offering, including a variety of operating modes, temperature features and more. Unfortunately, many "value added" capabilities are split off into separate apps that are otherwise superfluous.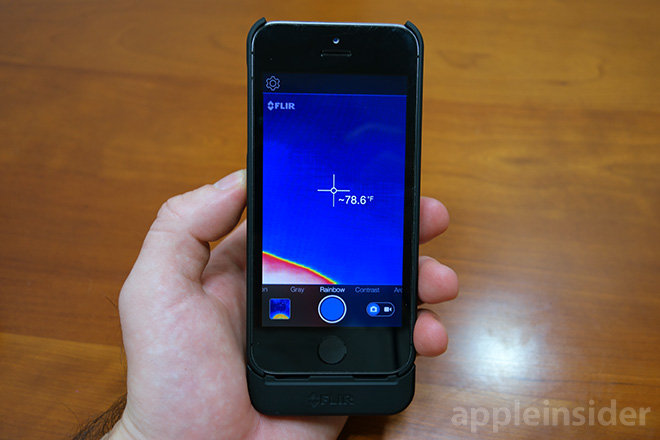 We understand that certain features may be useless to certain demographics — pro users may not need to take a thermal panorama — but breaking off functionality into separate titles clutters the home screen and requires constant app switching to find the appropriate tool. Consolidation is needed.
As for the apps themselves, we were impressed with the aforementioned Closeup as well as FLIR ONE Paint, which lets users "paint" thermal readings onto a regular photo. Basically, the app parses MSX photo data into two distinct images that can then be blended manually.
FLIR ONE Timelapse is another useful tool capable of spacing out photos by seconds or minutes and playing them back as a movie. We wish this feature was baked into FLIR ONE as a secondary capture mode.
Seek's True Thermal Sensor
Seek uses what it calls a "True Thermal Sensor," or more specifically a vanadium oxide microbolometer, capable of detecting long-wave infrared between 7.2 and 13 microns. According to Seek's tech specs, its sensor has a total of 32,136 "Thermal Pixels" spread across a 206-by-156 pixel array.
Sensors are the obvious difference between Seek and FLIR ONE. Because Seek relies on only one thermal sensor to output thermal data, resulting images may appear globular or pixelated. Without sharp boundaries and contrasting tones, as seen on the two-lens FLIR, images coming out of Seek are deceptively blurry. With a higher pixel count, the True Thermal Sensor is actually capturing much more infrared information than FLIR's Lepton, something apparent when performing A/B comparisons.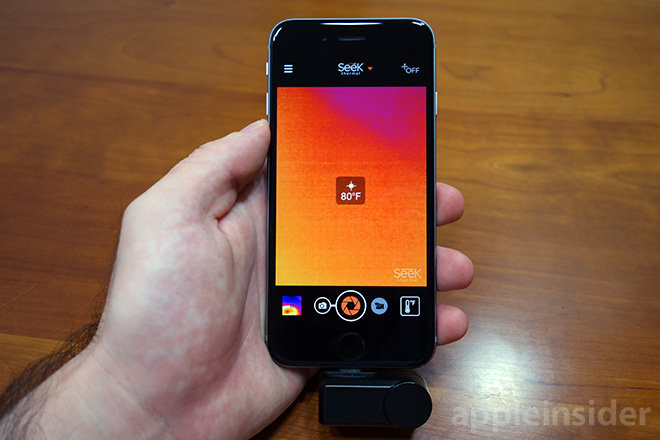 Another area where Seek beats out FLIR is maximum detectable temperature. Seek claims temperature response from -40 degrees to 330 degrees on the Celsius scale (-40 degrees to 626 degrees Fahrenheit) and we confirmed the spec on tests involving a stove. FLIR ONE, on the other hand, tops out at 212 degrees Fahrenheit. After reaching well above 600 degrees, Seek's software went haywire and started ticking off readings in the tens of thousands. Likely a minor bug.
We came away impressed after using Seek, especially as it compares to FLIR's offering. Instead of having to constantly retune the thermal sensor, Seek performs this task automatically as the temperature of the camera body changes. A slight clicking noise can be heard as the electromechanical shutter operates (evidenced in the video above), but the sound is minimal.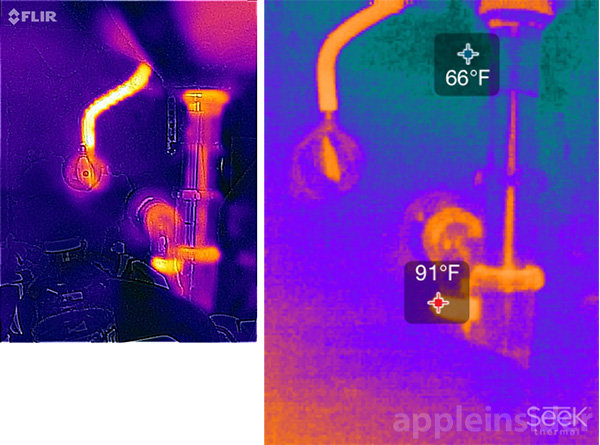 Seek touts three distinct levels of IR sensitivity, "detect, recognize and identify," with corresponding distances of 1000 ft., 250 ft. and 150 ft., respectively. Our tests showed similar results as we were able to detect objects far off in the distance, but unable to recognize or identify exactly what it was. Unlike the FLIR ONE, Seek's 36-degree field of view is quite limited when doing close-up work. Digital zoom is an option, but like other software-based zooming, quality quickly degrades to the point of being nearly unusable.
Seek's single app is highly polished with a bunch of great features to satisfy pros and hobbyists alike. Along with multiple heat map viewing modes — different colors, all-white, all-black, etc. — the app has an option for displaying high/low temperatures, very useful for finding objects in the dark. A threshold mode is also available for detecting heat signatures over a certain temperature, which we found to be a good solution when working in hot environments like a car's engine bay.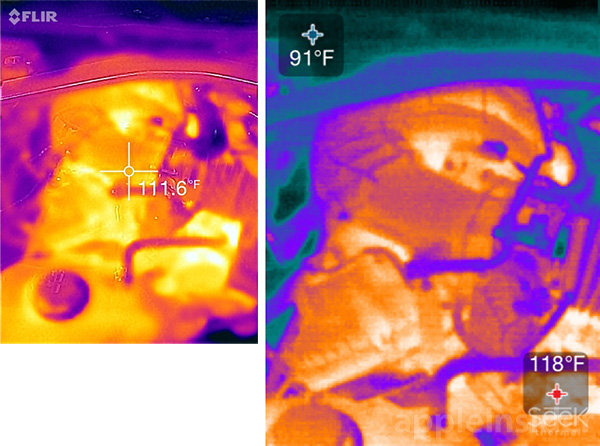 Thermal+ mode is akin to FLIR's Paint app in that it takes raw thermal data and overlays it on top of a normal camera view. Unfortunately, this feature uses the iPhone's camera, which is located some five inches away on the opposite end of the handset. Parallax offset is not properly calculated, resulting in incorrect image stitching that can be quite jarring.
Conclusion
Currently limited to a design specific to the iPhone 5/5s, the ONE only addresses two generations of Apple handsets, is designed as more of a permanent fixture and is expensive.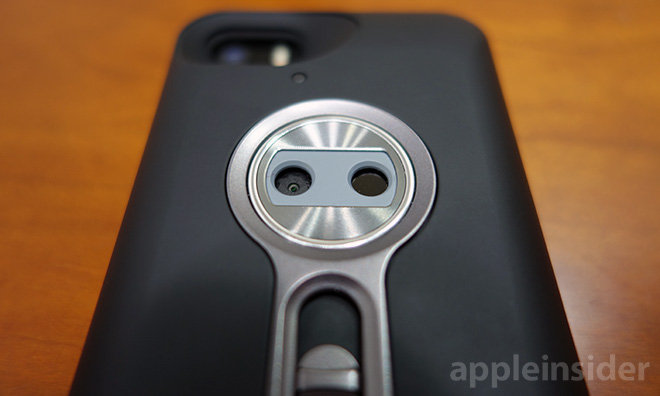 In terms of overall quality, the FLIR ONE is on par with Seek, but lags when comes to thermal radiation recognition. However, what the Lepton sensor lacks in sensitivity, the VGA camera with MSX blending makes up for in incredible physical detail. Images coming out of FLIR ONE just look amazing, plus FLIR offers a robust — if fragmented — suite of software.
At $349, FLIR ONE may cost more than the phone it's attached to, but for some the positional precision offered by MSX is worth it. FLIR remains mum on a potential iPhone 6 or 6 Plus version.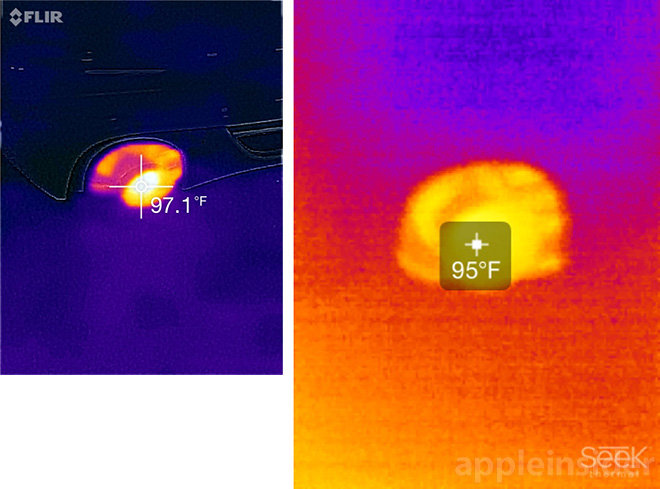 For anyone who doesn't have an iPhone 5 or 5s, but still wants a portable thermal imaging solution, Seek is an obvious choice and comes highly recommended. It's cheaper than the FLIR ONE and boasts a higher sensor resolution, even though the pictures it produces may not be as clean looking.
Considering its flexible design and Lightning connectivity, we view the Seek as the most cost-effective choice and a worthwhile investment that can be used for years to come.
Seek and FLIR ONE are niche products, but in many ways represent the cutting edge of portable technology made possible by Apple's iOS platform. We can't wait to see what's next.
FLIR ONE Score: 4 out of 5
MSX blending brings physical detail to raw thermal data
Solid design with long-lasting dedicated internal battery
Powerful imaging software
Lepton sensor needs periodic calibration
Design specific to iPhone 5/5s
Apps need to be consolidated
Expensive
Seek Thermal Camera Score: 4.5 out of 5
Highly portable, user-friendly design
Fast, self-calibrating sensor
Priced competitively
Narrow field of view
Minimal physical detail in images
Where to buy
Seek Thermal Camera for iPhone 5/5s is available for $199 from the company's website.