Apple's iOS App Store reaches record 7.8M daily downloads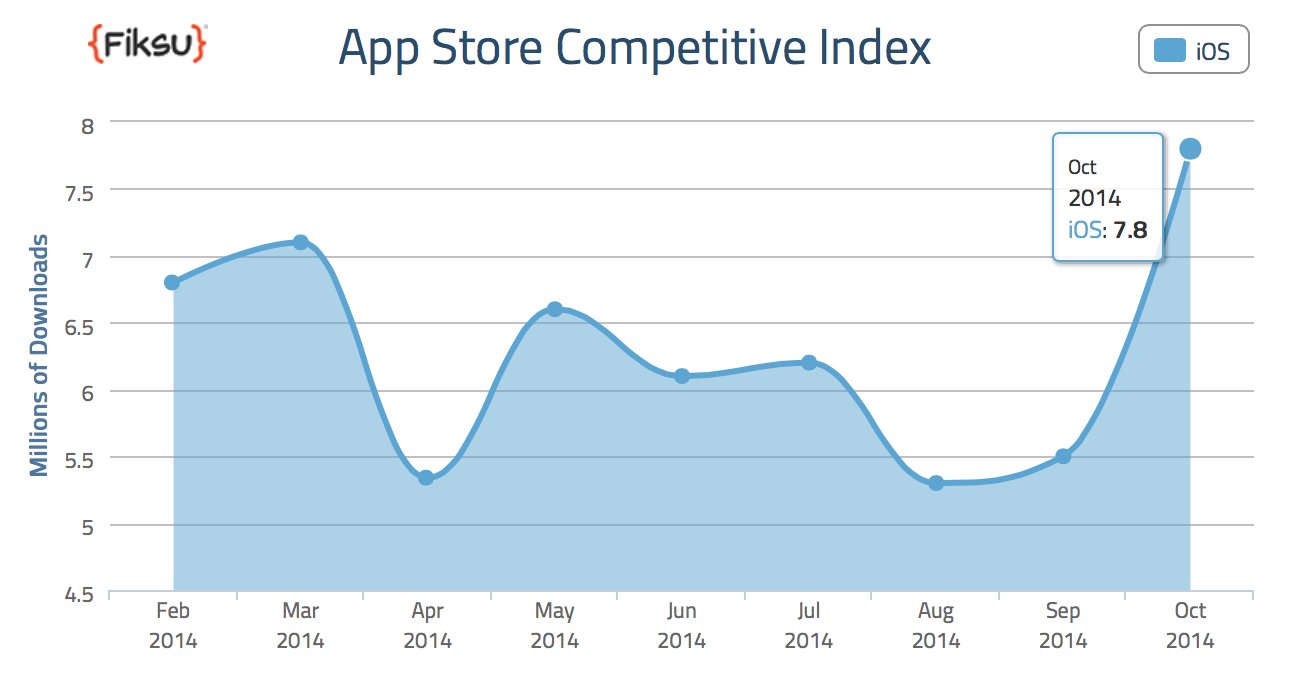 Propelled by the launches of new iPhones and iPads, Apple's iOS App Store saw daily downloads surge in the month of October, reaching a record 7.8 million downloads per day.
The number of downloads was up considerably from the 5.5 million daily downloads the iOS App Store saw in September, according to the latest "App Store Competitive Index" from mobile tracking firm Fiksu. The App Store's performance in October represented a 42 percent increase from September and 39 percent year-over-year growth.
October's growth came after the debut of the new iPhone 6 and iPhone 6 Plus, and was also the same month the iPad Air 2 and iPad mini 3 hit store shelves. Apps taking advantage of Apple's recently released iOS 8 mobile operating system were also available to drive download numbers to a new record level.
With iOS 8 came a whole range of new application types, including keyboards, extensions, and software that taps into Apple's HealthKit developer tools. There are also games that take advantage of the new Metal API found in iOS 8, and applications can also tap in to the secure Touch ID fingerprint scanning capabilities of newer iPhone and iPad hardware.
The latest data provided by Apple in September indicated that there are more than 1.3 million applications available in the App Store in 155 countries around the world. The company also revealed that the App Store receives more than 300 million visitors each week.
And last month, Apple revealed that of the downloads available on the App Store, 675,000 of those have been specifically designed for the larger displays of the iPad Air and iPad mini.
The App Store was also enhanced with the launch of iOS 8, adding new discovery features, making it easier for users to browse and find new apps that might be of interest to them. Downloads and deals have also been enhanced with app bundles, allowing developers to offer a collection of applications together at a discounted price.