Apple Pay gets Fremont Bank, NIH Federal Credit Union support as iOS 8 distribution hits 63%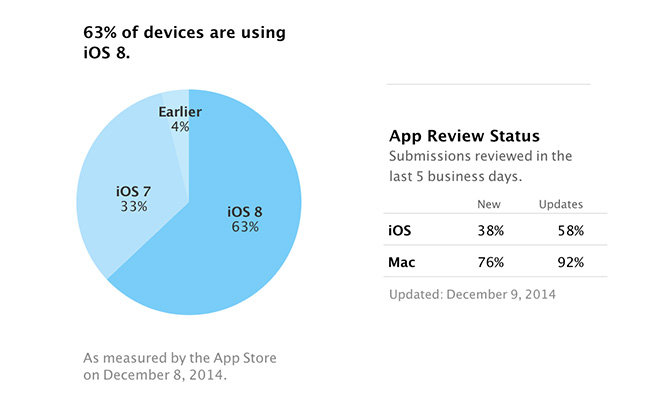 Apple recently announced Apple Pay support for two more banking institutions, with steady growth likely playing a factor in increased iOS 8 distribution, which now stands at 63 percent of all devices registered with the App Store.
In an update to its rolling list of Apple Pay participating issuers, Apple announced support for two more institutions, Fremont Bank and the National Institutes of Health Federal Credit Union.
The additions come less than a week after L&N Federal Credit Union, UW Credit Union and M&T Bank rolled out support for Apple Pay and bring the total number of issuing banks up to 23 across the U.S.
Also updated on Tuesday was iOS 8 distribution statistics, showing an increase to 63 percent as of Dec. 8, up from 60 percent at the end of November. The recent gains are slightly off from a four-percent rise in November, but well above slow adoption of one percent over a two-week span in October.
Possibly contributing to the consistently growing iOS 8 install base is Apple's activation of Apple Pay with the release of iOS 8.1. The mobile payments system lets iPhone 6 and 6 Plus owners conduct touchless transactions at participating stores, while older devices support online and in-app purchasing.