Apple's iOS 8 distribution back on track, now on 60% of devices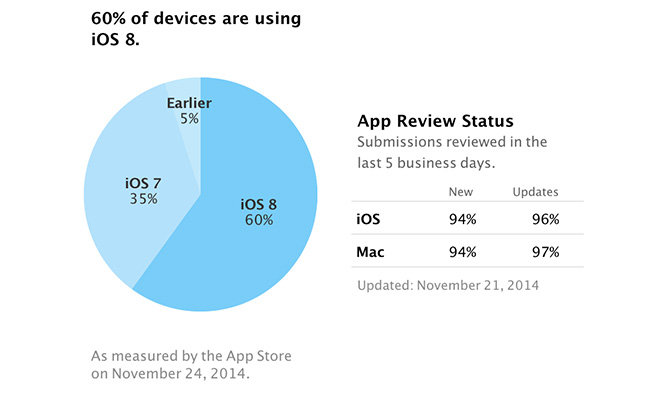 Earlier this week, Apple revealed fresh statistics on iOS 8 distribution as seen through the iOS App Store, saying its latest mobile operating system is now running on 60 percent of iPhones and iPads.
Apple broke down iOS version distribution in a recent update to its developer webpage, noting iOS 8 now runs on a majority of devices registered with the App Store. At 60 percent, the company's latest-generation operating system gained four percentage points from Nov. 11.
The gain again comes from operators using iOS 7, share of which fell to 35 percent over the same period, down from 40 percent. Devices running iOS 6 or below account for 5 percent of App Store registrants, the same number seen two weeks ago.
It appears Apple's iOS 8 is back on track after experiencing stagnation in early October following the botched iOS 8.0.1 update that accidentally disabled cellular connectivity and Touch ID operation on iPhone 6 and 6 Plus handsets. Following initially strong uptake in line with previous major iOS releases, adoption slowed and at one point distribution grew only one percent over a two-week stretch.
Apple released iOS 8.1 last month, activating touchless Apple Pay transactions for iPhone 6 owners and online purchasing for older devices. The most current version, iOS 8.1.1, was recently issued to patch bugs and improve performance for iPad 2 and iPhone 4S models.