Apple's iOS 8 now on 56% of devices as adoption rate slowly picks up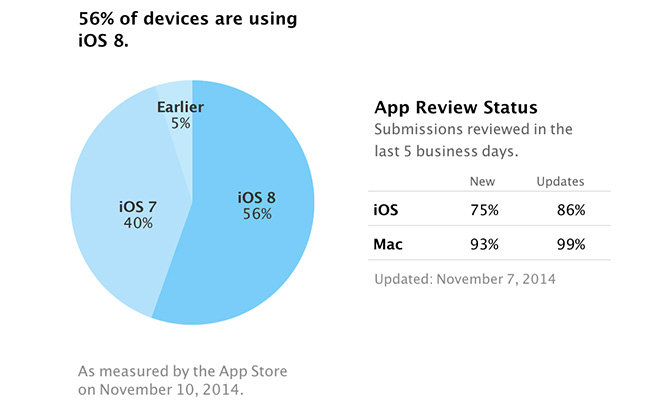 Adoption numbers for Apple's iOS 8 are leisurely plodding along, with the latest statistics showing 56 percent of users are now running the latest operating system nearly two months after launch.
According to Apple's developer webpage, iOS 8 was running on 56 percent of devices registered to the App Store as of Nov. 10, with iOS 7 share dropping to 40 percent. The numbers compare to a 52 percent share for iOS 8 calculated on Oct. 27.
Looking at readings taken from the preceding weeks, Apple's latest iOS appears to be back on track for growth after experiencing setbacks last month. Over the past two weeks, iOS 8 App Store presence grew four percent. Prior to that, the OS gained five points over a three-week period.
Following initially rapid uptake in line with previous iOS releases, iOS 8 adoption stagnated in early October, growing only one percent over a two-week period. At the time, it was thought that owners of legacy iPhone and iPad models were reluctant to upgrade after hearing reports of launch-day issues and subsequent bugs that disabled cellular connectivity and Touch ID on iPhone 6 and 6 Plus handsets.
Apple most recently released iOS 8.1, which activated Apple Pay for iPhone 6 owners and iCloud Photo Library. The company is currently working on an iOS 8.1.1 point update with bug fixes with various bug fixes and performance improvements.