Apple's iOS 8 adoption finally breaks 50% nearly 6 weeks after launch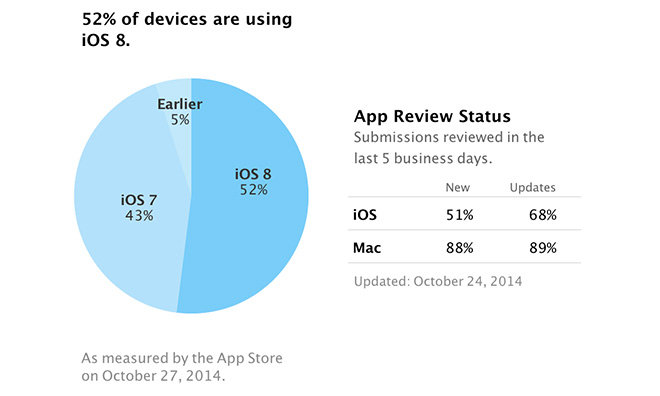 After stagnating earlier in October, adoption of Apple's latest iOS 8 mobile operating system has finally cracked the 50 percent barrier and now stands at 52 percent of devices tracked by the iOS App Store.
As of Oct. 27, iOS 8 was installed on 52 percent of devices registered through the App Store, finally surpassing the marketshare of iOS 7, which accounted for 43 percent of the whole. Apple announced the findings on its developer webpage.
The iOS 8 new metrics represent a five percent increase in adoption over the past three weeks, better than Apple's last update, which saw a meager one percent uptick over a period of two weeks.
By comparison, however, last year's iOS 7 — considered a major revamp to Apple's mobile OS — garnered a 52 percent share of Web traffic in only one week, according to a third-party study.
Share of devices running iOS 6 and older shrunk to 5 percent over the past weeks.
Despite booming iPhone 6 and 6 Plus sales, iOS 8's marketshare may be a side effect of the OS' official launch and subsequent botched iOS 8.0.1 patch. Owners may be reluctant to upgrade to the latest iOS 8 version after seeing problems that included a launch-day bug that prompted Apple to pull HealthKit-enabled apps from the App Store. A fix released one week later contained issues of its own that caused problems with iPhone 6 and 6 Plus cellular connectivity and Touch ID.
Apple's latest iOS 8.1 update is relatively stable thus far and, for iPhone 6 users, activates Apple Pay contactless mobile payments.