Apple releases iOS 8.1.2 with fixes for missing iTunes ringtones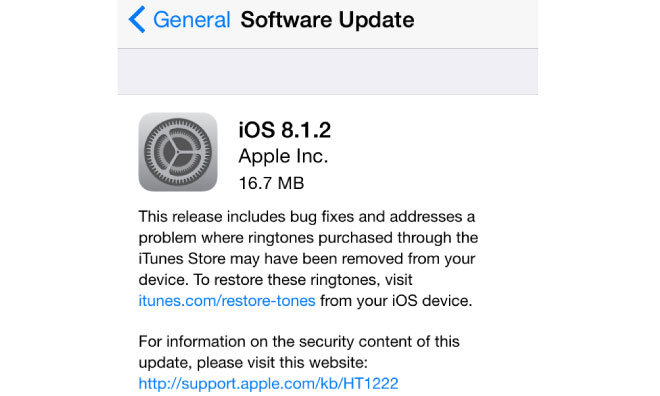 Apple on Tuesday released iOS 8.1.2, the latest version of the company's mobile operating system for its iPhone, iPod touch, and iPad devices that fixes a number of bugs, including one that could have caused users to lose ringtones purchased from iTunes.
Alongside the update, Apple released a web-based tool that would restore purchased ringtones when visited from an up-to-date iOS device. Visiting the tool URL with a device running iOS 8.1.1 or earlier prompts users to update before continuing.
Apple was mum on what other specific changes are included in the 8.1.2 update, saying only that it contains "bug fixes." At press time, Apple's security update listing had yet to be updated, so the update's security content is also unknown.
Tuesday's update comes less than one month after the release of iOS 8.1.1. That update brought with it performance improvements for users of older iOS devices like the iPad 2 and iPone 4s.
iOS 8.1.2 is available now as a free, over-the-air update through Software Update.