iPhone 6 and 6 Plus ship times drop to one day, Retina 5K iMac back in stock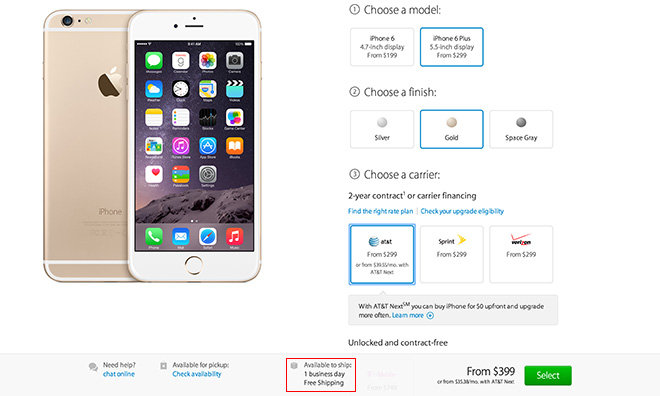 Apple appears to be catching up with demand for its latest devices as the Online Apple Store on Thursday shows one-day ship times for most iPhone 6 Plus storage configurations, 1 to 3 days for iPhone 6 and immediate availability for the Retina 5K iMac.
Apple's online storefront has been updated to reflect iPhone 6 Plus shipping estimates of one day for 16GB and 64GB models in all three colors and major U.S. wireless carriers AT&T, Verizon, Sprint and T-Mobile. Ship-by times for iPhone 6 models in the same capacities also dropped to 1 to 3 days.
Availability of higher capacity 128GB versions also improved for the iPhone 6 Plus, which now stands at 3 to 5 business days. The 128GB iPhone 6, however, is still showing 7 to 10 days for all color options.
In addition to increased online supply, many brick-and-mortar Apple Stores are offering same-day in-store pickup for a majority of both iPhone 6 and 6 Plus models, even 128GB configurations. Users can check stock at nearby outlets through the Online Apple Store.
Interestingly, iPhone 6 and 6 Plus availability flip-flopped compared to supply checks earlier this month that saw much slower ship times for Apple's large-format device. Analysts initially attributed slower lead times on pent up demand for an Apple phablet, but a report in November revealed iPhone 6 sell through outpaced that of its larger sibling three-to-one.
Apple has been making steady progress in meeting iPhone demand since it quickly burned through initial supply shortly after launch. Prior to today, the 5.5-inch iPhone 6 Plus was most impacted by low yields and high demand.
As for Apple's new Retina 5K iMac, shipping estimates have dropped from 1 to 2 weeks seen earlier this month to "In Stock" status for base configurations. Custom orders with CPU, memory, storage and graphics card upgrades can delay ship-by times up to 2 to 4 business days, but the change in availability suggests Apple has all but caught up with demand.
Those looking for fast delivery on select custom configurations, including iMac + AppleCare deals, can check out AppleInsider's Price Guides, a portion of which is included below.