Apple iPhone 6, 6 Plus and Retina iMac ship times improve in time for holidays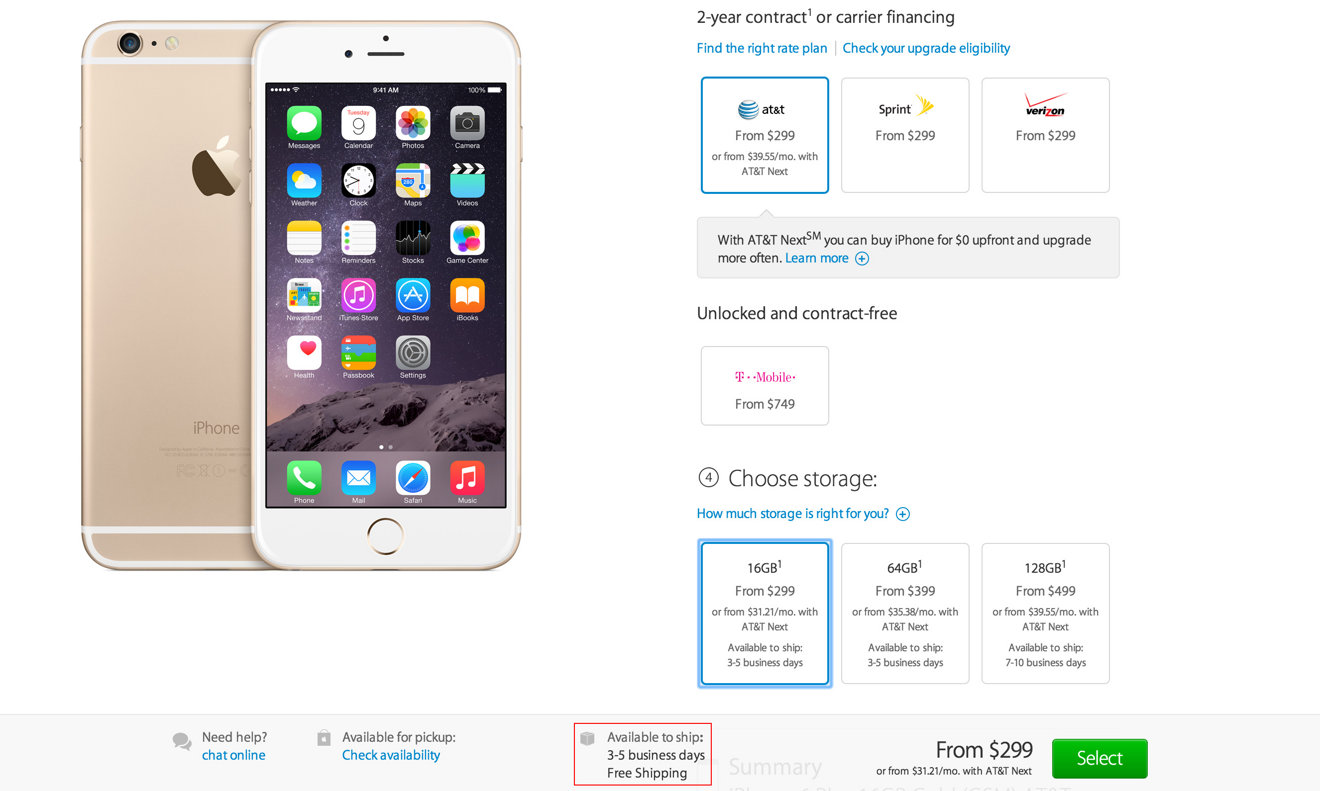 It appears Apple's supply chain is making significant progress in catching up with demand, as all non-128GB iPhone 6 and 6 Plus models now show ship-by times of three to five days, while 5K Retina iMacs are listed as ready to ship in one to two weeks.
A quick check with the Online Apple Store confirms 16GB and 64GB iPhone 6 and 6 Plus versions in all colors are available to ship in 3-5 business days. Interestingly, all 128GB variants are showing slower 7 to 10 day ship-by dates, suggesting a shortage of high-capacity memory modules.
Certain models are also available for in-store pickup at select Apple Store locations, though customers should check Apple's online storefront for current stock status.
A November stock check saw staggered ship times for the iPhone 6 and 6 Plus, with the smaller 4.7-inch version pegged at 5 to 7 days, and 7 to 10 day estimates for the phablet.
Apple is showing steady progress toward reaching an iPhone 6 supply and demand equilibrium after falling woefully behind just hours after launch. The new 5.5-inch iPhone 6 Plus was most affected by low supply yields, though analysis in November found sales of the 4.7-inch iPhone 6 outpaced Apple's phablet three-to-one.
As for the new 27-inch iMac with 5K Retina display, ship times now stand at 1 to 2 weeks, up from 3 to 5 weeks last month. After Apple took the wraps off its ultra high-resolution all-in-one in October, demand quickly outstripped supply and the computer has seen delayed shipping ever since.
For those looking for faster delivery and savings, AppleInsider has teamed with Apple Authorized Reseller Adorama for a limited-time promotion that offers $50 off 5K Retina iMacs with 3-Year AppleCare Protection Plan (and no tax in 48 states). Prices on all configurations can be found in AppleInsider's Mac+AppleCare Price Guide , a portion of which is included below.