iPhone 6, 6 Plus shipment times drop to 7 to 10 days, 6 Plus at 1 to 2 weeks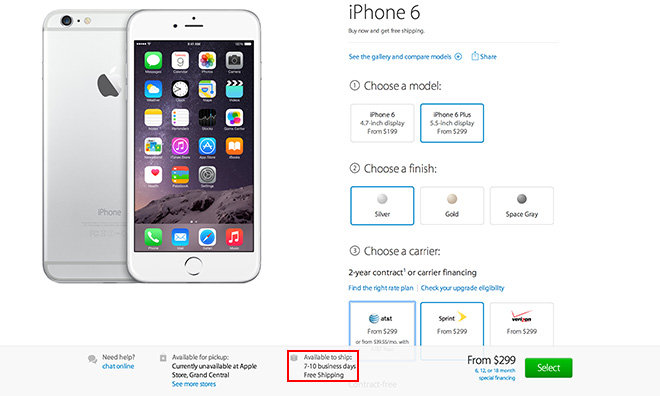 AppleInsider is supported by its audience and may earn commission as an Amazon Associate and affiliate partner on qualifying purchases. These affiliate partnerships do not influence our editorial content.
Apple is slowly catching up with demand for its popular iPhone 6 two months after the handset launched, with the company's online storefront now showing shipping times pegged at 7 to 10 days for most models, including the 16GB iPhone 6 Plus.
A check with the Online Apple Store shows iPhone supply is slowly creeping up on a balance with demand, which quickly depleted initial stock when the smartphone duo hit store shelves in September.
Currently, both 64GB and 128GB iPhone 6 models, as well as the 16GB iPhone 6 Plus, are available to ship in 7 to 10 days in all colors and on all major U.S. cellular carriers. Additionally, the 16GB iPhone 6 variant is on a 5 to 7 day ship-by timeline, while some brick-and-mortar Apple Stores are showing in-store pickup availability for various iPhone 6 versions.
As for the iPhone 6 Plus, shipment times are slightly improved from previous 2 to 3 week estimates, but supply is still coming in at a trickle. The Online Apple Store is now listing 1 to 2 week ship-by dates for most iPhone 6 Plus variants operating on U.S. networks, while only a few 16GB versions are available for in-store pickup.
AppleInsider has confirmed that in-store availability as reflected on Apple's website is up to date, though customers may want to check back regularly as stock may fluctuate.
Apple announced the iPhone 6 and iPhone 6 Plus at an event on Sept. 9. Initial supply quickly ran dry as both models saw pre-order delivery dates slip just hours after going live. Recent market analysis found the 4.7-inch model to outsell the larger 5.5-inch "phablet" by a three-to-one margin in the U.S.