Citing U.S. and European trade sanctions, Apple severs developer agreements in Crimea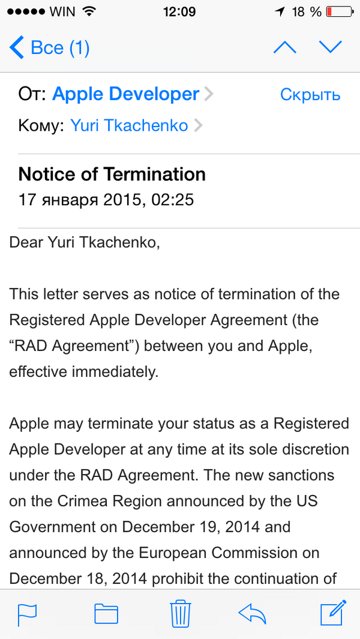 AppleInsider may earn an affiliate commission on purchases made through links on our site.
Apple has begun notifying registered developers in the Black Sea peninsula of Crimea that their Apple developer agreements have been terminated, effective immediately, and they may no longer sell through the App Store as the company works to comply with trade sanctions leveraged following Russia's annexation of the region.
"The new sanctions on the Crimea Region announced by the US Government on December 19, 2014 and announced by the European Commission on December 18, 2014 prohibit the continuation of the RAD Agreement between you and Apple," the notices read, as reported by TechCrunch. "For more information, please review Executive Order 13685 and the European Commission Notice."
Executive Order 13685, signed by President Obama in December, explicitly prohibits "the importation into the United States, directly or indirectly, of any goods, services, or technology" as well as "the exportation, reexportation, sale, or supply, directly or indirectly, from the United States, or by a United States person, wherever located, of any goods, services, or technology" to and from Crimea.
The notices go on to remind developers that as part of their agreement, they must stop using and destroy all materials obtained under the program, such as pre-release software and non-public software development kits.
Crimean developers would theoretically be able to re-register for the program with a new address in the Ukraine or Russia, the publication notes, though that has yet to be confirmed. The disposition of funds that have been collected for app sales but not yet disbursed also remains unclear.
Both the U.S. and the European Union have imposed significant economic sanctions on Russia as a result of the nation's actions in Crimea. Those sanctions —  combined with the falling price of oil — have driven Russia's largely petroleum-based economy to the brink of failure, resulting in extreme currency swings that at one point forced Apple to halt online sales in Russia before re-opening with major price hikes.