New Chinese Apple Store offers taste of upcoming San Francisco flagship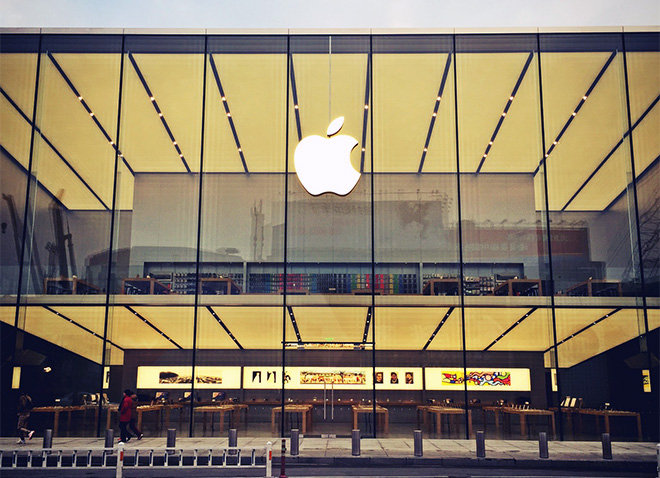 Apple on Tuesday removed protective barriers shielding its new Apple Store in Hangzhou, China, revealing a huge glass facade that opens into a split-level interior closely mirroring renderings depicting the tech giant's forthcoming San Francisco flagship location.
As seen in photos posted to Chinese Apple forum MacX, Apple's West Lake storefront in Hangzhou appears to be a close relative to the company's Union Square outlet in San Francisco.
Aesthetic similarities may be inevitable given both the Hangzhou and Union Square Apple Stores were designed by Foster+Partners, the design firm responsible for multiple Apple retail shops as well as the company's iconic Campus 2 project in Cupertino.
While the overall designs are consistent, the Hangzhou outlet is smaller than its California sibling. When it opens, the San Francisco location is expected to feature two 44-foot-tall steel-framed sliding glass doors that grant entry into an expansive two-level showroom flanked on either side by large staircases. Instead of West Lake's closed back wall, Union Square will include passage onto a second level patio area with tables, chairs and waterfall feature.
Prior to Tuesday's unveiling, the Hangzhou store was shrouded by white protective barriers bearing a red Apple logo and a Chinese poem artfully painted by distinguished calligrapher Wang Dongling. Before being taken down, the calligraphy was immortalized in a video posted to Apple's official Chinese website, which is still available for viewing as of this writing. A recreation of the poem can be found on the West Lake Apple Store's informational webpage.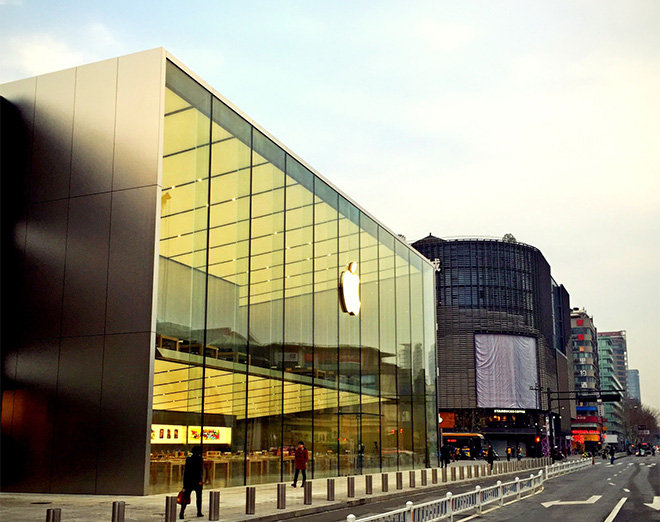 Last Thursday, Apple SVP of Retail Angela Ahrendts said the company plans to open five Chinese stores in as many weeks as part of an aggressive retail expansion set to play out across mainland China. Everything seems to be going according to plan as Apple unwrapped a flagship in Chongqing earlier this month. The location is the second in China to sport a distinctive cylindrical glass entryway, a feature also found sitting atop the Pudong outlet in Shanghai. Apple's Chongqing outlet has not yet been assigned an official opening date.
The West Lake Apple Store in Hangzhou opens to the public on Saturday, Jan. 24 at 9 a.m. local time.