Apple features calligrapher who created Hangzhou Apple Store mural in 'About the Artist' video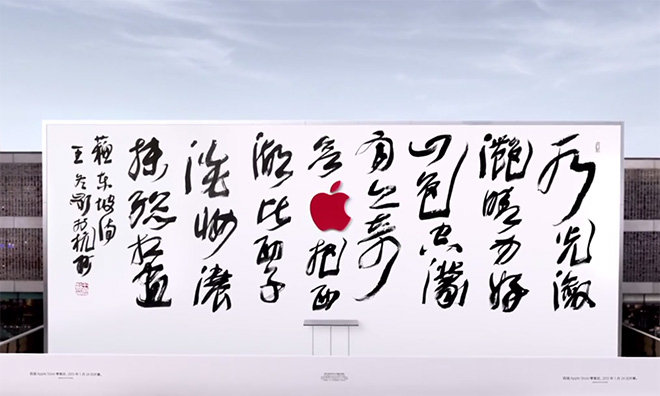 Apple on Thursday posted to its YouTube channel a translated version of a promo video featuring artist Wang Dongling, initially created for the Chinese market in celebration of the unveiling of a new West Lake Apple Store in Hangzhou.
Two days ago, Apple took the wraps off its latest retail outlet in Hangzhou, China, tearing down protective barriers bearing original artwork commissioned from noted calligrapher Wang Dongling. To commemorate the event, a video was created showing a behind the scenes look at Wang's work.
Apple has since translated the short feature and uploaded the results to its official YouTube channel under the title "Apple Store, West Lake - About the Artist." Wang discusses Hangzhou and the West Lake region, explaining that the 2000-year-old poem "Praising West Lake in the Rain" was a perfect fit for the project.
Shimmering water on sunny days
Blurred mountains through rainy haze
West Lake is like the beauty, Xizi
With light or heavy makeup, always beautiful
According to Wang, Hangzhou combines both traditional Chinese culture with a modern cityscape open to new ideas.
"To have a West Lake Apple Store in Hangzhou, it will also add another highlight to the city," Wang said.
Architecturally, the West Lake location is a close relative to Apple's upcoming Union Square flagship store in San Francisco. Currently under construction, the new California outlet will sport the same split-level layout and open glass facade, but is expected to be much grander in scale, with huge 44-foot steel framed doors and a spacious rear patio with waterfall feature.
Apple's Hangzhou storefront is the first of five China locations to open in the coming month. Last week, Apple SVP of Retail Angela Ahrendts said the company plans to open five Apple Stores in the country in as many weeks, all part of an aggressive expansion into mainland China.
The West Lake Apple Store in Hangzhou is scheduled to open its doors to customers on Saturday, Jan. 24 at 9 a.m. local time.