Apple releases iOS 8.1.3 reducing storage required to update, squashing Spotlight bugs, more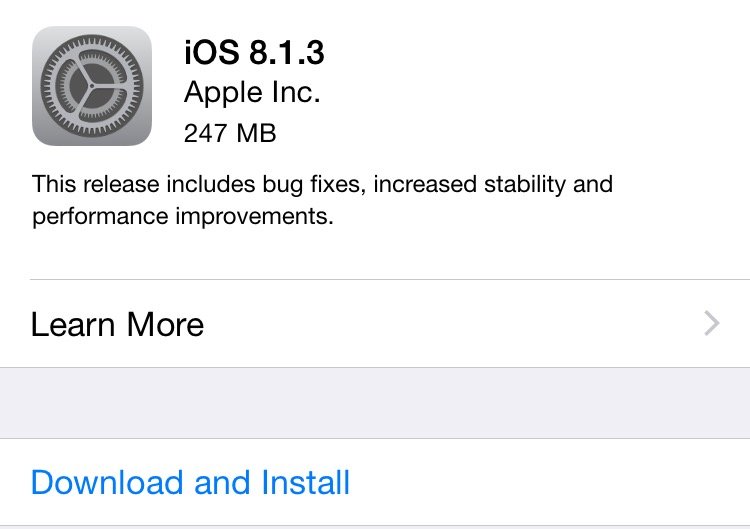 Apple on Tuesday issued an update for its iOS mobile operating system, addressing complaints about how much storage was required to install new software, and also fixing a number of bugs related to FaceTime, iMessages, Spotlight, and iPad multitasking gestures.
iOS 8.1.3 is now available for download through the Software Update section of the native Settings app on iPhone or iPad. Users can also update through iTunes on a Mac or PC.
According to Apple, the minor release includes bug fixes, increased stability, and performance improvements. The spotlighted list of changes are:
Reduces the amount of storage required to perform a software update
Fixes an issue that prevented some users from entering their Apple ID password for Messages and FaceTime
Addresses an issue that caused Spotlight to stop displaying app results
Fixes an issue which prevented multitasking gestures from working on iPad
Adds new configuration options for education standardized testing
The storage issue was a particularly persistent complaint among Apple's mobile device users, many of whom who were met with messages saying they didn't have enough free space on their iPhone or iPad to update.
The previous release of iOS, version 8.1.2, arrived in early December, also a minor bug and security fix. That update addressed an issue that could cause users to lose ringtones purchased from iTunes.
The next major release of Apple's mobile operating system is expected to be iOS 8.2, which is currently in beta for developers. The iOS 8.2 pre-release builds include Apple's WatchKit tools, required for developing applications to run on the forthcoming Apple Watch.