Apple Store employees to get updated attire, go 'back to blue' starting Feb. 2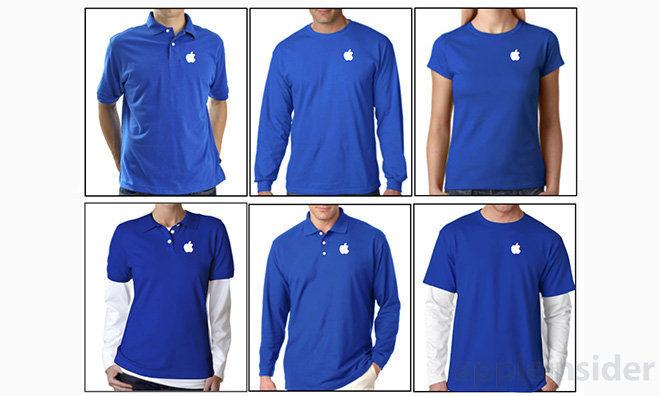 Starting Feb. 2, customers walking into an Apple Store may notice something a little different as employees are expected to wear newly designed crew neck or polo shirts in a familiar shade of blue, but with repositioned and resized white Apple logos.
The new shirt choices, shown above in a company email obtained by AppleInsider, appear to be the next step in Apple SVP of Retail Angela Ahrendts' plan to clean up Apple Store operations.
The updated attire is not surprising considering Ahrendts' deep roots in the fashion industry. The retail chief, who oversees both physical and digital Apple Store operations, vacated her position as Burberry CEO last year for the chance to work with Apple.
Under the new policy, presented as "Back to Blue...But All New," employees can wear either a crew neck or polo shirt, both the same shade of dark blue. The styles come in long and short sleeve variations, though employees will be given one short sleeve version of each to start.
According to the email, Apple's new shirts are made of "finer cotton" for a more comfortable fit and use 10 percent recycled materials. The Apple logo will be smaller compared to current the design and is "centered over the heart."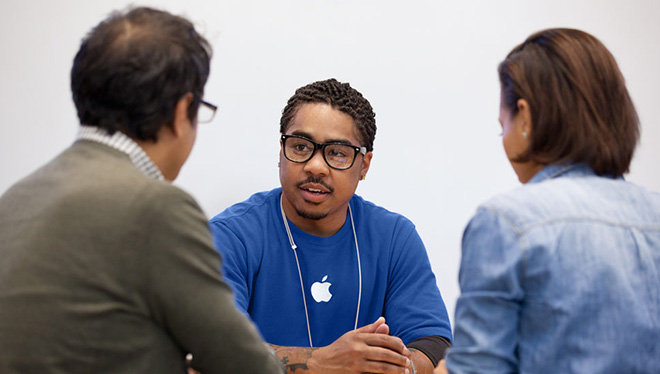 Employees will be able to layer white long sleeved shirts underneath the new blues, but a decision has not been made regarding outerwear like jackets and fleece, clothing many workers view as a necessity for working in Apple's air conditioned stores.