Western Union now accepting Apple Pay for sending money transfers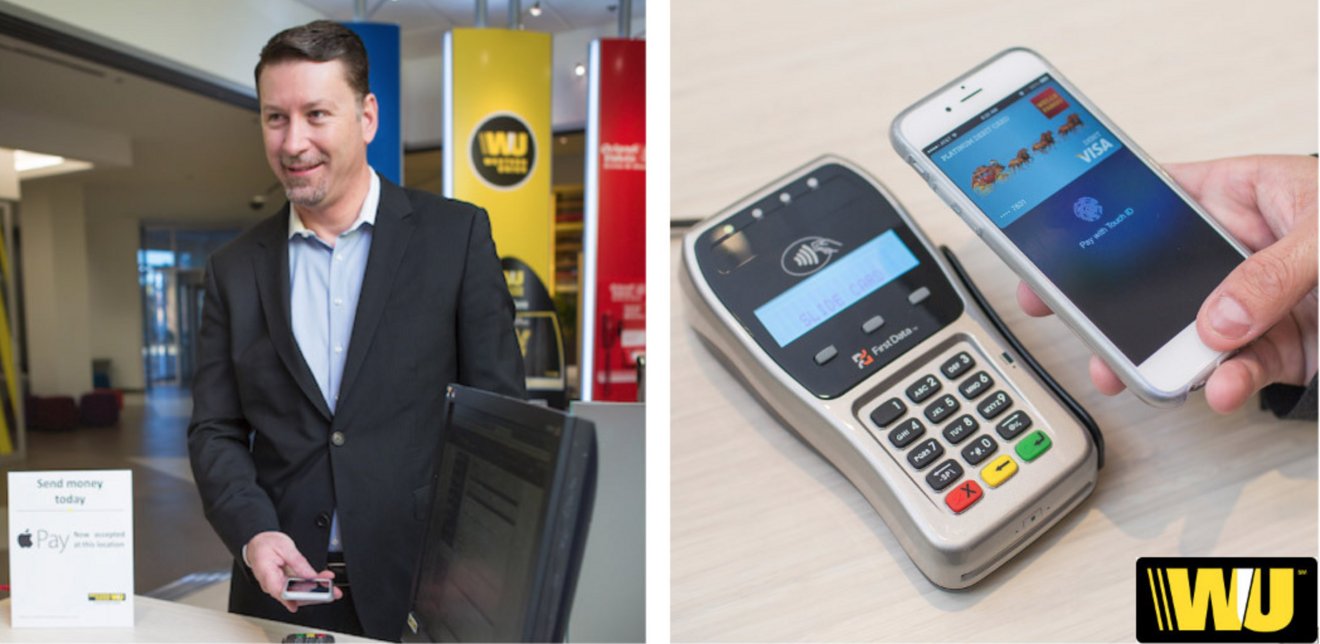 AppleInsider is supported by its audience and may earn commission as an Amazon Associate and affiliate partner on qualifying purchases. These affiliate partnerships do not influence our editorial content.
Thousands of Western Union locations will begin accepting Apple Pay, the company announced on Tuesday, providing customers a way to transfer money and pay bills with their iPhone.
Western Union's flagship locations, a well as kiosks at more than 7,600 Walgreens and Duane Reade stores in the U.S., will all support Apple Pay for money transfers. Support has already been launched at the Western Union location at 1440 Broadway in New York City.
Apple Pay support means that customers will be able to use their iPhone 6 or iPhone 6 Plus to fund a Western Union Money Transfer transaction or bill payment. Sending money requires a registered debit card in Passbook with a participating Apple Pay bank.
Contactless payment terminals at Western Union locations will allow customers to hold their iPhone near the reader with their fingerprint on Touch ID. As with traditional Apple Pay purchases, the debit card number is not transmitted in payment or shared with Western Union, enhancing the security of the exchange.
Flagship Western Union locations, along with more than 7,600 Walgreens and Duane Reade stores with kiosks, will support Apple Pay.
"Innovative payment options are a strategic focus for Western Union, and starting to accept Apple Pay is in keeping with the company's blueprint for the future," said Odilon Almeida, president of Western Union in the Americas and European Union. "Our customers' needs and preferences are top of mind."
The company said that international money transfer senders, particularly recent immigrants, are mobile-savvy customers, noting that six out of ten migrants own a smartphone. In addition, over two-thirds of migrant international money transfer senders, and more than 80 percent of non-migrant senders, own a smartphone.
"Our customers have an expectation of using mobile technology to make money transfer service and product accessibility easier," said Chief Information Officer David Thompson, executive vice president of Global Operations and Technology. "Western Union is rising to the occasion as we harness our system with modifications to link cash and digital transfers between retail locations, mobile phones, prepaid cards, online and traditional bank accounts and ATMs."
The Apple Pay contactless e-wallet service debuted last October with support from a number of major banks, credit card providers, and an estimated 225,000 retailers participating. Support has gradually expanded since then, with MasterCard and the PGA Tour announcing their support for concessions purchases this week.
Apple Pay in-store support will expand to the forthcoming Apple Watch when it debuts this year. The accessory will also grant Apple Pay functionality to owners of earlier, NFC-less iPhone models dating back to the iPhone 5.