Apple affirmed to return to Samsung for 14nm 'A9' chips for next iPhones, iPads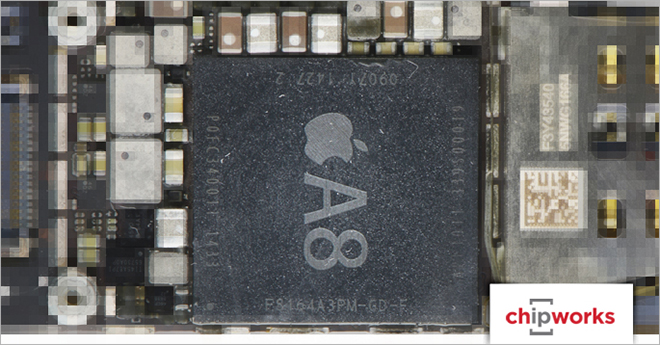 Yet another publication has reported that Apple will once again rely on Samsung for its next generation of A-series processors, returning to a fierce rival rather than expanding its relationship with TSMC.
Samsung will indeed build the 14-nanometer design expected to be adopted by the company's next-generation processor, expected to be called the "A9" chip, Re/code reaffirmed on Wednesday. Citing people with knowledge of the situation, the publication reiterated what numerous rumors have stated before: Samsung will indeed be in charge of building the chips expected to power Apple's 2015 iPhones and iPads.
The main reason is said to be the 14-nanometer manufacturing process, where Samsung apparently has a leg up on rival Taiwan Semiconductor Manufacturing Co.
Samsung is said to have a technical advantage over TSMC, providing 14-nanometer chips for Apple's next-generation chip design.
Apple and TSMC were rumored to partner for years, and that finally became a reality last fall with the iPhone 6 and iPhone 6 Plus, both powered by the A8 CPU. TSMC is said to have handled the majority of A8 production.
Apple's alliance with TSMC was widely anticipated because of the rift that developed between the iPhone maker and Samsung, its chief rival in the mobile space. In addition to its lineup of smartphones, tablets and other portable devices, the company also has a separate division based in Austin, Tex., that builds the custom processors that power Apple's iPhone, iPad, iPod touch and Apple TV.
In fact, it was said in December that Samsung had already begun building the first "A9" chips with a 14-nanometer process as part of a trial run for Apple. TSMC is said to have attempted to compete with Samsung with its own 16-nanometer process, but allegedly lost out for Apple's 2015 devices.
Smaller processors are more efficient, resulting in power savings that can allow devices like the iPhone to see improved battery life, even as the chips themselves become more powerful and capable. The Apple-designed A8 chip has been found through independent benchmarks to outperform the competition while still offering excellent battery life in the iPhone 6 and iPhone 6 Plus.
Reports first surfaced in October claiming that Samsung had won a contract to build 14nm "A9" chips for Apple. Other companies expected to use application processors with that process are Qualcomm and AMD.
Prior to the launch of the iPhone 6, Samsung manufactured all of Apple's low-power ARM processors at its factory in Austin. But starting with the A8 CPU in the iPhone 6 and iPhone 6 Plus, TSMC was said to have taken over the bulk of responsibility, though exactly how much is in doubt.