Rumor: Samsung begins building first 'A9' chips for Apple with 14nm process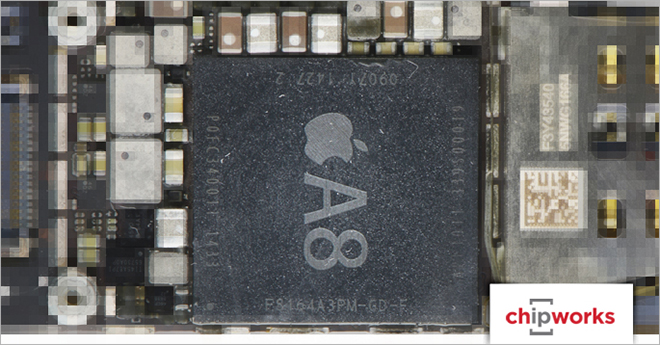 After Taiwan Semiconductor Manufacturing Co. reportedly built the majority of A8 chips for the iPhone 6 and iPhone 6 Plus, Apple is said to have begun turning back to Samsung for its next-generation "A9" processor, which is expected to power the company's 2015 iPhone lineup.
Trial builds of the so-called "A9" chip using Samsung's 14-nanometer FinFET technology began this week, according to ETNews, which cited unnamed "industry insiders." Production was said to have begun on Thursday at Samsung's foundry in Austin, Tex., as part of an effort by Apple to move chip production back to the U.S.
The allegedly agreement is said to have helped Samsung to not only recover some of the foundry quantities it lost to TSMC with the A8, but also gain the upper hand with its 14nm FinFET technology.
But Friday's report claims that TSMC could still be in the hunt with its own 16nm FinFET plus process, which began production in July.
Apple's switch to TSMC is said to have caused a significant hit to Samsung's chip making business. As a result, the company is banking hopes that its 14nm process will be enough to bring the iPhone maker back and recover some of those losses.
Reports first surfaced in October claiming that Samsung had won a contract to build 14nm "A9" chips for Apple. Other companies expected to use application processors with that process are Qualcomm and AMD.
This week's rumored manufacturing start aligns with that previous report, which claimed that Samsung would begin building chips for its partners around the end of 2014.
Prior to the launch of the iPhone 6, Samsung manufactured all of Apple's low-power ARM processors at its factory in Austin. But starting with the A8 CPU in the iPhone 6 and iPhone 6 Plus, TSMC was said to have taken over the bulk of responsibility, though exactly how much is in doubt.
While initial reports claimed TSMC was building all A8 chips for Apple, more recent rumors have claimed Samsung is still supplying about 40 percent of the latest-generation 64-bit mobile processors. The A8 is built through a 20nm process, which itself was a reduction from the previous A7 processor.
Smaller processors are more efficient, resulting in power savings that can allow devices like the iPhone to see improved battery life, even as the chips themselves become more powerful and capable. The Apple-designed A8 chip has been found through independent benchmarks to outperform the competition while still offering excellent battery life in the iPhone 6 and iPhone 6 Plus.