60 minutes with Phorm for iPad mini, its founder, and the advent of physically responsive touchscreens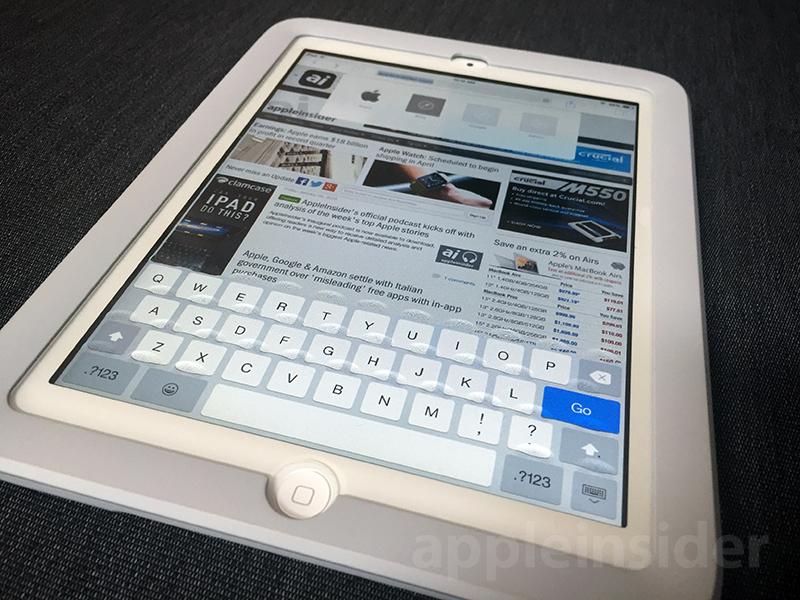 Imagine launching Notes or Messages on your iPad or iPhone and having a keyboard full of transparent, physical buttons magically rise from the surface of your touchscreen. Phorm, which was officially announced on Thursday for Apple's iPad mini, promises to deliver the first taste of this intriguing technology in a consumer package.
Arriving this summer for all three generations of Apple's 7.9-inch tablet, Phorm for iPad mini is the first of several planned iOS device accessories from Tactus Technology aiming to defy the notion that we must sacrifice the usability and tactile feedback of traditional keyboards in order to capitalize on a digital age proliferated by stylish touchscreen devices no thicker than a No. 2 pencil.
The little-known, VC-funded upstart out of Fremont, Calif., has spent the past six years fine-tuning the Tactile Layer panel technology making its debut in Phorm, and AppleInsider last month had the opportunity to spend some time with early builds of the product and Tactus co-founder Craig Ciesla.
As it sits upon a desk, Phorm for iPad mini is reminiscent of a high quality iPad case with a built in screen protector. It weighs roughly 180 grams (6.3oz) and fits the mini snugly, contributing only 3mm to the overall thickness of the device (2mm on the back and 1mm on the front). For those keeping score, that's roughly half the weight and and only a quarter the thickness of other protective cases that include a built-in keyboard component.
Ciesla said Tactus has been working on a version for the iPad Air and is targeting the iPhone 6 version of Phorm for next Winter.While the Tactile Layer glass panel that makes up Phorm's screen protector is the brainchild of Ciesla and his co-founder Micah Yairi, the surrounding casing was engineered by the same industrial design teams responsible for the popular Beats by Dre product line. It's available in either Sky Grey (lighter) or Slate Grey (darker), features the usual recesses and cutouts for the iPad's in/out ports, and sports a slightly texturized finish for gripping and comfort that's similar to that of Apple's latest iPad Air 2 Smart Cases.
On the lower, back half of the Phorm case is a slider bar; shift it to the left to trigger Phorm's optically-clear buttons, or slide it to the right to make them disappear. There's no battery power required. And as far as the 'buttons' go, they're actually more akin to crescent shaped bubbles that act as finger guides rather than clickable buttons. They sit atop the upper ridge of the keys to guide the tips of your fingers to the proper strike zones on the iPad's screen, rather than serving as buttons that cover the strike zones and respond to pressure.
Phorm for iPad mini will only function while holding the device in portrait mode, as it offers users the greatest amount of usable screen real estate for productivity applications. But Ciesla told AppleInsider that the Tactus Layer technology can easily be adapted to facilitate both portrait and landscape support simultaneously — something that could come a bit further down the line.
Around the same time that Phorm for iPad mini begins hitting shelves this summer, Tactus plans to release a version for Apple's iPhone 6 Plus. Beyond that, Ciesla said Tactus has been working on a version for the iPad Air and is targeting the iPhone 6 version of Phorm for next winter.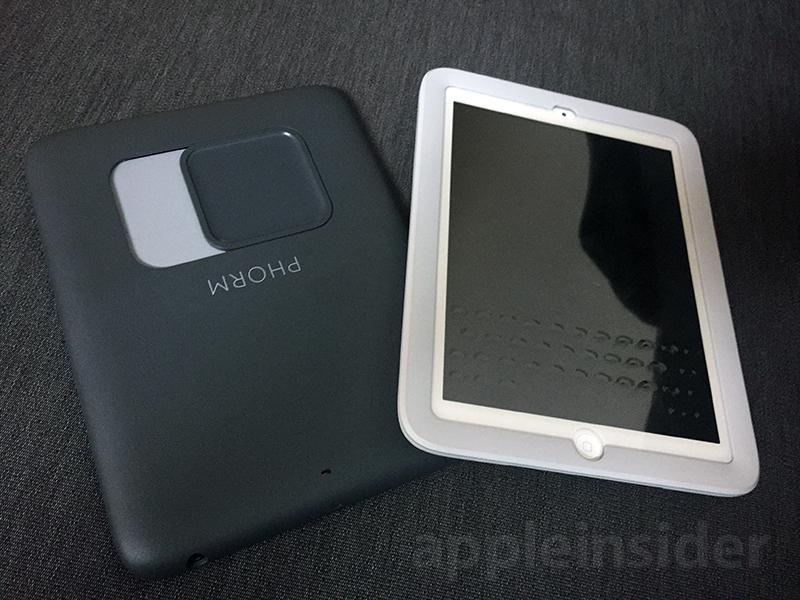 Part of the challenge is crafting each version of Phorm is identifying a button layout and design that will provide the best possible experience for that particular screen size. Craig said Tactus maintains complete control over their shape, size, location, as well as the valleys between them, For instance, the bubble grid that appears on Phorm for the iPad mini was the result of roughly two-dozen different layout trials. It will almost certainly differ from the implementation Tactus will use for the more generously sized iPad Air, he said.
So what's behind the magical buttons that require no electricity to spring to life, and how are they shaped and controlled? Microfluids and precise engineering — a technology that falls under the umbrella of microfluidics. Each Tactile Layer is actually a stack of materials that consists of a substrate and an "elastometerm," which is essentially an elastic top layer that can expand and contract. Channels are routed throughout the substrate towards tiny recesses just below this elastic layer.

Meanwhile, a reservoir filled with a small amount of oil-based microfluid sits in tiny reservoir connected to the left side of the Tactile Layer (behind the bezel and out of view). This reservoir is connected to an actuator (in this case the slider on the back of Phorm). When the actuator is triggered, it forces the microfluids out of the reservoir, through the channels into the substrate and up through the tiny holes, expanding the elastic top layer and thereby creating the buttons and finger guides. Reversing the actuator sucks the microfluids back through the channels and into the reservoir. It takes roughly a second for the fluid to create the buttons and just a tad longer for them to recede back into the panel.
During our brief exposure to early builds of Phorm, we found the buttons to be semi-firm to the touch, but definitely not hard. The firmness — along with buttons' overall height — is something Tactus will be tweaking in the months leading up to release. Though we'll reserve our overall impressions of Phorm for a review of the finalized product, one thing that really impressed us during our sit-down with Tactus was how well its technology shines in a native implementation.
Ciesla and his VP of Sales & Marketing, RK Parthasarathy, demonstrated a conceptual tablet they built with the help of ODM manufacturer Wistron, in which the Tactile Layer was forged on top of the display. The buttons appeared firmer, rose and receded more gracefully, and did so automatically in response to the users actions.
In a native implementation, developers would gain control over the actuator and the button grid through a set of APIs, and there would be no need for a physical slider. Launching a word processing app would automatically trigger the button grid to rise, while clicking in the URL field of a web browser could trigger a keyboard grid with special ".com" buttons; Twitter could trigger one with hashtag keys; and a calculator could prompt a number pad. Similarly, video games could trigger customized game controls to rise from the touchscreen (or even the back panel of a device). And while these implementations would require power to move the actuator, Ciesla said an average day of use on a tablet the size of the iPad mini would drain less than 1% from the device's battery.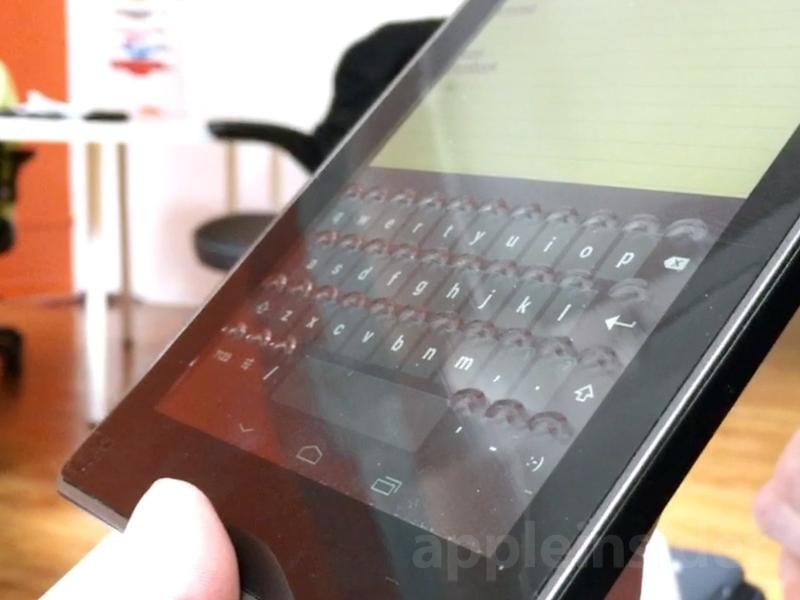 As Tactus remains focused on delivering its first consumer products for Apple's iOS devices, it's hard to argue that it isn't grooming itself as a prime acquisition target by a top-tier device maker. The company of 40 recently completed it second round of funding, having raised a total of $30 million to date. A portion of those funds are going to lawyers who are helping to patent Tactus technology like crazy, and quite successfully at that. So far its filed for 80 distinct patents. Of the first 25 which have come up for review, all 25 have been granted — an almost unprecedented 100% conversion rate, in which the odds are reportedly somewhere in the range of one in a million.
And while Tactus said its seeing strong receptions to its technology in other sectors, such as medical and automotive, the company has undoubtedly spent the most time developing its Tactile Layer panel as a formidable alternative to the Gorilla Glass panel Apple employs on its industry-leading touch-screen devices. Over the past four and a half years, Ciesla said Tactus has refined down the thickness of its proprietary Tactile Layer and glass stack from 1.2mm to just 0.5mm — matching Gorilla Glass, albeit at an optimal 15 grams lighter. It's passed through the gauntlet of scratch and abrasion tests, and has even proven not shatter like its alternatives, he adds.
Though Ciesla was coy on whether he's pitched his technology to companies like Apple and Samsung — or if an acquisition is even in his foresights — it's a sure bet that those companies, and others similarly situated, will be paying close attention to the reception consumers give these early versions of Phorm.
"Our pre campaign [sales] goal is modest by design," he said. "But by next year, we [hope to rank] in the top 3 to 5 Apple accessory makers in the world."
Phorm for iPad mini will begin shipping sometime this summer for a suggested retail price of $149, though early adopters have the option to pre-order one for $99 beginning today. Readers interested in Phorm for iPhone plus can sign up to hear more about the product on the company's waitlist.