Apple Maps Connect service for small businesses extended beyond US borders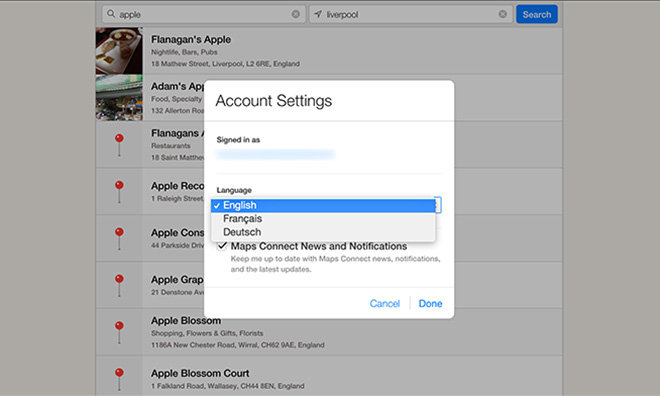 Following a brief outage on Thursday, the Apple Maps Connect Web portal returned to service with new German and French language options, suggesting the service is slowly rolling out internationally.
As of today, small business owners using Apple Maps Connect to add or modify information to Apple Maps "point of interest" listings can switch their account language settings to English, German or French, a change from English-only restrictions seen since the service launched in the U.S. last October.
According to third-party consulting firm Local SEO Guide, which discovered the change, the new options point to expanded support outside the U.S. and into Europe.
With Maps Connect's search tool, which scans Apple's POI database for known business listings, queries for businesses conducted within an area not yet supported by the service are met with a dismissible pop-up window similar to the one seen below.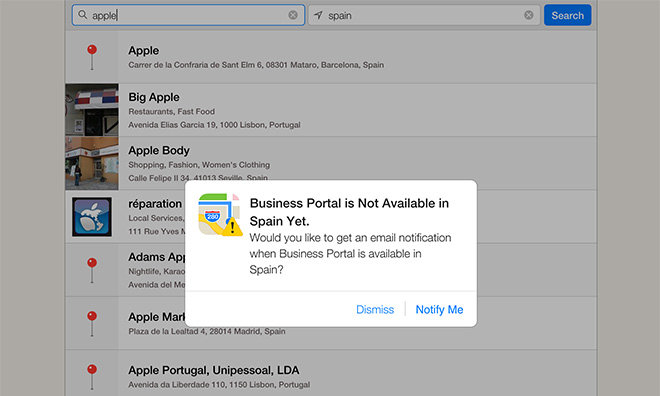 Queries in Austria, Italy, Spain and Switzerland all threw up the "not available" warning, but searches in regions of France, Germany and the UK did not. The results suggest Apple has, or will soon, activate Maps Connect service in those areas.
Apple launched Maps Connect as a tool for small local businesses to create or modify existing POI descriptions with additional details, but in November limited additions to"bulk submissions" from large chains with at least 1,000 locations. To fill in the gaps, Apple Maps uses at least 13 different providers for aggregating business listings.
AppleInsider has affiliate partnerships and may earn commission on products purchased through affiliate links. These partnerships do not influence our editorial content.