Inside Greater China: An exclusive look at Apple Inc in Taiwan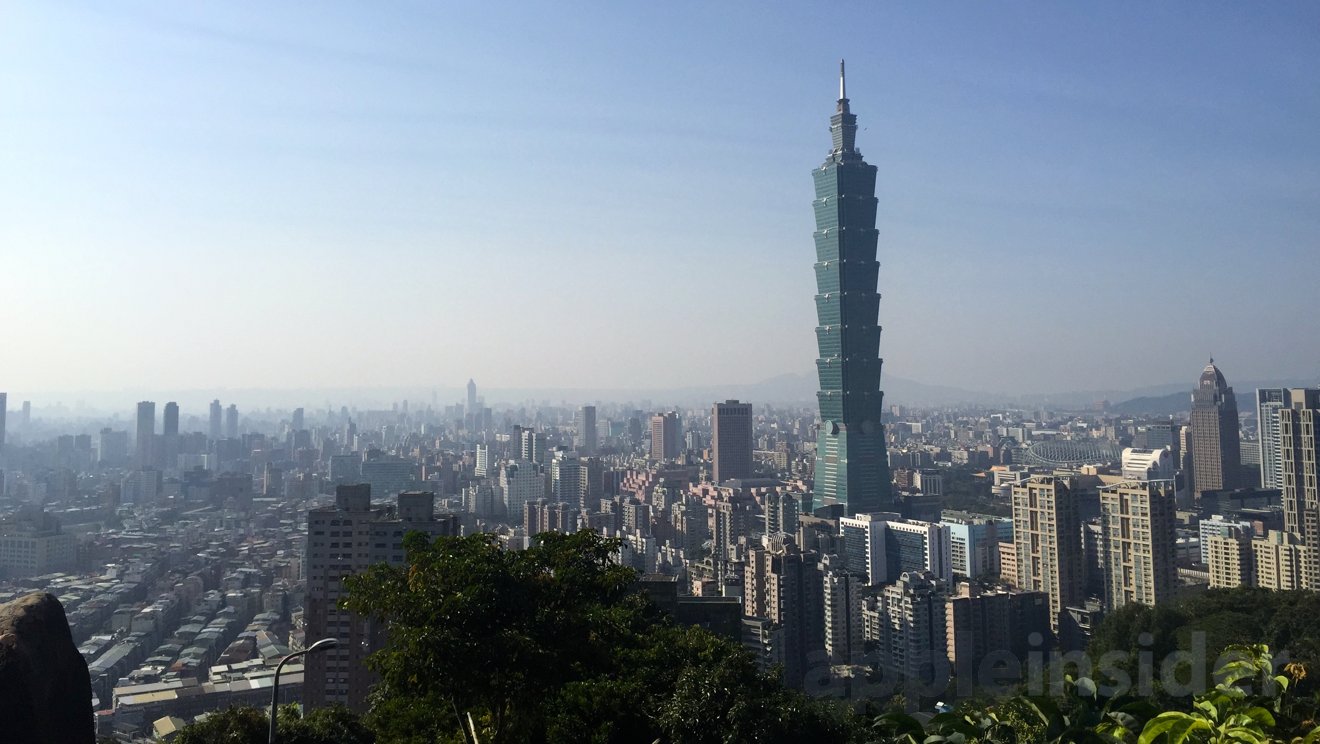 Apple has singled out Greater China— including mainland China, Hong Kong and Taiwan— as a primary growth center. AppleInsider took a trip to learn more, starting with a week exploring Taiwan.
Taiwan's important relationship with Apple
Taiwan is an island nation of 23.4 million people, and it's an important market for Apple. Last fall, Digitimes (which is based in Taipei, the island's largest city) reported that Apple's iPhone 6 models made up four of Taiwan's top five smartphones, helping the company to take 24.6 percent unit share and an astounding 48.9 percent sales value share of Taiwan's smartphones sales.
The iPhone maker's profit share is even higher: 89 percent globally in the last quarter.
Apple's success in the country is particularly impressive given that Taiwan is home to major phone makers including HTC and Asustek (Asus), which came in with second and fourth place in domestic phone sales, respectively, on either side of South Korea's Samsung in third place. Japan's Sony took fifth place in the country's phone sales.
Taiwan is also a critical supplier to Apple. Of the 18 final assembly facilities Apple lists, 15 are operated by companies headquartered in Taiwan, including Compal; Hon Hai Precision / Foxconn; Inventec; Pegatron; Quanta and Wistron. Those Taiwanese companies all operate factories located in mainland China. Of the 18 final assembly facilities Apple lists, 15 are operated by companies headquartered in Taiwan
Additionally, Apple also lists a series of other suppliers based in (or operating from) Taiwan, including Advanced Semiconductor Engineering; AKM Semiconductor (a subsidiary of a Japanese firm with headquarters in California); Career Technology; Catcher Technology; Compeq Manufacturing; Corning (based in Kentucky); Darfon Electronics; Flexium Interconnect; Jarllytec; Largan Precision; Micron Technology (based in Idaho); Nan Ya Plastics; Nippon Mektron (based in Japan); NXP Semiconductors (based in the Netherlands); Shin Zu Shing; Styron (based in Pennsylvania); Taiwan Powder Technologies; Tripod Technology; Unitech; Vishay Intertechnology (based in Pennsylvania); Xintec and— perhaps most famously— Taiwan Semiconductor Manufacturing Company, the fab producing Apple's latest A8 and A8X chips.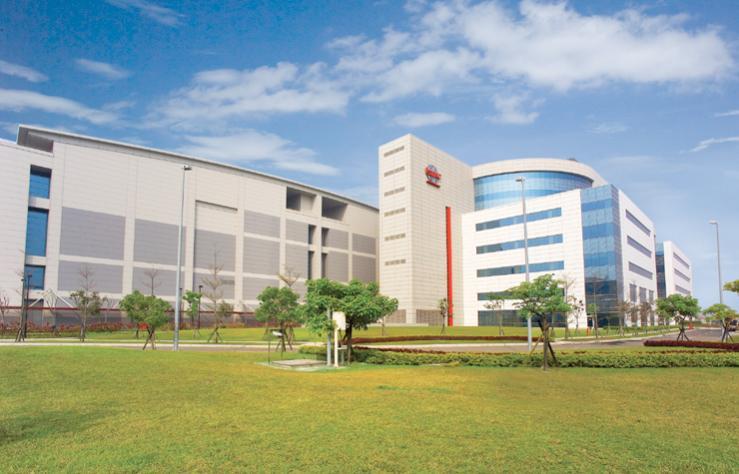 TSMC competes with Samsung to build parts for other manufacturers; HTC and other Taiwanese companies have reportedly banded together to resist Samsung's advances, despite the fact that Samsung remains a popular smartphone brand in the country. Samsung is, however, less popular in Taiwan that it is in other countries, where its flagship phone generally occupies second place.
Taiwan's strange relationship with China
Apple's reporting segment of "Greater China" bundles Hong Kong and the mainland People's Republic of China with Taiwan, even though the latter is a separate country, established by Chinese nationalists (supported by the United States) fleeing China's 1949 Communist revolution.
Taiwan is the "Republic of China," and maintains a strange relationship with the mainland People's Republic of China. Initially, the nationalists fighting communists in China retreated to Taiwan while hoping to eventually to retake mainland China; they have since given up those ambitions. Taiwan is the "Republic of China," and maintains a strange relationship with the mainland People's Republic of China
The communist People's Republic of China meanwhile, claims Taiwan, creating a bizarre diplomatic world where Taiwanese citizens visiting China are required to carry two passports: one for Taiwan and a second that suggests they are actually Chinese citizens who happen to live in Taiwan, without actually calling the document a "passport."
Since 1979, China has also insisted that every other nation (including the United States and the United Nations, collectively) not officially recognize Taiwan as a sovereign, independent state, even though it has functioned as one for the last sixty five years.
To appease China's Communist Party, the U.S. maintains "a robust unofficial relationship" with Taiwan despite having agreed that it "recognized the Government of the People's Republic of China as the sole legal government of China, acknowledging the Chinese position that there is but one China and Taiwan is part of China."
Despite being an independent nation, Taiwan's independence is officially "not supported" by the U.S. or the United Nations (or any other significant countries) to avoid upsetting mainland China, which maintains that it owns Taiwan even as it also agrees (for now) not to interfere with its government. Tensions between the two nations remain, as they are separated by only 80 miles of water across the Taiwan Strait.
There is political controversy within Taiwan whether it should seek to remain politically distinct from mainland China, or to unify in a "one China, two Systems" fashion similar to Hong Kong or Macau, which are both officially part of the PRC while maintaining significant independence under the designation of being a "Special Administrative Region." Mainland China expects to eventually take over Taiwan and operate it as a SAR.
AppleInsider in Taiwan
It's easy for American citizens to visit Taiwan and obtain a visa on arrival. I spent a week in Taiwan, largely in Taipei, a city of 2.7 million people within a metropolitan area of 6.9 million. That makes Taipei about as populous as Chicago, but much more dense as it covers less than half the land area of America's third largest city.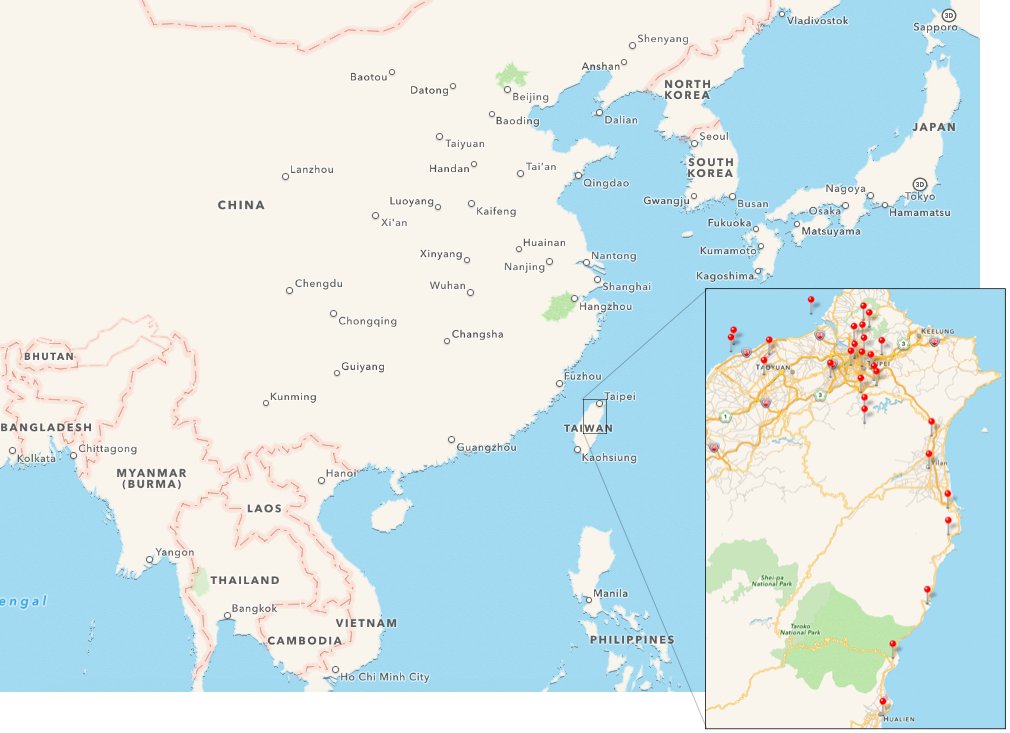 Twenty years ago, the country began building its first metro system, which is now comprehensive and efficiently moves incredible numbers of riders throughout the city and even most of the way to nearby national parks and hot springs, making it easy to both get around in the city and visit surrounding rural areas.
In 2000, the nation also began building High Speed Rail linking Taipei to its airport and cities along the west coast, where 90 percent of its population lives. There's also moderately fast trains that run down the east coast. After inadvertently getting on the wrong train, I ended up halfway down the coast in Hualien rather than the much closer Sandioling I had intended to visit. Fortunately there's a national park there, too.
Taipei feels a lot like Tokyo, which is unsurprising because Japan largely developed its initial infrastructure during its occupation of Taiwan between 1895 and the end of WWII in 1945. Following Japan's surrender, the nationalist Kuomintang (KMT) Party lost control of mainland China to the Communist Party and retreated to Taiwan to establish the Republic of China.
The KMT ruled Taiwan in a one party dictatorship through 1990, when it opened up multi-party democracy in response to the Wild Lily student movement. One of the first parks I visited is known as " 228 Peace Memorial Park," (below) named after the KMT's brutally violent suppression of anti-government demonstrators at the site beginning on February 28, 1947, which resulting in the killings of tens of thousands of people.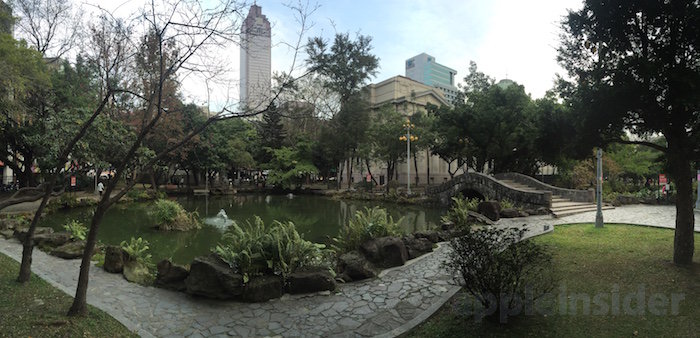 A "White Terror" period followed the "228 Incident" up until 1987, involving imprisonments and blacklistings of suspected political dissidents. The "incident" remained taboo until the government officially apologized and exonerated victims in 1995. Today, Taiwan feels very safe and is aggressively moving to retain and expand upon its position as a world leader in technology components and production.
Apple stores in Taiwan
Despite a national population nearly as large as Texas, Taiwan doesn't yet have any official Apple Retail stores (Texas has 18). Taipei itself has a population greater than Hawaii, which currently has three Apple Stores. Taiwan has a slightly higher population than Australia, which has 21 Apple Stores. Japan has 5.4 times the population of Taiwan, but boasts 8 Apple Retail stores.
That indicates Apple has lots of potential for deploying new stores in Taiwan (and Japan). In addition to Taipei, Taiwan has 5 other cities with a population over 1 million. California only has two cities with more than 1 million (or four if you include San Francisco and San Jose, along with their surrounding suburbs to reach 1 million each). California has 52 Apple Stores.
Apple's chief financial officer Luca Maestri noted in the company's most recent earnings call that the company was "on track toward 40 stores in Greater China by mid-2016," double the 20 it currently operates. That makes it likely that Taiwan will get a store of its own soon.
Apple has worked with authorized resellers in Taiwan since at least 2006, however, including retail chains Youth, Linkwell and Studio A, which appear to exclusively sell Apple-related merchandise. Every major mall I visited seemed to have at least one of these stores, including the high end shopping center at Taipei 101 (which until recently was the world's tallest building). There were also "store within a store" outlets selling Apple products within many department stores.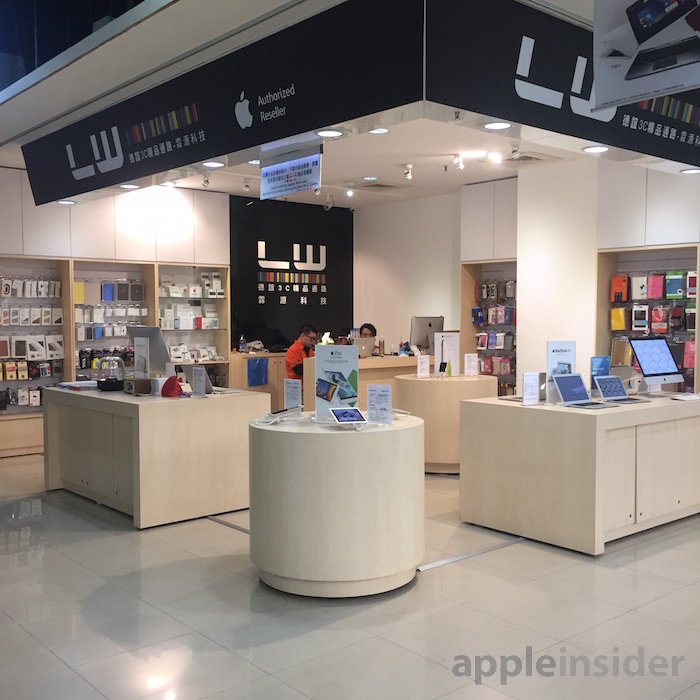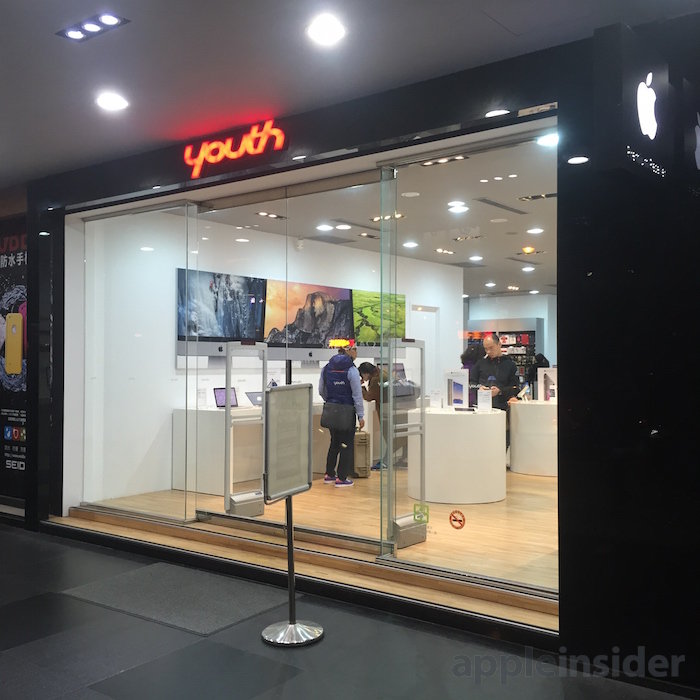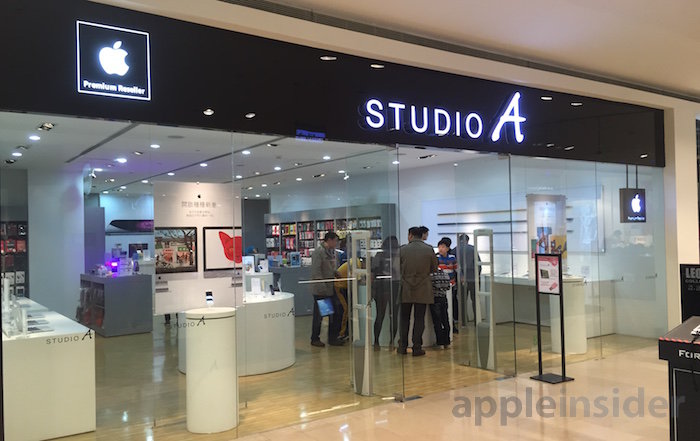 In Taipei's Guang Hua Digital Plaza, known as the "nerd mall" for housing six floors of various electronic gadget and computer vendors, there were a couple shops selling Apple gear on every floor, apparently more than other retailers such as Sony or Taiwan's own Asus.
There are also unofficial outlets that look like they're trying to be Apple stores, including this "Apple +" outlet (below) located near Guang Hua. Given that iPhones made up nearly a quarter of Taiwan's smartphone market, it's clearly not hard for residents to find Apple equipment to buy.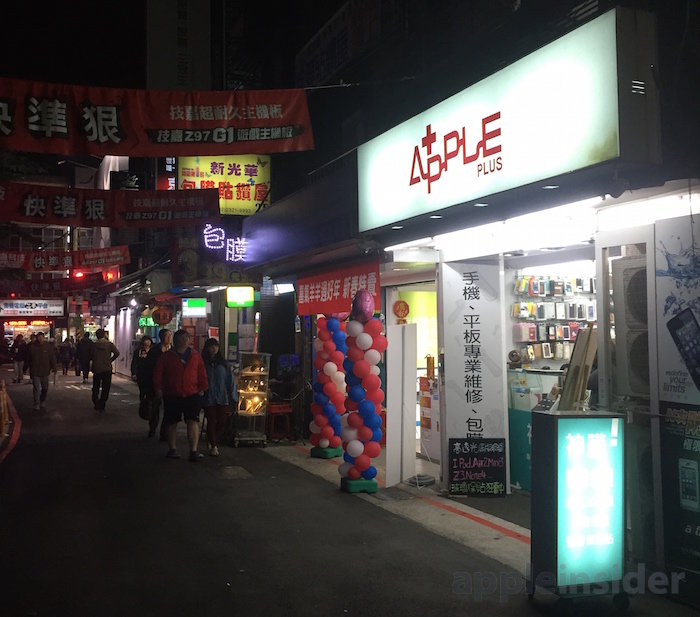 It was also common to see iPads and MacBook users. In fact, iPad use is so common in Taiwan that public service advertisements warn drivers that they shouldn't be using them while driving (or using a smartphone while operating a scooter!).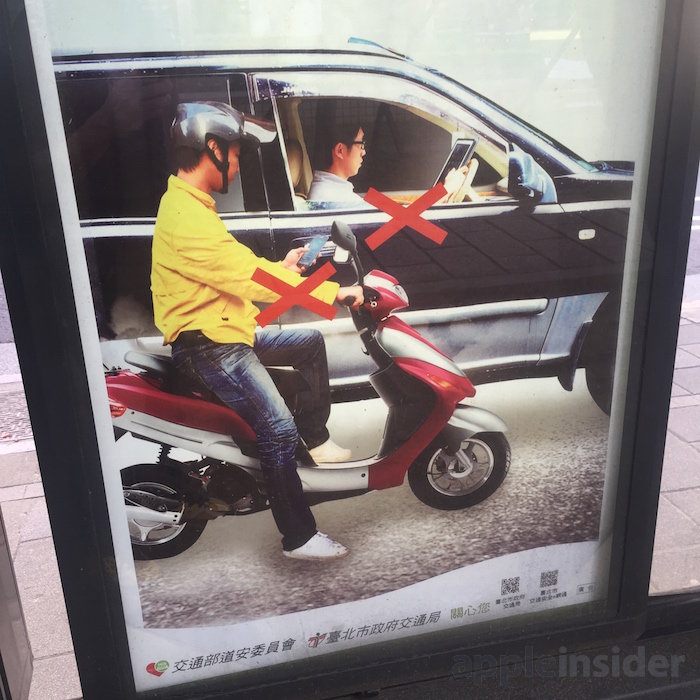 The App Store in Taiwan
An equally large presence for Apple comes in the form of app advertisements. In metro subway cars, various app ads included Apple's App Store logos (below, a real estate app) along with the Google Play logo.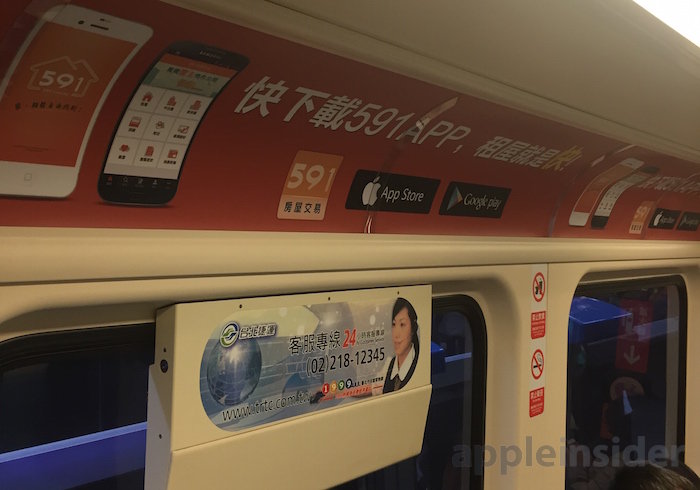 Taiwan's own phone makers don't get this kind of free advertisement because they collectively use Android. Samsung also has to pay for all of its own advertisements, and did so in massive banners like this one at Zhongxiao Fuxing Station (below).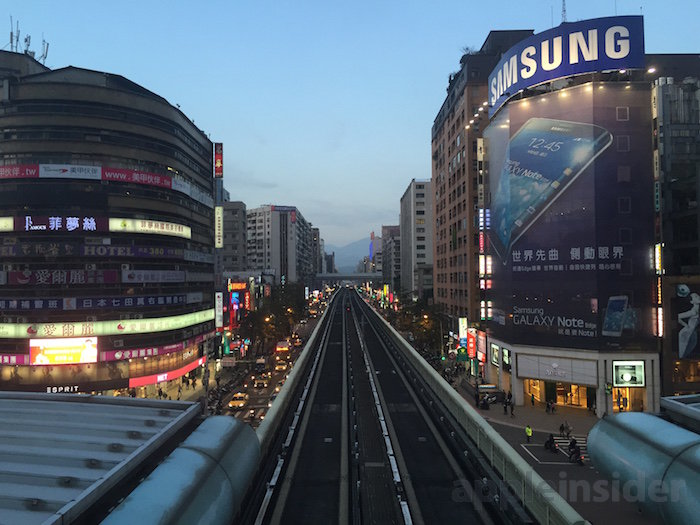 Many metro stations and plazas featured massive billboards advertising mobile games, and nearly every one included an Apple App Store badge— providing constant free advertising for the iPhone maker while all of its rivals were covered by the generic Android badge.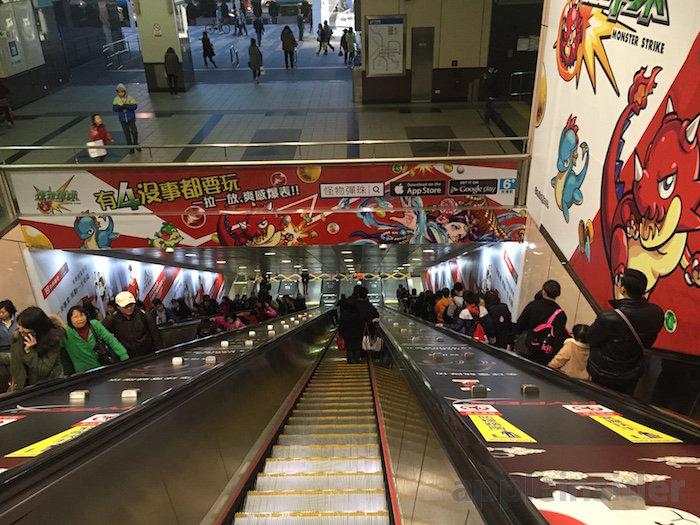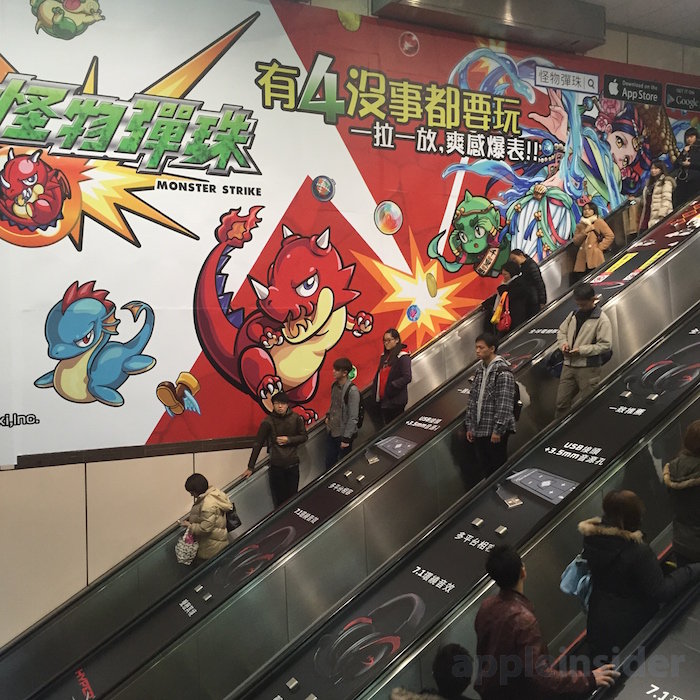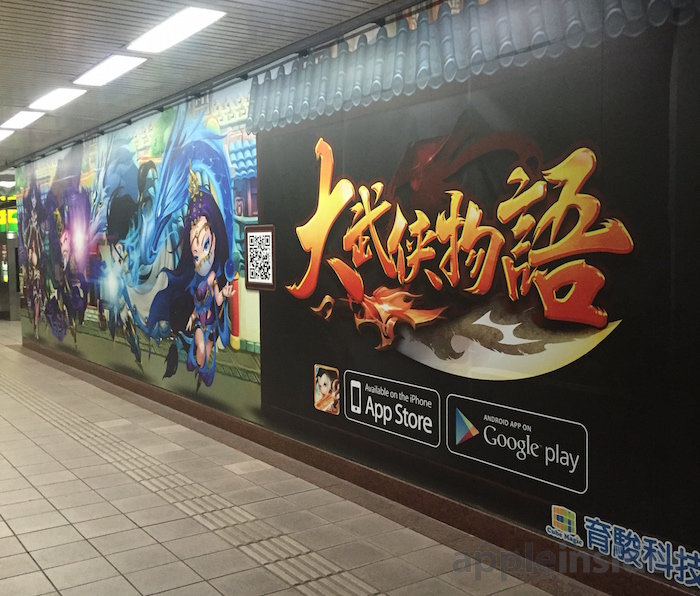 Also conspicuously absent from the banners was any mention of BlackBerry or Microsoft's Nokia, Lumia or Windows Phone brands. Just a few years ago, Taiwan's HTC was building 80 percent of Microsoft's Windows Mobile devices. It continues to offer new models running Windows Phone, but apparently not enough to warrant mention on third party app developers' advertisements, even in Taiwan.
This means while Apple is selling about a quarter of all smartphones in Taiwan, it is getting a 50 percent share of all free ad mentions by app developers, and Apple's logo is splashed on nearly every app banner. That's a lot of free advertising for Apple in a country where it doesn't yet even have a retail presence.
Apple launched iPhone 6 in Taiwan on September 26, two and a half weeks after its U.S. launch, one week after Hong Kong but three weeks before it went on sale in mainland China on October 10. That indicates that Taiwan helped boost Apple's Q4 results, and continued to help Apple achieve 70 percent revenue growth in Greater China during fiscal Q1, starting in October.
Despite those spectacular results, Taiwan, Hong Kong and mainland China all observe their biggest national holiday in Apple's Q2: Lunar New Year. This year, the holiday began in the second half of February.
In Taiwan, workers typically get at least an entire week off to visit family and celebrate the gift giving holiday, which for Chinese speaking nations is bigger than Christmas in the West. In fact, for the first week of Lunar New Year, Taipei largely shuts down. That sent me to Hong Kong, to see more of Apple's presence in Greater China. A second segment examines Apple's presence and retail stores in Hong Kong.
Note: Neither Apple, nor Taiwan's TSMC, Foxconn or any other supplier or agency, provided any assistance or support in creating this report, at best responding to questions with refusals to meet or even answer any questions. In stark contrast, last year Samsung paid airplane and meal expenses for Steve Kovach of Business Insider in exchange for publishing a phony public relations exercise as a news story.