Oracle bundles Ask.com adware with latest Java for Mac installer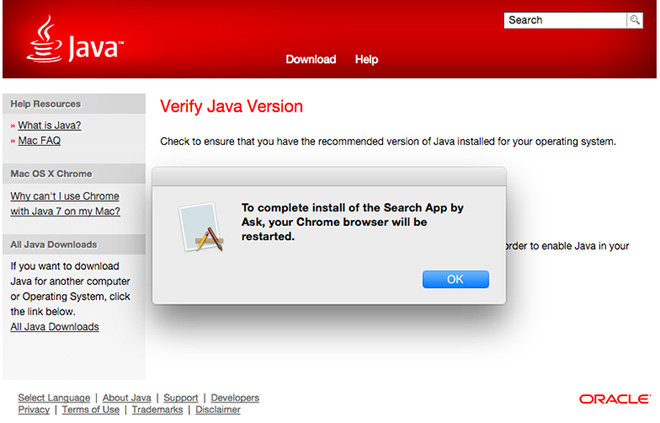 AppleInsider is supported by its audience and may earn commission as an Amazon Associate and affiliate partner on qualifying purchases. These affiliate partnerships do not influence our editorial content.
It appears Oracle is bringing its adware wiles to OS X with the latest version of Java for Mac, as the installer comes bundled with the Ask.com toolbar, which is deceptively set to install itself by default.
In its latest Java 8 Update 40 for Mac, Oracle is including a version of Ask.com's Web browser toolbar, a piece of adware seen in Windows versions of Java for some time, reports ZDNet.
Tests on a Mac running the latest OS X release proved Oracle's newest Java installer will tack on the Ask extension to both Google's Chrome browser and Apple's Safari, using what some may consider deceptive practices.
The option to install Ask is selected by default, meaning users proceeding through installer pop-ups are unlikely to notice the adware until they open a new browser window. Once installed, Ask's extension points the browser's homepage to Ask.com and inserts the Ask toolbar just below the address bar.
Results from Ask.com and the Ask toolbar are middling at best and come packed with advertisements.
Oracle also made note of the change on its Java for Mac installation webpage:
Oracle has partnered with companies that offer various products. The installer may present you with the option to install these programs when you install Java. After ensuring the desired programs are selected, click the Next button to continue the installation.
Incorporating the Ask adware into Java's installer is a moneymaking endeavor for Oracle. As noted by ZDNet, IAC, Ask.com's parent corporation, owns a variety of different properties, including Match.com, Tinder, OKCupid, Vimeo, Dictionary.com and others. Whenever an affiliate bundles the Ask.com toolbar, IAC pays out a commission.
Fortunately, uninstalling the Ask extension is relatively simple. Safari users can deactivate Ask by navigating to the Extensions menu in Safari Preferences, while Chrome users can uninstall directly from the Ask toolbar's help menu. Alternatively, Chrome users can manually clear Ask by deactivating the extension in the Extensions menu and deleting Ask from the list of viable search engines in the Settings menu.