Apple targeting independent merchants for Apple Pay, adds new FAQ and telephone support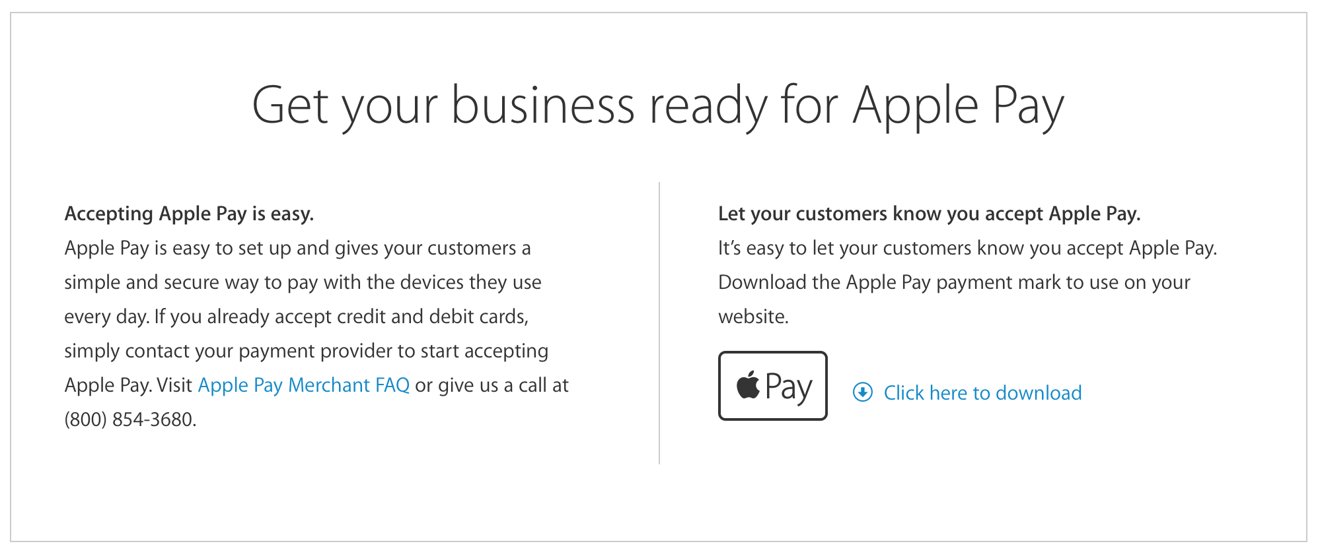 As Apple seeks to expand the network of businesses that accept Apple Pay, recent updates to the company's marketing collateral for the mobile payment system have begun to focus on recruiting independent merchants, answering a number of frequently-asked questions and offering a telephone support hotline.
In the new support document, Apple touts the speed and security of accepting Apple Pay versus traditional credit and debit cards. The company provides a list of payment service providers that that support Apple Pay, and goes into more detail about how Apple Pay transactions are processed.
Among the frequently-asked questions are items regarding fraud liability, fees, and the printing of receipts. Apple also discusses mechanisms for processing returns with Apple Pay, which involves using the Device Account Number — a unique account number registered to the iOS device that made the transaction — found in Passbook, or having customers hold their iOS device near the reader to authorize a return.
Additionally, Apple has opened up its business sales line for Apple Pay enquiries. Merchants interested in supporting Apple Pay can call the company at 1-800-854-3680 to speak directly to an Apple representative.
The new merchant-focused material comes alongside an update to the Apple Pay landing page, which continues to display compatible banks but has moved the list of compatible merchants and apps to a separate area. Replacing that section is a new "Get your business ready for Apple Pay" box, with a link to the new support document and a downloadable Apple Pay payment mark that merchants can use to advertise to customers that Apple Pay is accepted.

As expected from Apple, use of the payment mark comes with a number of guidelines. Apple will allow the mark to be used in websites, emails, online display ads, terminals, or digital displays, but merchants should not alter it in any way.
Merchants can also place the Apple Pay mark in-line with other payment provider logos, which are commonly found near points of sale.
Apple has been steadily adding additional banks to Apple Pay in recent months, but the list of supported merchants has not grown as rapidly. The new push toward independent merchants appears aimed at expanding Apple Pay's availability at small businesses, which account for a significant portion of retail sales.