Nokia's HERE maps returns to iOS App Store after 15-month hiatus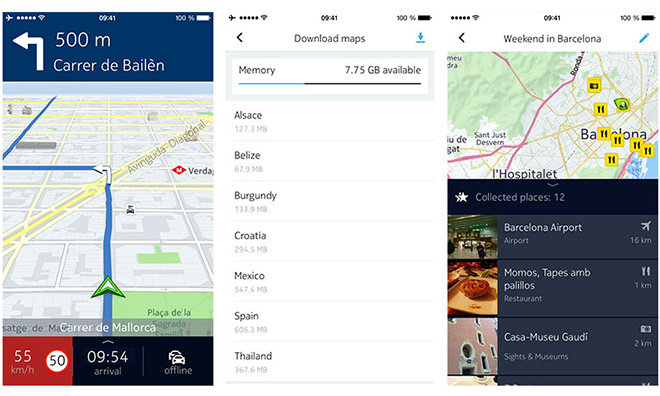 After being pulled from Apple's iOS App Store in 2013, Nokia's HERE mapping and navigation app is back up for download, complete with offline caching, traffic information, public transit data and more.
Making good on a promise to bring HERE back to iOS sometime in 2015, Nokia officially launched a refreshed version of the maps and navigation app on Wednesday.
According to Nokia, HERE for iOS is a "completely different app" than the old HTML5 version. The company says its app has been reworked from the ground up, with code optimized specifically for Apple's mobile operating system.
Unlike competing services that stream map data, like Apple Maps and Google Maps, HERE lets users save to their device mapping data from 100 countries, including the US, the UK, Germany, France, Italy, Spain, Canada, Australia and Brazil, for offline use. Caching maps can provide a faster in-app experience and is a good way to save on allotted cellular data and roaming costs, especially when traveling to far-off lands. Other apps offer identical functionality, but usually for a price.
HERE also incorporates features seen in other mapping apps, like global voice-guided turn-by-turn navigation, real-time traffic information in 40 countries and quick comparisons between driving, public transport and walking routes for trip planning. In addition, the service supports cross-device syncing, meaning users can save a point of interest on their iPhone and later retrieve the information on iPad.
Nokia pulled HERE from the iOS App Store in December 2013, saying at the time that changes introduced in Apple's iOS 7 "harm the user experience."
HERE comes in at 60.4MB and can be downloaded for free from the iOS App Store.