Apple Watch band with modern buckle detailed in newly granted patent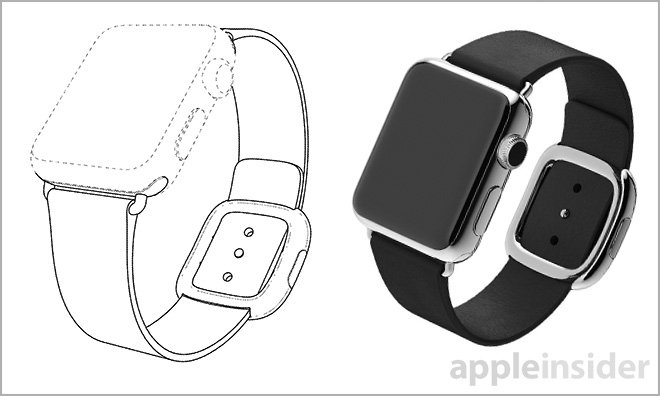 With final Apple Watch details fleshed out earlier in March, patents for the device have started to show up at the U.S. Patent and Trademark Office, including a design published on Tuesday for what Apple calls the modern buckle band.
Apple's modern buckle design is perhaps one of the more interesting Apple Watch strap options, as the metal clasp appears to be a traditional solid one-piece design, but is actually a two-piece closure that fits symmetrically on a user's wrist.
As seen in Apple's patent, simply titled "Band," the clasp itself is split laterally, with one section capable of adjustment using standard notches. A second corresponding part attaches itself to the adjustable section and clamps on with spring-loaded deployment, much like systems seen on traditional watch butterfly clasps.
Illustrations also reveal the band's pegs, which let users swap out straps using a pushbutton locking mechanism flanked by two magnets. According to Apple, the interchangeable bands are easy to take off and provide optimal stability when attached.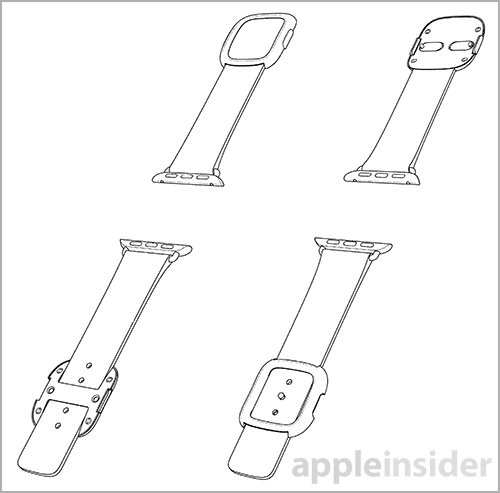 Strap specifics go unmentioned in the patent, but Apple already revealed Grenada leather will be the material of choice, interwoven with a layer of Vectran for strength and stretch resistance. Vectran is an advanced manufactured liquid crystal polymer fiber famously used by NASA in the Curiosity Mars Rover mission. Tethers made of the super strong material were applied in three bridle systems attached to the Sky Crane system that lowered Curiosity down to the Martian surface.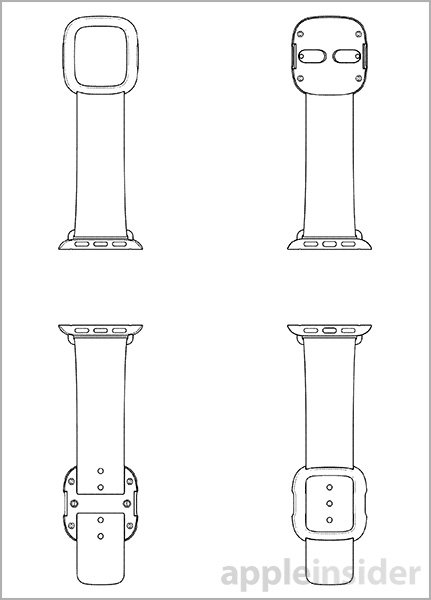 Overall, the design is simple compared to other more complex fastening solutions, suggesting the band will remain reliable even after extended use.
Like other design patents, Apple credits a number of inventors for coming up with the Watch band, including SVP of Design Jony Ive and veteran Jody Akana.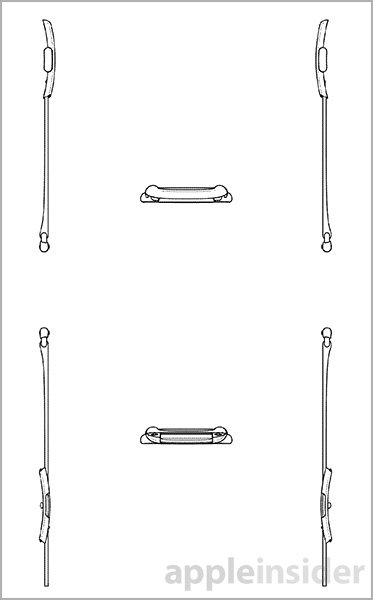 Those interested will be able to get their first look at Apple Watch and its accessory collection in Apple Stores around the world during a preview period that starts on April 10, the same day preorders start. Apple's first wearable is slated to go on sale two weeks later.