Fast, luxurious & sensible: What the personal vehicles of Apple execs could mean for an Apple Car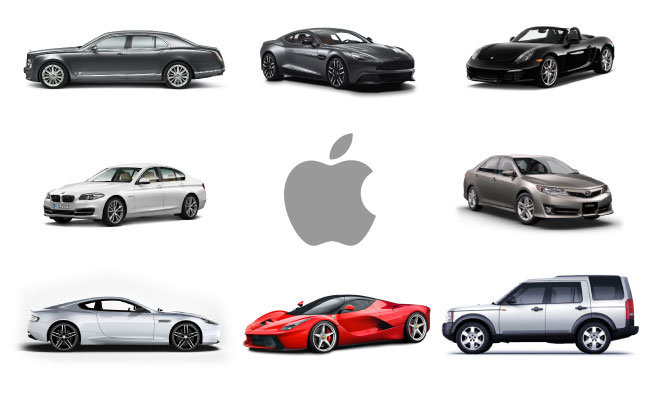 With rumors of an Apple Car comes speculation about its potential design, and AppleInsider took a look at the personal vehicles drive by some of Apple's top executives to see how that might influence the company's thinking.
Apple's English design chief is known to favor vehicles from his home country. Aside from a brief flirtation with an orange Fiat 500 during his college years, Ive has been a loyal supporter of the British motoring industry, snapping up cars from Aston Martin, Bentley, and Land Rover.
Ive's first known luxury purchase was an Aston Martin DB9, a two-door coupe that mates Aston's traditional luxurious interior with a monstrous 12-cylinder engine that lays down more than 400 horsepower. Interior trim is fairly traditional, comprised of leather and walnut, while the exterior pays homage to Astons past with its distinctive grille.
Ive eventually totaled that car while driving on the highway in California, and subsequently purchased a second DB9. The replacement failed spectacularly, a situation which Aston remedied by offering Ive a discount on a new Vanquish, a bigger, faster 12-cylinder, 2-door tourer.
Bentley entered the picture later, first with a white Brooklands that Ive apparently loved so much that he bought a second in black. The most recent incarnation of the Brooklands is yet another 2-door coupe, sporting an adequate 530-horsepower 8-cylinder powerplant.
Following the twin Bentleys was a Land Rover LR3, a run-around-town version of that marque's famous offroaders. This marked a turning point in Ive's vehicular pursuits, from 2-door performance coupes to more sensible 4-door vehicles, evidenced by his subsequent purchase of a new Bentley Mulsanne.
The latest Mulsanne is a four-door sedan with a 500-horsepower, twin turbocharged 8-cylinder engine. Ive uses this ride to commute from his San Francisco home to Apple's offices in Cupertino, though for the last year he has done so in the back seat — Â a full-time driver sits up front.
Ive is also known to own an Aston Martin DB4, the predecessor of the DB5 made famous by Sean Connery in the James Bond flick Goldfinger.
In contrast to Ive's somewhat flamboyant garage, Apple's chief executive keeps it low key with a BMW 5 Series. The 5 Series is a 4-door sedan that has long been the car of choice for stock brokers, lawyers, and middle managers who want to have some fun but occasionally need to shuttle the kids to soccer practice.
Cook is also rumored to own a Porsche Boxster, though he has never been seen in its company.
Cue and Schiller, in charge (respectively) of Apple's growing software and services division and its marketing wing, are known to favor high-end sports cars. Though details of their collections are scarce, Ferrari is almost certain to factor into the mix — Â Cue sits on the Italian automaker's board of directors.
Cue's collection in particular is said to be impressive. During a meeting with app developers, Cue took time to show off his garage.
"I tried to calculate how much he must have spent on cars but I stopped counting when I got to 'obscene," one attendee said.
Schiller is a Porsche fan, though his list of favorites is eclectic: McLaren's F1, Aston Martin's DB4 GT, Porsche's 550A, Ferrari's P4, Ford's GT/40, Jaguar's D-Type, and Lamborghini's Miura are some of the vehicles that he covets.
What does this mean for the Apple Car?
A single common thread winds its way through the garages of Apple's top executives: sleek European luxury. Aston Martin, Bentley, Land Rover, BMW, Porsche — Â these are all legendary names renowned for their attention to detail and (mostly) precision engineering.
Even the least impressive vehicle among Apple's inner circle — Â a Toyota Camry driven by operations wiz Jeff Williams — Â comes with a reputation for quality.
For Apple, entering the automotive arena would not be unlike moving into the watch business. Both are century-old industries with deeply entrenched practices and ideologies, where it's important to respect the past while dragging it into the future.
With the Watch, Apple showed just how much of their personal sphere of experience that they apply to the development of their products.
Cook is a health enthusiast; the Watch boasts numerous features to help users improve their personal fitness. Ive loves traditional timepieces; the Watch pays homage to wristwatches of old with its digital crown, face complications, and bands like the Milanese loop.
Translated to the automotive world, this could mean that Apple's eventual entry will more closely mirror Tesla's than Google's. Where Google chose a friendly but ultimately odd design for their self-driving car, Tesla went down a more traditional route and has been widely praised for its looks while remaining appealing to buyers choosing between a Model S and a BMW.
Either way, it probably won't be a minivan.