Apple Watch stars in Elle Australia magazine's styling section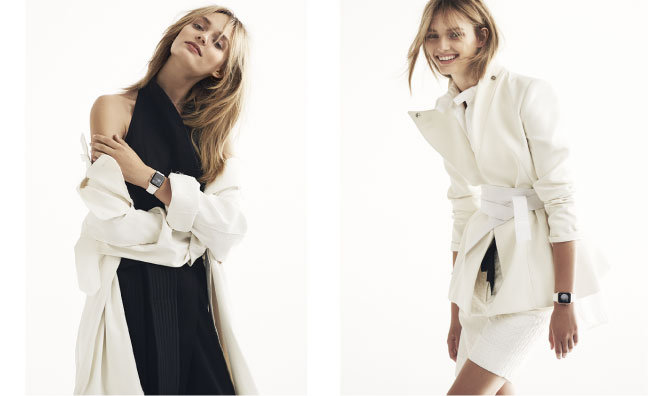 AppleInsider may earn an affiliate commission on purchases made through links on our site.
Apple's upcoming wearable made its Down Under debut this week in a spread for Elle Australia, with the magazine's senior fashion editor helping fashionistas with tips for styling the Apple Watch for the weekend, at work, or at an after-hours cocktail party.
Elle Australia's Sara Smith was given three different Watch variants to play with — Â "under high security," the publication says — Â pairing each with a chic outfit. There is "no need for jewellery or accessories because the watch is the hero," Smith wrote of one outfit worn with "chic tailored separates and martial arts-inspired pieces."
Other ensembles include a weekend look with "trackies, your boyfriend's shirt (worn cuffed and loose) and a chic cashmere overcoat," with which Smith recommends "fine gold and silver jewellery." For a cocktail party, Smith likes the Watch with "a tuxedo suit and sexy heels (think Le Smoking Saint Laurent style with Alexander Wang black heels), or if you have the legs for it, a killer cocktail dress."
At work, the Watch would pair with "a sexy silk Equipment shirt, buttoned down low with a black silk camisole underneath, and add a sharp tailored blazer and man-style pants." A "subtle pair of Tiffany & Co. silver earrings and a fine diamond tennis bracelet" would make for "added glam," Smith says.
Elle Australia's editor-in-chief Justine Cullen was able to use the Apple Watch during a visit to San Francisco, calling it "a fun new piece of arm candy that will look good on your wrist and impress the boys."
"I want one," Cullen wrote. "I'm sad that the Edition version costs US$10K because it's by far the prettiest, but I'm definitely a fan of the functionalities in the more accessible versions."
Apple has gone full tilt with its campaign to sell the Watch as a fashion accessory, with the latest spread joining earlier appearances in Vogue, Style, China's Yoho, and Hong Kong's street style East Touch. The company is also planning Watch retail locations in upscale department stores, including Tokyo's Isetan and Paris's Galeries Lafayette.
The Apple Watch starts at $349 for the Sport model, with pre-orders set to begin on April 10. It ships on April 24.