Apple's ultra-thin 12-inch MacBook benchmarks on par with 2011 MacBook Air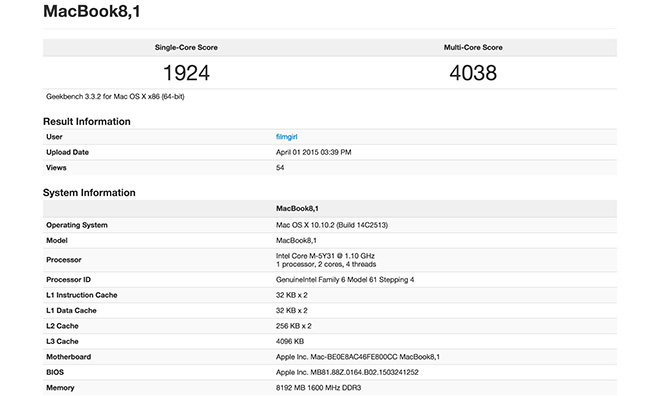 Fresh benchmark statistics posted to the Web on Wednesday suggest Apple's upcoming 12-inch MacBook laptop will perform at levels commensurate of older MacBook Air models from 2011.
According to Primate Labs' Geekbench test suite, Apple's base model 2015 12-inch MacBook, designated MacBook 8,1, achieved a single core score of 1,924 points, while multi core operations came in at 4,038 points.
Apparently submitted online by Mashable journalist Christina Warren, the performance notches just below a recently tested 2011 11-inch MacBook Air sporting an Intel Core i7 CPU clocked at 1.80 GHz.
The new MacBook runs a power efficient dual-core Intel Core M processor clocked at 1.1 GHz. Requiring only 5 watts of power, Intel's mobile-minded Broadwell architecture sips energy at the expense of performance. Along with the 1.1 GHz chip, Apple is offering a 1.3 GHz version as a $300 add-on option.
For an ultralight laptop fitted with a high-resolution Retina display, however, raw processing power is not necessarily as important as squeezing out acceptable battery life. Apple says the MacBook's 39.7-watt-hour battery can handle up to nine hours of Web browsing activities or up to ten hours of movie playback.
While Apple's 12-inch MacBook is slated to hit store shelves on April 10, an unboxing video posted earlier today offered a first look at the hardware.