Drexel University installs iPad rental vending machine for students, library card holders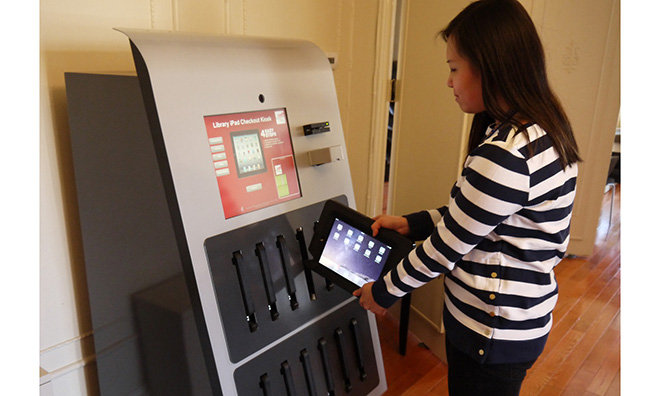 AppleInsider may earn an affiliate commission on purchases made through links on our site.
Philadelphians living near Drexel University can now rent one of a dozen iPads thanks to a new vending machine installed at the school's Dana and David Dornsife Center for Neighborhood Partnerships.
The iPad rental program, created in partnership with the Free Library of Philadelphia, lets both students and neighboring residents check out Apple's tablet for as long as four hours, reports Drexel University's news blog. Drexel's kiosk builds on a similar machine rental program that has been distributing MacBooks to students since 2013.
On the hardware side, Drexel's vending machine uses a swipe card reader to verify student IDs and Free Library of Philadelphia Cards before releasing one of twelve iPads from its docking slot. While system management software went unmentioned, Drexel is likely running operations through Apple's mobile device management (MDM) platform.
With personal data security an obvious concern, the school said any information entered while using a rental iPad is automatically expunged once the device is returned to the kiosk.
"We see this partnership as building upon the success of the Free Library of Philadelphia Hot Spots and Neighborhood Library Computer Labs that bring computer access, classes and the Internet to neighborhoods throughout Philadelphia," said Siobhan A. Reardon, president and director of the Free Library of Philadelphia. "The apps downloaded on the iPads have been specifically chosen to support the digital literacy needs for children, teens and adults."
Each iPad comes with a few curated app selections, including Browzine, Hoopla digital, Mango Languages, Overdrive and Zinio. Educational and self-help training software is also installed alongside games, music and video editing apps.