Apple to take mass device deployment program live with iOS 7.1 as launch date looms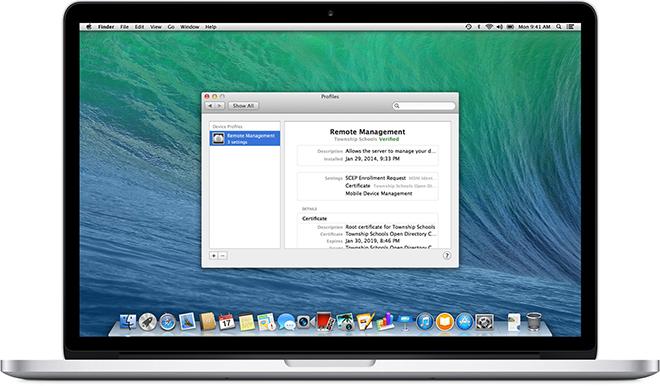 With Apple's mass iOS deployment intentions revealed, early testers of the service are reporting a smooth rollout of features that sources say will go live once iOS 7.1 is released later in March.
According to people familiar with Apple's mobile device management (MDM) overhaul, the most recent iOS 7.1 beta build released in February incorporates all functionality of the company's mass deployment initiative.
As announced through Apple's IT website last week, the company has rolled out a large-scale iOS device deployment and management service for enterprise and educational institutions. AppleInsider was first to report on the changes, which have since gone live, last month.
Once iOS 7.1 is released, MDM vendors and institutional clients will have access to a number of new features outlined on Apple's iPhone in Business and IT in the Classroom webpages. One of the major features is a new Web-based enrollment program that streamlines the verification process for businesses and educational institutions.
New device deployment and management features include "zero-touch configuration" for automating MDM over wireless communications, remote supervision of deployed devices, a streamlined setup assistant and various security measures, among others.
Educational institutions are especially excited for the new MDM program to roll out, the person said. With the new features and services, schools will have greater control over devices handed out to students. Not only does the enhanced implementation allow for ease of deployment, but the granular management tools can prevent situations like the L.A. Unified School District snafu, where students bypassed supervision profiles to access prohibited Web content.
As part of the Deployment Programs initiative, the latest OS X Server 3.1 Preview issued to developers on Monday contained Profile Manager additions that enable MDM features required for DEP functionality, like Activation Lock Bypass Code retrieval.
While speculation, the inclusion of MDM functionality in the recent iOS 7.1 beta, as well as the OS X Server 3.1 Preview, suggest Apple may be nearing a release for its latest iOS update.
Apple has not yet announced a ship date for iOS 7.1, but recent rumblings point to an imminent launch. On Tuesday, the well-connected John Gruber of Daring Fireball said a "little birdie" told him that Apple will update its iTunes Festival app to stream live concerts from the SXSW music festival and conference, which starts on Friday. The app update supposedly requires iOS 7.1, meaning the mobile OS could see release "any day now."