Phone calls, Taptic reminders feature in latest Turlington Burns Apple Watch diary entry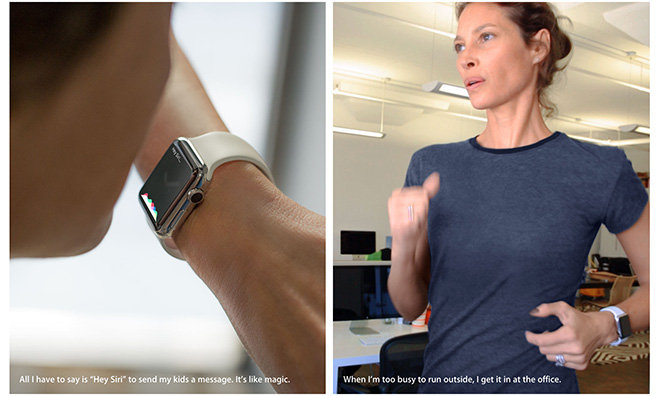 AppleInsider is supported by its audience and may earn commission as an Amazon Associate and affiliate partner on qualifying purchases. These affiliate partnerships do not influence our editorial content.
Week five of Christy Turlington Burns' Apple Watch diary was posted to Apple's website on Tuesday, with the model and aspiring London Marathon finisher focusing on communications, notifications and, of course, workout tracking.
Turlington Burns says Apple Watch is not just helping as a training assistant for the upcoming London Marathon, but also plays a role in her business and social lives. Using haptic feedback, or what Apple has branded as the "Taptic Engine," Watch provides gentle taps and audible alerts to reminder her of upcoming appointments, for example.
In addition, Turlington Burns says she sometimes answers calls from her iPhone directly on her wrist. Speaking to a device strapped to your arm is hardly ideal, but she notes the feature grants freedom of mobility, letting her walk around the office while on quick calls. If a conversation goes longer than expected, she always has the option to hand it over to iPhone. Being in constant contact with an iPhone-tethered wearable also means it's more difficult to miss calls and messages.
The model calls Siri on Apple Watch "magic," explaining that she can send quick messages to her kids simply by saying, "Hey Siri." On Apple Watch, Siri can perform other operations as well, including creating events and querying Maps for turn-by-turn directions.
Apple Watch's activity tracking functions play a large role in Turlington Burns' diary entries and today's was no different. Keeping an eye on Watch's Activity Rings, especially the Move Ring, helps her complete daily fitness goals. Like a previous entry, she used the "Other" activity category to monitor cross-training sessions, a catchall mode that gives Move Ring credit for non-specific workouts like resistance training.
Finally, a tip of the cap is paid to Passbook, which let Turlington Burns go paperless on an American Airlines flight from Los Angeles to New York.