Everything you need to know before preordering Apple Watch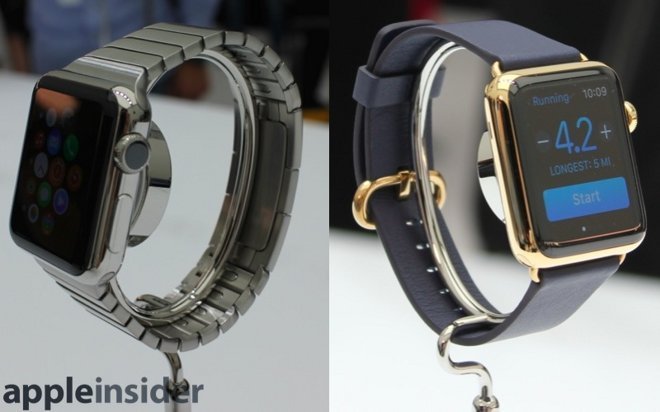 In just a few hours, Apple will open the floodgates to Apple Watch preorders. With initial supply constraints expected, prospective buyers are urged to have their selections in mind prior to midnight, and AppleInsider has your guide.
Between three model ranges across two sizes, different case colors and a multitude of straps, Apple made it easy to find an Apple Watch that suits your style. Having all these options is a double edged sword, however, as picking out the right one can be a daunting task.
Size
Each Apple Watch model comes in a choice of two case sizes: 38 millimeters and 42 millimeters. The measurements mark the height of the case from lug to lug, but do not include the lugs as these are built into Apple's straps.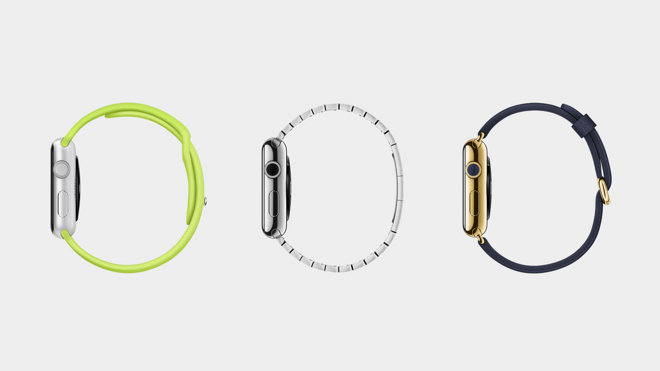 The 42mm model features a display, while a wider chassis affords more room for a bigger battery. According to Apple, the 42mm version "typically experiences longer battery life" when compared to the 38mm variant, but the two are otherwise outwardly identical.
In the Sport and Watch collections, the cost difference between the two is just $50, and there is no specific price difference for Edition models, which vary widely in cost. The Apple Watch Sport starts at $349 and tops out at $399. The 38mm stainless steel Apple Watch version goes for $549, while the 42mm model sells for $599 and configurations go up to $1,049 or $1,099 depending on size. Solid gold Apple Watch Edition models range from $10,000 to $17,000.
Since buyers will have to wait until later today to see Apple Watch up close, Apple includes actual-size renderings of each case in the Apple Store app. Previews are in the "View Pricing" screen for Apple Watch products under "Compare case sizes."
To help aid in the decision making process, photographer Ryan P. Mac created a printable Apple Watch template that, when printed at 100 percent, yields two actual-size mockups that can be cut out and compared.
Model
Next up is casing material. Apple Watch comes in three versions: Apple Watch Sport, Apple Watch and Apple Watch Edition. Each family is distinguished by the material they're made of. The Sport versions are matte aluminum, the Watch collection is stainless steel and the Edition are 18-karat yellow or rose gold.

Colors further differentiate models. Sport is offered in identically priced natural silver or space gray versions, while the stainless steel version comes in silver or space black, though the latter is only available in a $1,049 38-millimeter or $1,099 42-millimeter configuration. Edition models are available in yellow or rose gold with no difference in cost when comparing similar bundled bands.
Due to differing materials, each watch weighs a bit more than the last. The 38mm Sport weighs in at 25 grams, and the 48-millimeter variant is 30 grams. Those numbers increase to 40 grams and 50 grams, respectively, for the Watch collection and 55 grams and 69 grams for the gold Edition models.
Bands
The last step is picking out a band, of which Apple offers six types: the sport band, the leather loop, the classic buckle, the milanese loop, the modern buckle, and the link bracelet, in ascending order of cost.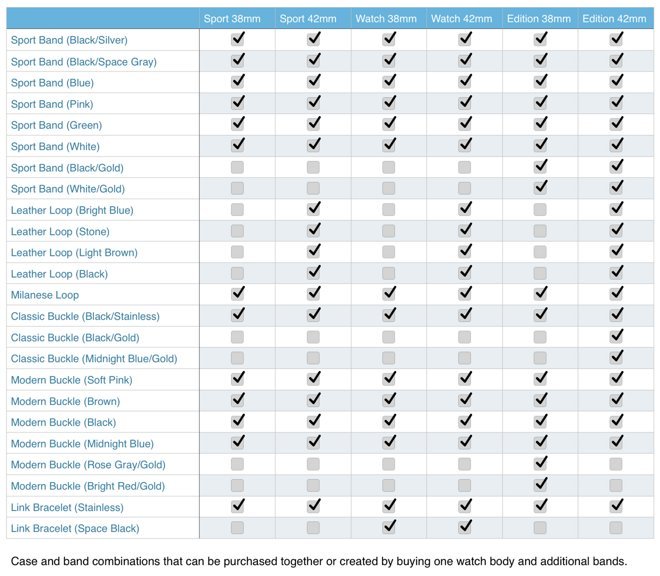 Sport band ($49): Made of fluoroelastomer with a metal peg (silver except for a special black band that comes with a space grey part) for inserting into sizing notches. Available in black, white, pink, blue, or green. Both 38mm and 42mm versions can be purchased individually for $49 and come two to a box; one small-medium band and one medium-large band, with lengths varying depending on the case size. Apple Watch Edition models can be purchased with black or white sport bands that come with color-matched gold pegs, and these bands can't be bought separately.
Leather loop ($149): Made from Italian leather with unique fold-over clasp system with magnets embedded into the links. Colors include light brown, black, or bright blue in either medium (for wrists measuring 150 to 185 millimeters) or large (for wrists measuring 180 to 210 millimeters). Only offered in 42mm.
Classic buckle ($149): Available in black leather with stainless steel hardware for both 38mm and 42mm cases. The 38-mm model fits wrists between 125 and 200 millimeters, while the 42mm model fits wrists between 145 and 215 millimeters. Edition Watches come with color-matched classic buckles that cannot be purchased separately. The Edition also gains an exclusive midnight blue classic buckle with gold hardware.
Milanese loop ($149): Made of woven stainless steel mesh with a fold-over magnetic closure much like the leather loop. Available for both 38mm and 42mm cases. The 38mm model fits wrists between 130 and 180 millimeters while the 42mm model fits wrists between 150 and 200 millimeters.
Modern buckle ($249): Made from leather, uses a stainless steel magnetic locking clasp. Available in soft pink, brown, black, or midnight blue leather in small, medium, and large sizes. Small fits wrists between 135 and 150 millimeters, graduating to 145 to 165 millimeters for the medium band and 160 millimeters to 180 millimeters for the large band. Edition gets rose gray and bright red color options, each with color-matched gold hardware.
Link bracelet ($449): Made entirely of stainless steel with a double-button deployment clasp. Available for both case sizes, with the smaller 38mm version fits wrists between 135 and 195 millimeters and the 42mm version fits wrists in the 140 to 205 millimeter range.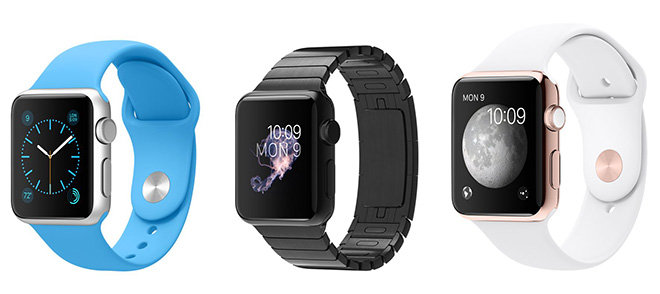 Once you have decided, select a corresponding model through the Apple Store app or the Online Apple Store and save it as a favorite for quick retrieval at midnight. When preorders open, simply load your saved configuration and press buy.
Apple Watch goes on sale at 12:01 a.m. Pacific through the Online Apple Store. Anticipating a sales bonanza, Apple has restricted preorders to online sales only, though customers can reserve a spot to try one on at a brick-and-mortar Apple Store.