Apple seeks new global communications manager for its iAd network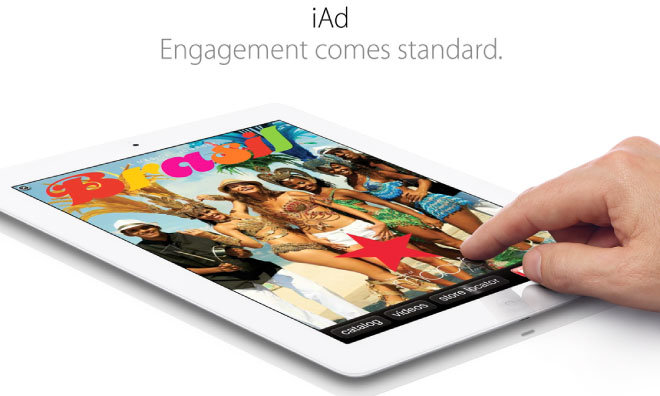 Apple on Tuesday began searching for a new global communications mangager for iAd, its iOS-based mobile advertising network, marking another high-level position opened up to the public.
The successful candidate will be expected to "lead marketing positioning, strategy and communications" for iAd, including internal and external channels. Accordingly the company is asking for someone with at least five to seven years of experience in strategic marketing communications, and preferably another two to three years related to a specific marketing or communications discipline, such as public relations.
iAd is an active concern for Apple, but has largely sat in the shadow of multi-platform ad networks run by the likes of Google and Facebook. When the service first launched in 2010, Apple initially targeted the wealthiest advertisers, asking for a $1 million minimum buy.
Early partners complained about Apple's strict content rules and hands-on control. The company was forced to repeatedly cut the minimum buy in order to attract clients, and now allows for iAd campaigns costing as little as $50.
Public openings for high-level positions at Apple are relatively rare. Earlier this month, though, the company posted a listing for a director of global marketing operations at its Beats division.