Microsoft sets July 29 launch for Windows 10, begins download reservations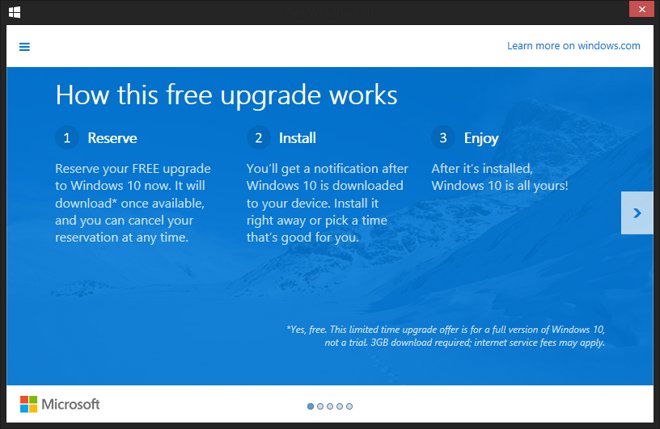 AppleInsider may earn an affiliate commission on purchases made through links on our site.
Microsoft on Monday announced that Windows 10 will launch on July 29 across 190 countries, available as a free upgrade for both mobile and desktop Windows devices.
For the desktop version of the operating system, Microsoft has set up a reservation system. Users of Windows 7 or 8 may see a notification pop up in their system tray — if a copy is reserved, a 3-gigabyte installation file will be downloaded automatically once it's ready, and let users choose to install immediately or wait until a better time.
The desktop upgrade will only be free for the first year. The move is nevertheless a first for Microsoft, which has traditionally made most of its money from Windows sales, but is aiming to put Windows 10 on a billion devices in three years or less.
The operating system marks a radical departure in other ways, as it will be a unified platform across computers, phones, and tablets, simply iterated according to screen size and processing power. Through a feature called Continuum, users of some phones will even be able to connect to a monitor and work as if they were on a PC.
The operating system also comes with a new Web browser, Edge, and Cortana, a formerly phone-only voice command system. Perhaps one of the most significant changes though is the return to a more desktop-friendly interface — whereas Windows 8 forced PC owners into a touch-oriented "Modern" UI by default, Windows 10 defaults to a desktop view, simply merging Modern tiles into a restored Start menu.
The decision to make Windows 10 temporarily free was likely influenced in part by Apple, which has made OS X upgrades free and annual. Whereas Apple uses this to spur Mac sales, however, Microsoft is largely dependent on software, and will need to make money through new installations, enterprise customers, and various other means.