Apple's HealthKit has yet to realize its potential, thanks to lackadaisical third-party support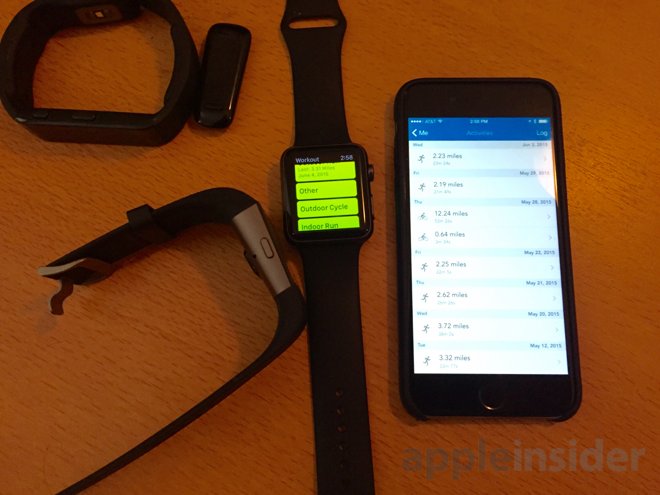 AppleInsider may earn an affiliate commission on purchases made through links on our site.
Apple's HealthKit, especially with the newly launched Apple Watch, is a fantastic way for apps and services to share health and fitness data openly with one another. Unfortunately, Apple's own Health app is still being held back by short-sighted decisions from some of the top fitness platforms, including my two favorites: RunKeeper and Fitbit.
Introduced last year with iOS 8, Apple's HealthKit tools and accompanying Health app presented an opportunity for third-party application and accessory makers to "play nice" with one another. Nearly a year after the unveiling of HealthKit, however, that dream remains unrealized.
Without full support for Apple's HealthKit tools, the relatively closed platforms for RunKeeper and Fitbit are harder to recommend.
The ongoing frustration with HealthKit is through no fault of Apple, who appears to have properly laid the groundwork for its partners. Instead, major fitness and health tracking companies simply do not take advantage of the tools given to them.
Presumably, this has happened because companies do not want to make it easy for their users to export data to competing platforms. They want to keep their customers "locked in."
As Apple continues to grow its own proprietary health and fitness ecosystem, instead of locking customers in, those third-party companies may soon find themselves locked out. And for a consumer who wants to keep using those fitness platforms, their inaction is both baffling and infuriating.
To explain this problem better, here's how the lack of HealthKit support has affected my health and fitness tracking activities.
Sticky platforms
Old habits die hard. Platforms and ecosystems, it seems, die harder.
I have hundreds of runs logged on RunKeeper, where my wife and I track each others' progress and often "like" each other's workouts.
I also have about a dozen friends on Fitbit, where we can compare each others' daily and weekly step counts against one another. This kind of friendly competition is fun, and it encourages us to be more active.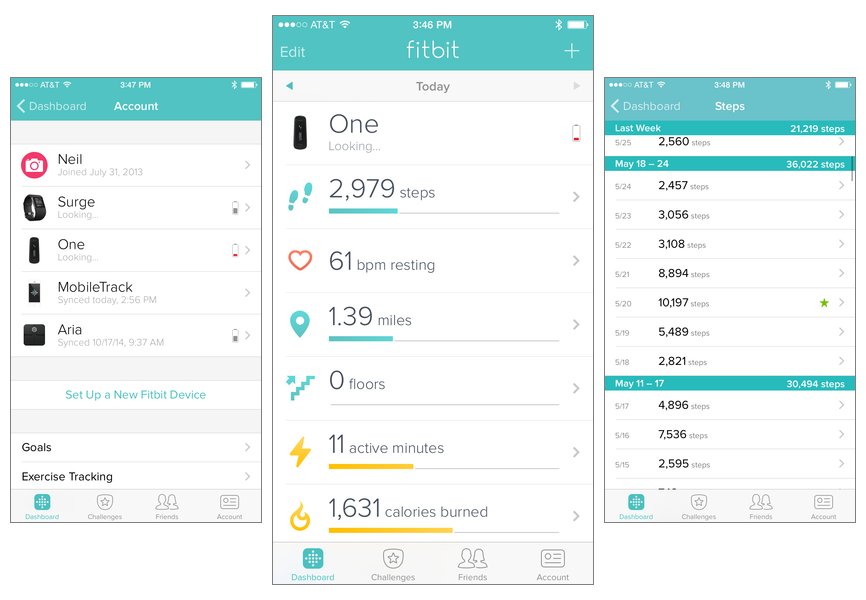 Those social elements, and that detailed personal activity history, make it difficult to walk away from those platforms. True, since receiving my Apple Watch, I have stopped using all Fitbit hardware to track my steps. But that doesn't mean my friends have.
Fitbit, however, refuses to support Apple's HealthKit — frankly, a myopic decision. That means steps tracked by my Apple Watch, in the event that I don't have my iPhone on me to use Fitbit's MobileTrack feature, do not show up in my Fitbit account.
If I run without my phone, or even go to check the mail, the steps aren't logged.
Apple Watch run tracking: Better than expected, bad news for RunKeeper
My situation with RunKeeper, however, is a little more complex than Fitbit. The truth is, I just don't like running with my iPhone 6 — Â it's too big and bulky and inconvenient when strapped to my arm.
The Apple Watch lacks GPS on its own, so I presumed its ability to track runs would be subpar. I own a Microsoft Band, which has integrated GPS and even directly exports my runs to RunKeeper, so before I received my Apple Watch, I rather ridiculously imagined myself running with both an Apple Watch on one wrist and a Microsoft Band on the other.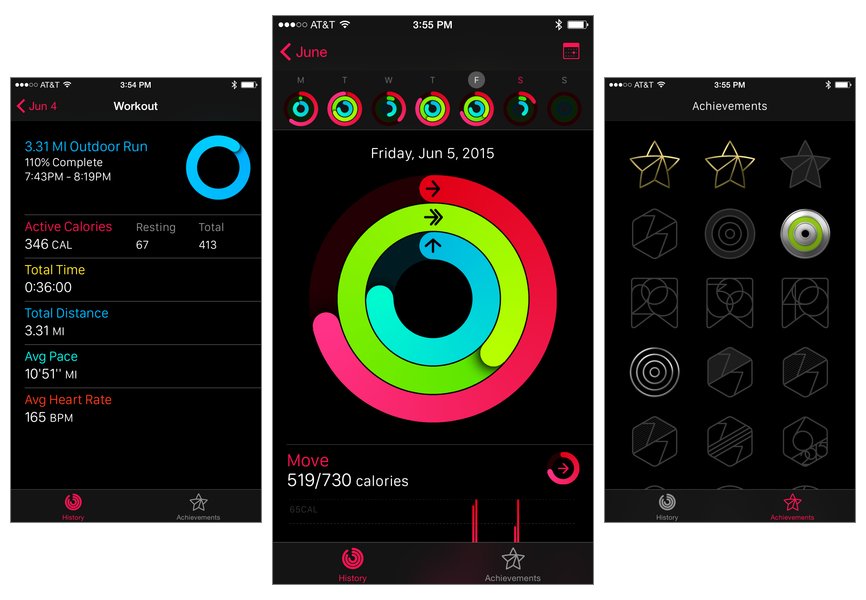 But without my phone to assist it, the Microsoft Band sometimes takes 20-plus minutes to get a GPS lock, which is astonishingly even more ridiculous than me wearing two fitness bands at once.
And so I decided to put the Apple Watch to the test: After calibrating its step/run tracking capabilities with my iPhone's GPS, I ran iPhone-less with an Apple Watch and a Microsoft Band (after a lengthy delay to find GPS), and I compared the two.
After a 2.5-mile run, the two devices were off from one another by just 0.02 mile — Â yes, two-hundredths of a mile. A negligible amount by anyone's standards.
In another test, I used Apple Watch on a treadmill and ran two miles. When the treadmill hit the two-mile mark, my Apple Watch buzzed on my wrist, also notifying me that I had gone exactly two miles.
It turns out, the Apple Watch's run tracking capabilities are much better than I expected.
But the truth is, I don't want to leave RunKeeper. I have a long history of runs there, I like tracking my progress, and I like sharing those runs with my wife. Their service is great, and I've grown accustomed to the way the app works.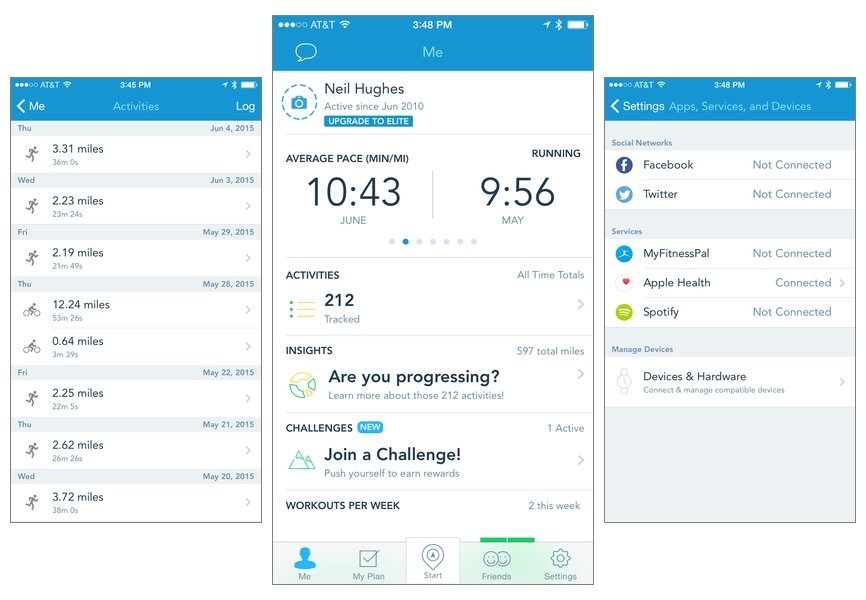 RunKeeper will export my runs to HealthKit. But rather foolishly, it does not yet automatically import Apple Watch workouts, which are tracked through the Activity app and saved to the Health app.
My runs, and accompanying heart rate, could be accessed by RunKeeper via HealthKit, but their app doesn't support it. This leaves me manually entering my run data from Health to RunKeeper, just to keep my run logs up to date within that app.
But I still like RunKeeper and Fitbit. I want to stay with RunKeeper and Fibit.
I could stay with both platforms quite easily, if they fully supported the capabilities of HealthKit. But they don't, and their foolish decisions force me to jump through some laughable hoops in order to stay connected.
There are solutions, but they're complicated
For now, Apple's Health app and the HealthKit platform do not offer the kind of tracking and social connectivity I've become accustomed to with Fitbit and RunKeeper. And so I'd like to continue using those two other platforms, in addition to my newfound appreciation for Apple's Activities app and the Apple Watch.
Given that HealthKit is open and RunKeeper does offer some level of HealthKit integration, and there are third-party apps that play nicely with Fitbit, I searched to see if anyone had figured out a solution to my problem.
That brought me to this Reddit post where user "sophrosyneipsa" found a frankly convoluted multi-app solution to sync data between the Apple Watch, RunKeeper, Fitbit, MyFitnessPal, and SleepCycle. And while their solution works, it's needlessly complex in a world where Apple's Health app is an openly available central repository for all health-related data in iOS.
The key bridge, for me, is a version of SyncSolver designed specifically to push data from the Apple Watch to the Fitbit platform. It's a $2 application called Sync Solver - Health to Fitbit that can take my step data from my Apple Watch, as saved in the Health app, and push it to my Fitbit account, so that my steps are accurately logged and shared with my friends.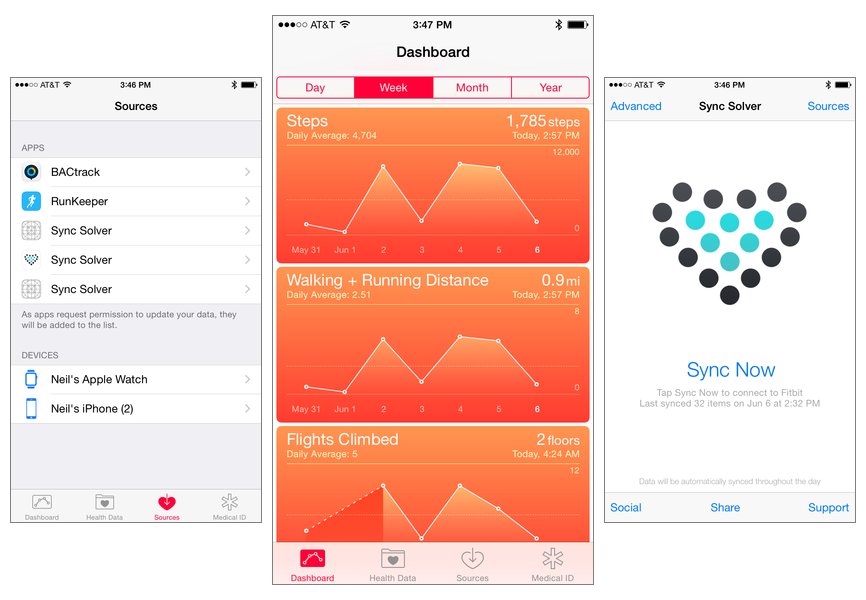 I still haven't found a reliable way to push my runs from the Health app to RunKeeper, however. For now, I'm manually entering them into the RunKeeper app, and grumbling to myself every time I do.
How long am I willing to keep this up? At what point will I lose interest, or at one point will all of my friends abandon these isolated platforms? What's keeping any of us tied to Fitbit or RunKeeper if they don't play nicely with other apps and platforms?
I bought the Apple Watch fully intending to stay with both Fitbit and RunKeeper for their established platforms and social connectivity, but at the moment it's a chore.
The good news is HealthKit is open for all iOS developers, and new options, whether from Apple itself or third-party developers, are bound to appear. If and when they do, I'll be inclined to try them out and see if they fit with my fitness and health tracking needs. I'm less committed to RunKeeper and Fitbit's platforms than ever before, thanks to their own presumed stubbornness.
And if my friends and family jump ship to another fitness tracking service, I'll be likely to do the same — especially if companies like Fitbit and RunKeeper don't evolve and embrace HealthKit fully.
A year after its announcement, HealthKit remains full of potential, a sign of great things to come in the worlds of connected devices and the "quantified self." Whether the established market leaders in fitness and health platforms want to be a part of that connected future is up to them, but time is running out.