Inside iOS 9: Siri Suggestions, news, apps & more on Apple's revamped search screen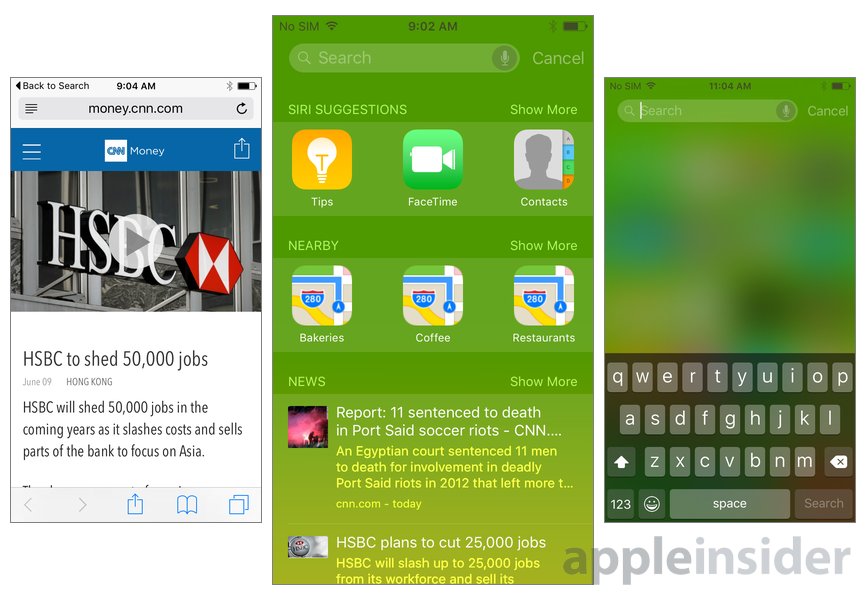 Apple has introduced an entirely new home screen in iOS 9 that presents users with intelligent, contextually aware information, including frequently opened apps based on time of day and location, or potential destinations in Maps that a user might seek out.
Search in iOS 9 is no longer branded as "Spotlight," with the company's Siri artificial intelligence taking over in the branding department. That includes the new Siri Suggestions feature on the search screen, which presents users with apps, contacts and other frequently accessed data.
Users who have upgraded to iOS 9 can find the new search menu by swiping to the left of the first Home screen. iOS search can also be accessed by dragging down on the home screen, as it operates in iOS 8, but this does not present the full intelligent, personalized screen, instead limiting it to a few recommended apps.
As iOS learns a user's habits, it will evolve and present information that it thinks the person might want quick access to. This is akin to the Google Now service, but Apple has placed an emphasis on protecting personal data, and anonymizing any information that might be sent through the Internet, to differentiate its service from its rival.
With iOS 9, Maps data will intelligently evolved throughout the day: While it may offer quick access to nearby coffee and bakeries in the morning, by the afternoon they could change to parking and gas stations.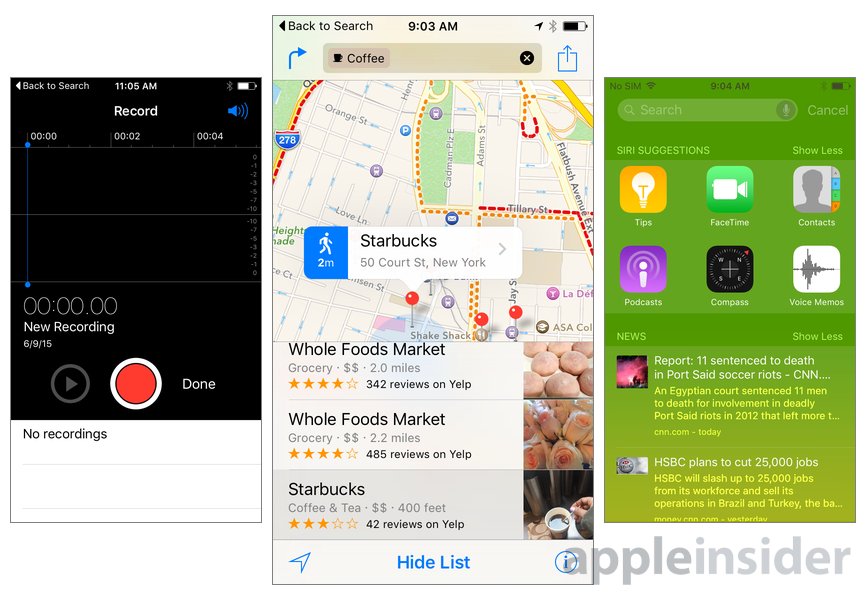 Below Maps data, users can scroll to see some of the top headlines of the day in a News list.
Users can make slight customizations to the new search page, allowing the system to show more or less Siri Suggestions, Maps points of interest, or news items.
When choosing content from the new search page, respective apps are opened, locations are accessed from Apple Maps, and News is displayed in Safari. But all of these are accompanied by a new "Back to Search" button in the upper left, which temporarily replaces the carrier name and reception information.
Atop all of this information is the standard search bar, which no longer reads "Spotlight Search," and has been changed to just "Search." There's also a new microphone button to the right of the search bar, which allows users to speak their query rather than type it.
Search itself operates largely the same as in iOS 8. Submitting a query returns data from a number of sources, including the Web, the App Store, the iTunes Store, and more. Once again, Web searches are powered by Microsoft Bing.