Unicorn, cheese wedge, taco emoji and more coming to Unicode 8.0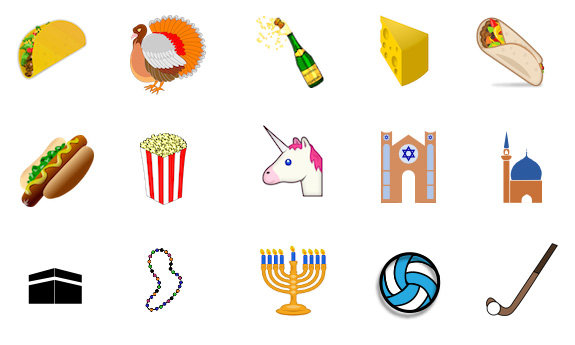 AppleInsider is supported by its audience and may earn commission as an Amazon Associate and affiliate partner on qualifying purchases. These affiliate partnerships do not influence our editorial content.
The Unicode Consortium on Wednesday released the character database and code charts for Unicode version 8.0, which tacks on a total of 7,716 new and scripts and symbols to the standard, including 41 emoji.
Most interesting to frequent texters, the fresh emoji characters ripe for inclusion in software platforms like Apple's iOS and Mac include often requested pictographs like a unicorn head, turkey and hot dog, a number of which are shown in the above image.
Alongside food items and large flightless birds, Unicode 8.0 includes a wider selection of smiley faces, religious symbols and a handful of sports symbols. The consortium expanded symbol modifiers to support greater skin tone diversity, a big feature request first instituted last year.
Apple has yet to roll the full Unicode 7.0 database into its software offerings, but chose to incorporate select skin tone swatches and characters when it launched a new emoji picker in iOS 8.3. It is unknown if there are plans to support Unicode 8.0 in a future version of iOS.
An index of this year's additions, edited in part by Apple engineer Peter Edberg, can be found on the Unicode website.
Aside from emoji, Unicode 8.0 includes a set of lowercase Cherokee syllables to go along with existing Cherokee glyphs, support for Ik language characters in Uganda, Kulango in the Côte d'Ivoire and other languages of Africa, Arabic letters to support Arwi, CJK unified ideographs, a symbol for Georgian lari currency and more.
The Unicode Standard version 8.0 core specification is pending due to ongoing editorial work, but the consortium expects publication on Aug. 26.