Benchmarks detail processor throttling in iOS 9 beta Low Power mode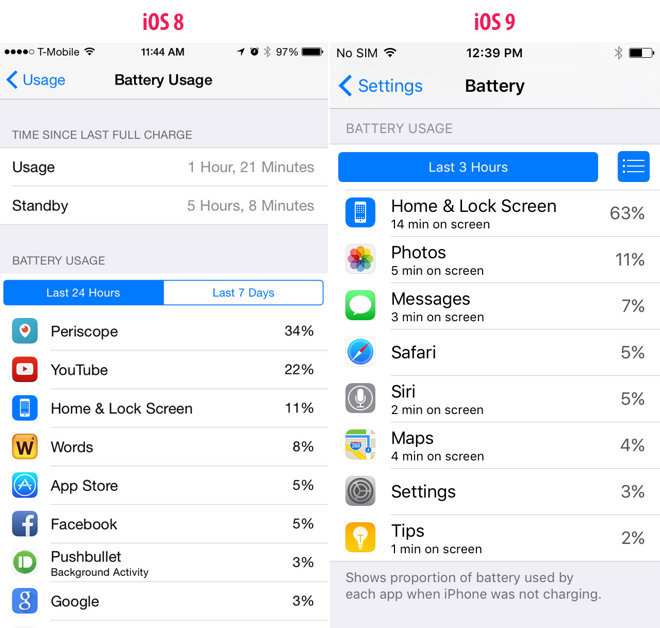 A benchmark test performed on an iPhone 6 Plus running Apple's latest iOS 9 beta puts numbers to the upcoming operating system's Low Power mode, which throttles down processor performance to preserve battery life.
Using Geekbench 3 for iOS, which was recently updated with support for iOS 9 builds, MacRumors found Low Power mode dropped an iPhone 6 Plus' multi-core score from 2,891 to 1,751, while single-core performance fell from 1,606 to 1,019. Results were similar on an iPhone 5s, which saw a 40-percent decrease in performance.
It should be noted that the tests were performed using beta software and results will likely change when a final build is released this fall.
With iOS 9, Apple promises up to one hour of extra battery life using a combination of power saving tactics and new technologies. For example, iOS 9 will poll ambient light and proximity sensors to check when an iPhone is facedown on a table to prevent the screen from turning on.
More ambiguous, though is Apple's description of a Low Power mode that "lets you extend your battery life even further." When activated, Low Power mode disables a number of power hungry services like Mail fetching, background downloads and app refreshes. Networking capabilities are also affected, though Apple has yet to detail when or how these changes are implemented.
Users can choose to enable Low Power mode from system settings or the familiar "low battery" dialogue box that shows up when an iOS device's battery hits 20 percent and 10 percent charge.