Apple Maps vehicles project expands to 13 new US states in July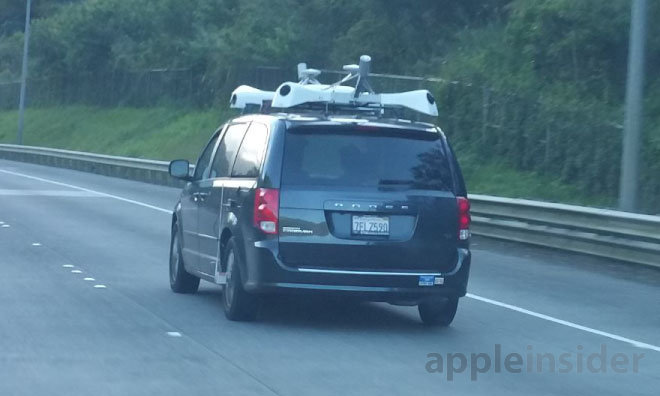 Apple on Wednesday announced upcoming survey areas for its Apple Maps vehicle initiative, revealing its sensor-laden vans will be tooling around a total of 27 new U.S. locales come mid-July, including an expansion into 13 states.
Announced through its Apple Maps vehicles webpage, the new mapping areas to be scanned between July 15 and July 30 are limited to the U.S. The company will be continuing data acquisition in other states, as well as England and Ireland.
Upcoming Apple Maps vehicle locations:
Colorado - Denver
Florida - Escambia County (Pensacola)
Idaho - Ada County (Boise)
Indiana - Marion County (Indianapolis)
Kentucky - Jefferson County (Louisville)
Maryland - Baltimore
Minnesota - Hennepin County (Minneapolis), Ramsey County (St. Paul)
Missisippi - Harrison County (Gulfport)
New Mexico - Santa Fe
Ohio - Hamilton County (Cincinnati)
Oregon - Lane County (Eugene), Marion County (Salem)
Pennsylvania - Philadelphia
South Dakota - Pennington County (Rapid City)
Wyoming - Laramie County (Cheyenne)
In states already being surveyed, Apple is extending coverage to: Fresno, Kern County (Bakersfield), San Joaquin County (Stockton), Stanislaus County (Modesto) Monterey, Sacramento and Ventura County (Oxnard) in California; East Baton Rouge Parish (Baton Rouge) in Louisiana; and Bexar County (San Antonio) and Harris County (Houston) in Texas.
After months of speculation, Apple in June confirmed ownership of mysterious vans with advanced sensor arrays seen driving on U.S. roadways, saying the vehicles are gathering data for an internal mapping initiative. While the company painted the project in broad strokes, claiming it will "improve" Apple Maps, equipment mounted on each van's roof suggests work on a Google Street View competitor.
Apple has since marked mapping vehicles in the U.S. and UK with an "Apple Maps" label and a link to maps.apple.com.