Mac sales up 16.1% in June quarter as overall PC market continues slump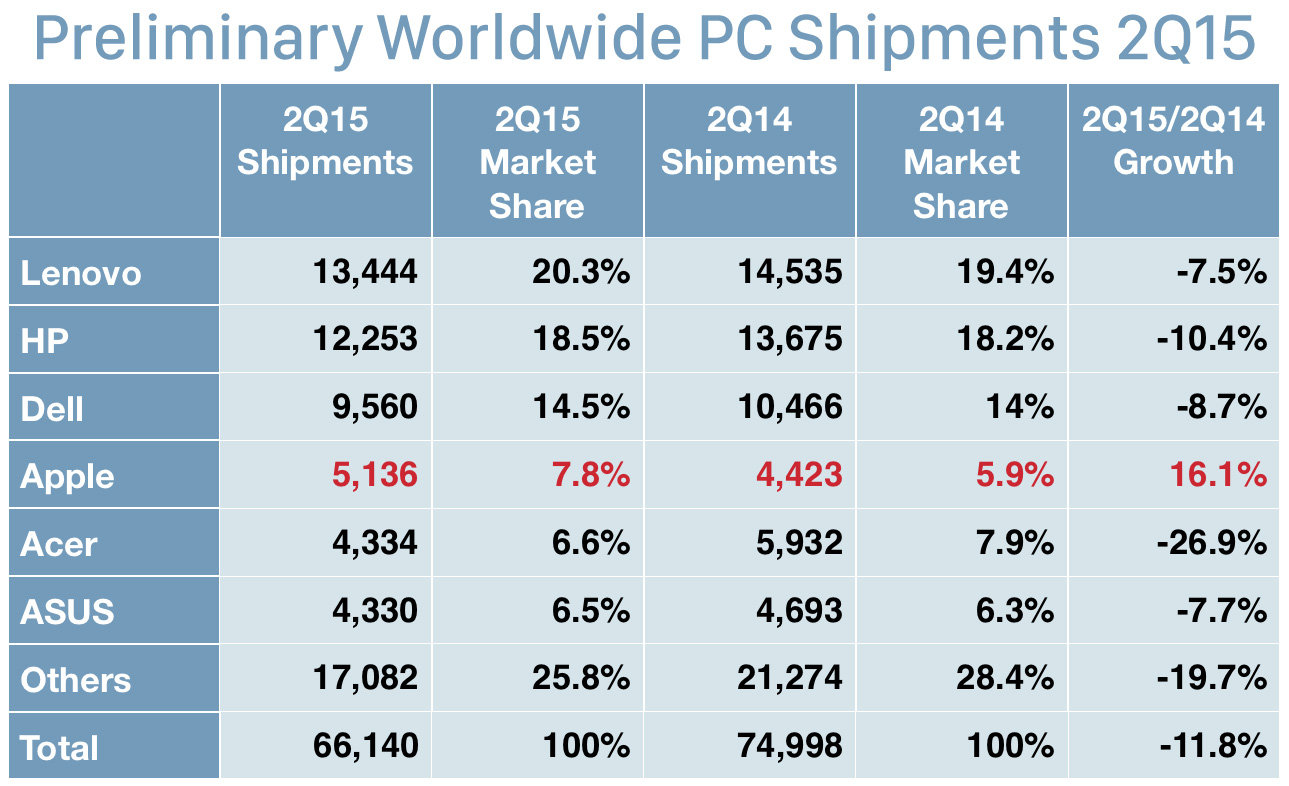 Continuing to buck trends, Mac sales rose 16.1 percent year-over-year in the June quarter even as the PC industry as a whole shrank 11.8 percent, according to new estimates published on Thursday by research firm IDC.
Apple is believed to have sold just under 5.14 million computers, putting it in fourth place under leaders Lenovo, HP, and Dell. Those companies sold 13.44 million, 12.25 million, and 9.56 million units respectively. Below Apple were Acer and ASUS, both roughly at 4.33 million, with a slight edge given to Acer.
In all, IDC estimates that some 66.14 million computers were shipped during the quarter, with Apple being the lone top-five vendor to post positive numbers.
Apple is said to have dodged the price competition affecting other PC vendors, and benefitted from factors like the launch of the 12-inch Retina MacBook and a concentration of U.S. shipments. The company may also be riding on uncertainty around the launch of Windows 10, IDC remarked.
Concentrating on the U.S., Apple reportedly ranked third with just under 2.21 million units sold, beaten by HP and Dell but surpassing the likes of Lenovo and Toshiba.
Providing an alternate view, Gartner released its own research data, indicating that worldwide PC shipments fell 9.5 percent to 68.4 million units. The sharp drop is credited in large part to Microsoft, given last year's discontinuation of Windows XP spurring system sales, and computer makers holding inventory this year until Windows 10 becomes available. The OS is due to ship later this month.
Apple is not broken out as a specific vendor in Gartner's global figures, but they would still keep Lenovo, HP, and Dell in their leadership positions. ASUS however is ranked slightly higher than Acer with 4.65 million units versus 4.56 million.
On the American front Gartner is estimating only 1.92 million Macs sold, a dip of 2.5 percent year-over-year. The number puts Apple below Lenovo's 2 million, as well as HP and Dell.