Misfit introduces Flash Link multifunction wearable, releases Misfit Link app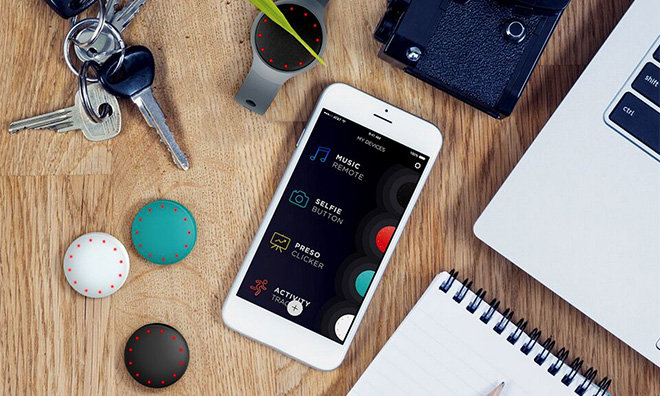 AppleInsider may earn an affiliate commission on purchases made through links on our site.
Misfit on Thursday announced price drops for its existing fitness wearables — Â Shine and Flash — Â to make way for a new model called the Flash Link, and breathed life into older Flash models with the new Misfit Link app for iOS.
Flash Link is being sold as an "easy-to-use activity tracker and smart button" that carries over activity tracking and sleep monitoring capabilities introduced with the original push-button Flash, but with new connected remote control features. Formerly, the Shine and Flash were sold as "Fitness + Sleep Monitor" devices, with Shine having the benefit of being waterproof for tracking swims.
The new Misfit Link app turns the old model Flash and new Flash Link into a so-called "Smart Button" capable of triggering an iPhone camera's shutter, interacting with music transport or volume controls, advancing slides in a presentation and more. Users can sync their Flash or Flash Link unit with Misfit Link to change button functions and enable background activity tracking. The device must be connected to the main Misfit iOS app to record daily metrics.
Unlike the main Misfit iOS app, it's possible to connect multiple Flash or Flash Link devices to the Misfit Link app and have them all control the same kinds of functions, like music control, or have each one control different functions.
Misfit Link will soon offer compatibility with IFTTT and Logitech Harmony Home Hub device. Both IFTTT and the Logitech product work with Nest and Philips Hue lights, so it will possible to automate changes in temperature, lighting or home entertainment at the press of a button.
The new lineup has a lower entry price of $19.99 for the Flash Link, which comes on a wearable clip in Onyx (black), Frost (white), Reef and Coca-Cola Red. The Flash has been reduced to $29.99 and comes with clip and wristband. The Shine has also been reduced to $69.99.
Misfit Shine, Flash, and Flash Link are available now from Misfit's website.