Apple's Campus 2 headquarters to feature visitor center with observation deck, store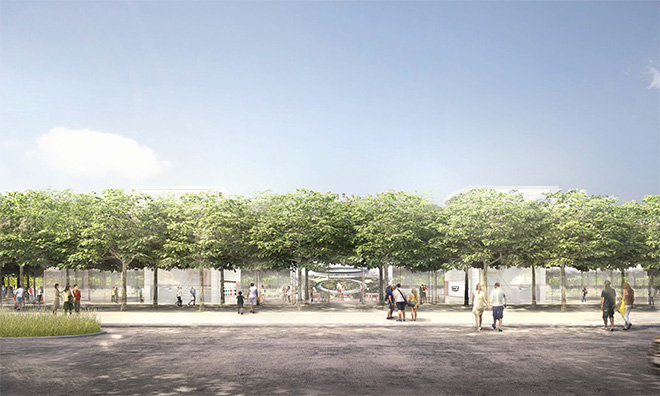 Apple has plans to build a dedicated visitor's center at its upcoming Campus 2 headquarters in Cupertino, Calif., that will offer views of the main "spaceship" building at the heart of the development and retail opportunities, planning documents show.
Spotted by the Silicon Valley Business Journal, plans for Apple's Campus 2 visitor's center describe a free-standing glass-walled structure done up to match the so-called "spaceship" main building.
The two-story center will boast a 2,386-square-foot cafe and 10,114-square-foot store topped by a carbon fiber roof and observation deck situated 23 feet above ground level. Other amenities include stairs, elevators and 684 underground parking spaces. Apple tentatively pegs visitor center hours from 7 a.m. to 7 p.m. on weekdays, and 9 a.m. to 7 p.m. on weekends.
Apple's Campus 2 project has seen its share of setbacks, including budget overruns, contractor shakeups and construction delays. Apple has since taken measures to keep a more watchful eye on development issues as the ring-shaped main structure slowly rises.
The headquarters is slated to hold about 12,000 employees in the main structure, with secondary buildings accommodating research and development, business and other staff offices. Apple expects to move in by late 2016.