Apple's mythical 'iPad Pro' allegedly spotted in iOS app analytics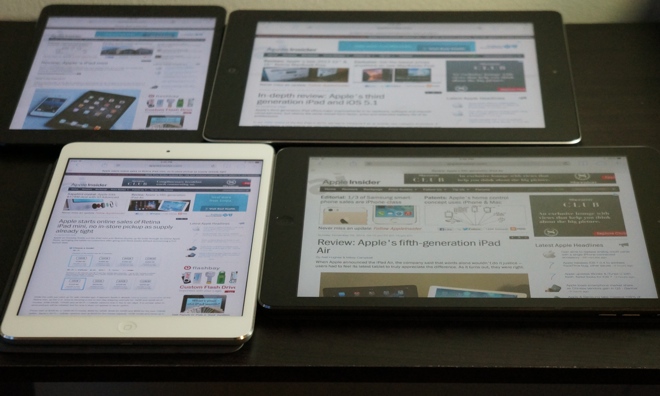 AppleInsider may earn an affiliate commission on purchases made through links on our site.
A new, high-resolution iPad with an as-yet-unseen model identifier has reportedly begun to surface in analytics data from some commercial iOS apps, suggesting that the long-rumored "iPad Pro" may have entered the later stages of testing.
Analytics firm Appsee, which provides tools for developers to collect data on in-app user behavior, said that they spotted a new iPad identified as model "iPad6,8" in their user logs. The iPad Air 2 bears model identifiers "iPad5,3" and "iPad5,4" for Wi-Fi and cellular versions, respectively.
The device Appsee found also sports a larger 2,048-pixel-by-2,732-pixel display, compared to the 2,048-pixel-by-1,536-pixel unit found on the newest iPads. That matches with references found in developer previews of iOS 9 earlier this summer.
The iPad Pro is one of the most oft-rumored Apple devices, with numerous alleged stops and starts in recent years. In July, Apple was said to have begun placing 'cautious' orders for jumbo iPad, with availability expected just before Christmas.
Apple is thought to be planning a special event for Sept. 9 at which the company will likely unveil its next-generation iPhones, though it's unclear whether new iPads will also be shown off. Apple has historically held new iPad events in October, a move it could replicate this year if the iPad Pro is ready for release.