PayAnywhere to launch Apple Pay-compatible card reader at Apple Stores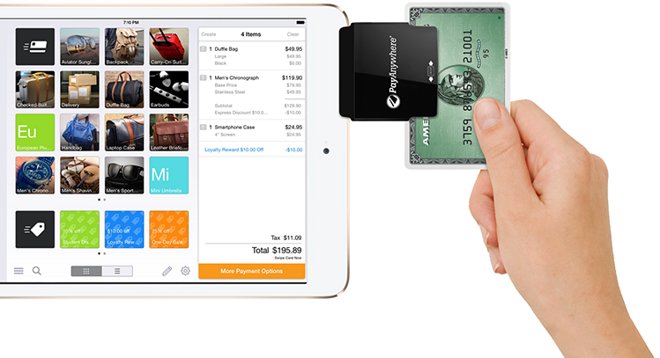 AppleInsider may earn an affiliate commission on purchases made through links on our site.
A company called PayAnywhere is preparing to launch a self-named card reader that could help bring Apple Pay support to small businesses, which have so far mostly foregone the technology.
The reader plugs into the headphone jack of an iPhone or iPad, and supports not just Apple Pay but other unspecified wireless payment systems. It can also process credit cards whether they use a magnetic stripe or EMV chip technology.
PayAnywhere is charging 2.69 percent per transaction, but with no other recurring fees. A vendor's first $5,000 in transactions will come at no cost whatsoever, albeit with a six-month time limit.
The reader itself will cost $40 and be available exclusively from Apple's online and retail stores come September.
Apple Pay has gained hundreds of supporting banks since it first launched in October 2014, but merchant support has expanded much more slowly. The majority of partners are large national and regional chains, and many of them have yet to deliver on promised support. Some examples include Kohl's, Dunkin' Donuts, T-Mobile, and and Marriott.
The main obstacle is likely the need to upgrade payments terminals with NFC compatibility. While many companies are having to upgrade anyway to meet new security standards, the expense and complexity of doing so may be slowing adoption, especially for independents. Small businesses also have a number of established mobile options to turn to, like Square or PayPal.