Tidal accuses Apple of interfering with Drake live stream, Drake denies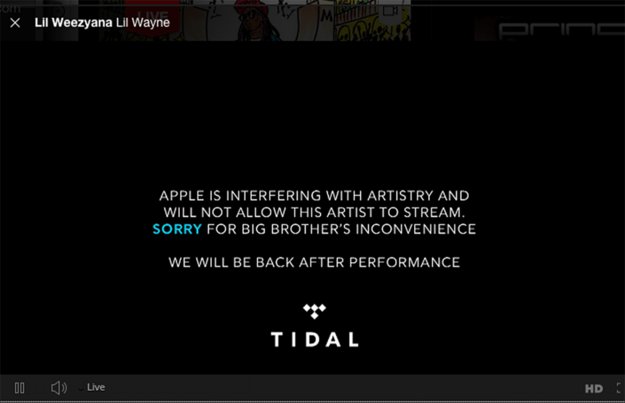 Jay Z-backed music service Tidal — which carried a live stream of Lil Wayne's Hurricane Katrina benefit show this weekend — cut the transmission during Drake's performance and accused Apple of "interfering with artistry" by not allowing the set to be streamed, a charge which has been refuted.
In the midst of the show, Tidal's stream went black with a message that read "Apple is interfering with artistry and will not allow this artist to stream. Sorry for big brother's inconvenience." A follow-up report in the NYP said that Apple had threatened a $20 million lawsuit if Tidal streamed Apple Music endorser Drake's set.
Drake's manager Future denied that claim, telling BuzzFeed News that the move "has nothing to do with Apple or Drake's deal."
"Point blank, 100%. I made a business decision," Future continued. "Apple doesn't have the power to stop us from being part of a live stream. The only people that have the power to do that are Cash Money and Universal, and they're our partners."
Despite Future's protestations — Â and a similar denial from sources at Apple — Â Tidal insists that Apple was behind the decision to pull the stream.
"We have all the email receipts and written correspondence that took place with said, blocked performance," a Tidal spokesperson told BuzzFeed. "That being said we choose to keep it classy."
Apple has not publicly commented.