Rumor: Apple's 21.5-inch iMac with 4K display now in production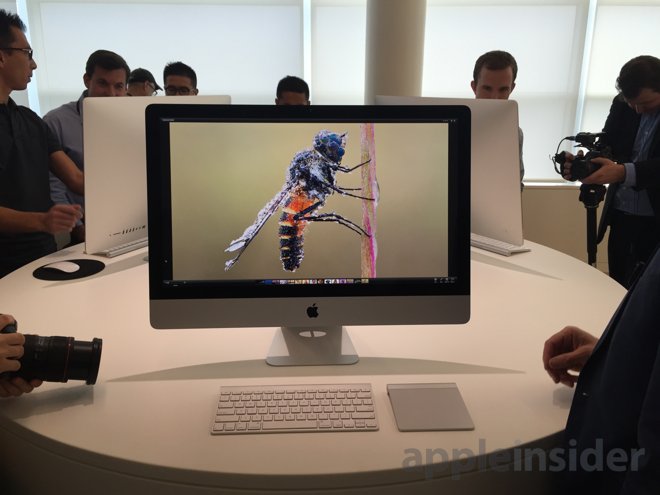 AppleInsider may earn an affiliate commission on purchases made through links on our site.
A rumor out of the Far East on Thursday claims Apple suppliers in Taiwan started producing next-generation 21.5-inch iMacs with 4K Retina displays early this month ahead of a rumored release date in November.
Citing supply chain sources, DigiTimes reports Apple is ramping up manufacturing of the high-resolution all-in-one Mac as it shoots for a launch date sometime in the fourth quarter. While the publication has notoriously spotty track record in accurately predicting Apple's movements, the rumor lines up with recent reports echoing whispers of a near future launch.
The sources go on to say that Apple's forthcoming 21.5-inch iMac will boast a 4,096-by-2,304-pixel screen, more commonly referred to as 4K. Those numbers translate into a pixel density of about 218 pixels per inch, identical to Apple's 27-inch iMac with 5K Retina display that launched last October. Initial shipments are estimated to fall between 1.4 million and 1.5 million units, the people said.
Save for an ultra high-resolution display, Apple's rumored iMac update is being considered a mid-cycle refresh, as the external design remains unchanged from current models. The machine will most likely benefit from boosted computational and graphics performance thanks to Intel's latest Skylake processors.
Apple most recently refreshed its 21.5-inch iMac offerings in June of last year with the introduction of a low-end 1.4GHz model priced at $1,099. The company has yet to officially announce plans for a 4K version of its smaller all-in-one, but code discovered in a recent OS X 10.11 El Capitan beta referred to an unknown iMac model with a 4,096-by-2,304-pixel display.