Apple's newly renovated campus store to sell iPhone and Apple Watch, now open Saturdays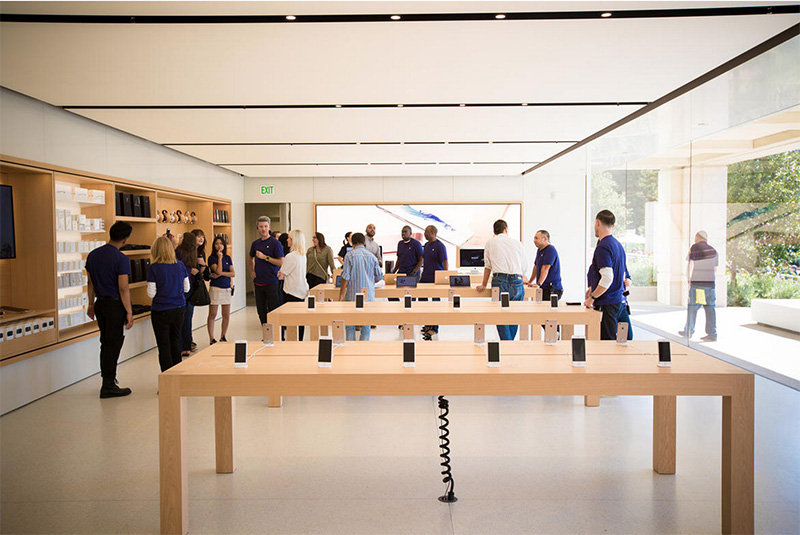 AppleInsider is supported by its audience and may earn commission as an Amazon Associate and affiliate partner on qualifying purchases. These affiliate partnerships do not influence our editorial content.
Apple gave employees a first look at its new campus store on Friday, revealing an interior layout, aesthetic and product offering more in line current Apple Stores, with dashes of upcoming changes envisioned by retail chief Angela Ahrendts and CDO Jony Ive sprinkled throughout.
Unlike the old campus store, which opened its doors some 20 years ago, Apple's newly renovated retail outlet at its Cupertino, Calif., headquarters is more like a "normal" Apple Store, reports CNET. The publication was on hand as Apple CEO Tim Cook invited employees to take a sneak peek at the redesign before the store opens for business tomorrow.
While stocked items now include iPhone and Apple Watch, senior marketing director Enrique Atienza said the campus outlet is not necessarily a blueprint for future Apple Stores, as some have speculated. However, a few flourishes are borrowed from Apple's reimagined retail aesthetic, including specially crafted wood product shelves, backlit accessory nooks and abundant overhead lighting.
Judging by the publication's snapshots of today's grand reopening preview, the campus store shares a number of similarities to Apple's new location in Brussels, Belgium. That store is also set to open on Saturday. Missing from Brussels, however, are oversized wall hangings advertising the latest Apple gear and campus-exclusive merchandise like mugs, t-shirts and accessories.
Along with the original campus retail outlet, Apple has plans to open a consumer-friendly visitor center at its Campus 2 location when construction completes in 2016. Planning documents describe a two-story structure with retail floor space, a cafe and an observation deck with views of the adjacent "spaceship" main building.
Apple's campus store operates Monday through Friday from 10 a.m. to 6 p.m. Pacific, and will for the first time open on Saturday from 10 a.m. to 4 p.m.