Apple upgrades all 27-inch iMacs to 5K Retina displays & Intel Skylake CPUs, starting at $1,799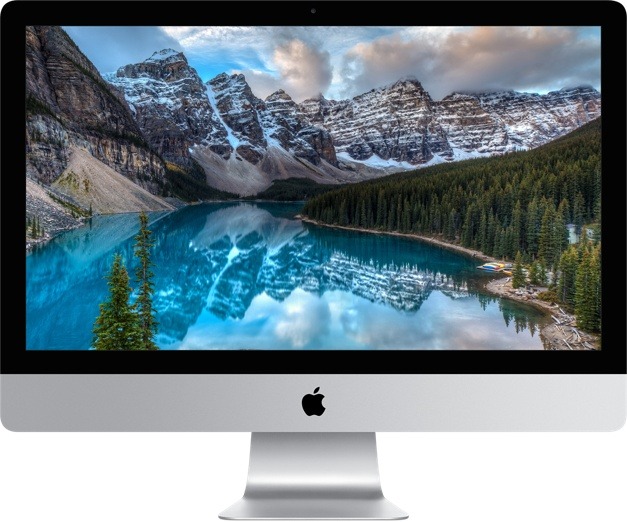 As part of a host of updates to the iMac lineup on Tuesday, Apple upgraded all of its 27-inch iMac models to not only high-resolution 5K Retina displays, but also Intel's latest-generation Skylake processors, priced starting at $1,799.
The base model iMac comes with a 3.2-gigahertz Core i5 processor, 8 gigabytes of RAM, a 1-terabyte hard drive, and an AMD Radeon R9 M380 graphics card with 2 gigabytes of VRAM. For $1,999 buyers can upgrade to a 1 terabyte Fusion Drive, and a Radeon R9 M390 graphics card.
The top-end stock configuration, priced at $2,229, includes a 3.3-gigahertz Core i5, a 2-terabyte Fusion Drive, and Radeon R9 M395 graphics.
In each case though shoppers can customize their order for even better perofrmance. In the case of the top-end model, this includes options like a 4-gigahertz Core i7 processor, up to 32 gigabytes of RAM, and up to 3 terabytes of Fusion Drive space, or 1 terabyte of pure flash storage. For faster graphics, buyers can pick a Radeon R9 M395X card with 4 gigabytes of VRAM.
By default, the systems come with Apple's new Magic Mouse 2 and Magic Keyboard. Alternately users can choose to go with things like a Magic Trackpad 2, and/or older peripherals including a wired Apple Mouse or the Apple Keyboard with Numeric Keypad.
Stock models are shipping as quickly as Oct. 15. Built-to-order configurations will take longer.