Apple activates Quality Program for Retina MacBook Pro screen coating issue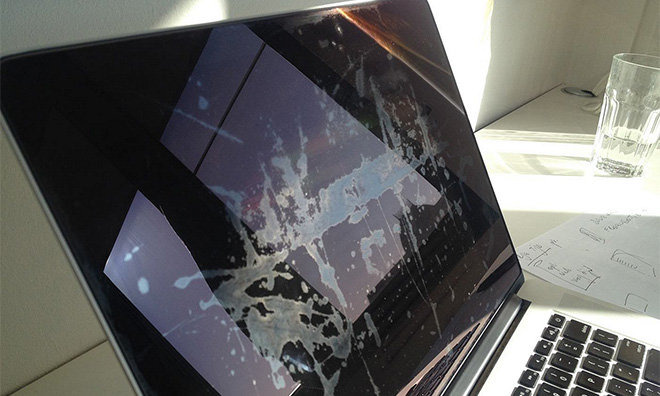 According to a report on Saturday, Apple recently instated a quality program to deal with an issue relating to Retina MacBook Pro antireflective coatings, a problem that some owners claim causes irreparable damage to their laptop screen.
Under the initiative's terms Apple will replace display assemblies on affected Retina display-toting MacBook models free of charge, reports MacRumors. The program, which will not be publicly announced, is effective for one year from Oct. 16, 2015, or within three years of original purchase, whichever offers longer coverage.
AppleInsider confirmed with Apple staff that a repair and replacement program is indeed underway, though exact criteria for screen replacement eligibility could not be verified.
A handful of Retina MacBook Pro owners first reported screen "staining" earlier this year, saying the problem presents itself as splotches, streaks or other surface anomalies. While an exact cause is unknown, some speculate high humidity, over cleaning, faulty coating application and other environmental effects are to blame.
Looking at pictures of damaged screens, it appears as though "staining" often crops up in areas frequently exposed to a user's fingers, though other examples exist where the entire display surface is covered in unsightly blemishes.
It is unclear how many MacBooks are impacted, though webpages like Staingate.org and a related Facebook community have been chronicling the issue for months. A Change.org petition, started eight months ago to grab Apple's attention, is nearly at 5,000 signatures.
Those affected by "staingate" symptoms can take their MacBook in to an Apple retail store or Authorized Service Provider for evaluation. Alternatively, customers can start the process by contacting Apple support via phone, email or chat.
Apple activates repair and replacement programs from time to time when it finds products not performing to company standards, the most recent being an iPhone 6 Plus camera repair initiative in August.