Video: more than half of Apple Campus 2 Spaceship Ring has topped out, just six months after it began rising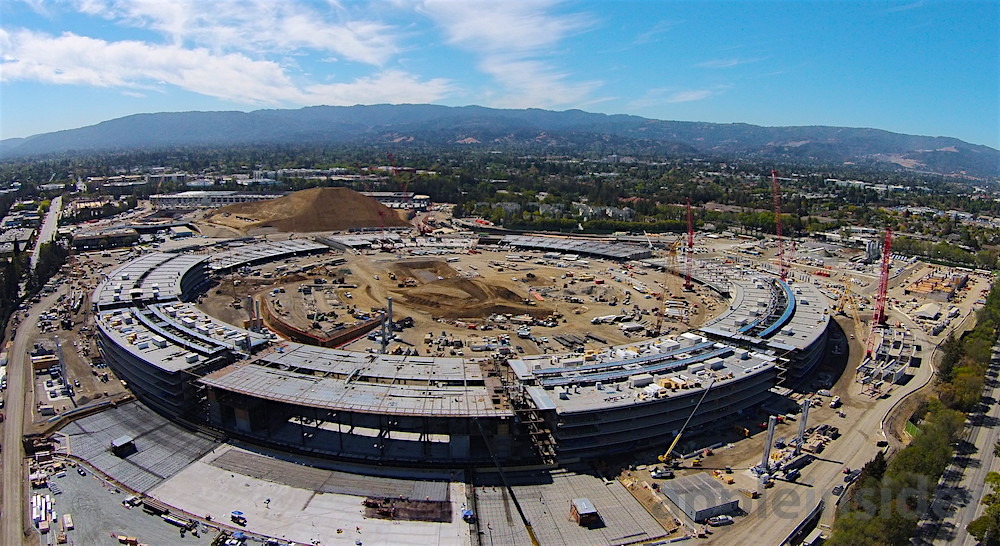 Five of the nine building segments making up the "Spaceship" Ring in Apple's Campus 2 mega-project have reached their ceiling just six months after the initial dining hall structure reached its fifth floor back in March.
Below, an aerial video shows the current state of Apple's Campus 2 Spaceship Ring, compared to the excavated site one year ago and the initial segment completed six months ago.
Rapid progress on the iconic Campus 2 complex has come via an innovative structural design that stacks interlocking concrete void slabs, which "serve as both the ceiling of one floor and support for the raised surface of the floor above," Apple has stated. The Ring's nine building segments of four floors are joined by open hallways that radiate from the center circle, as seen below.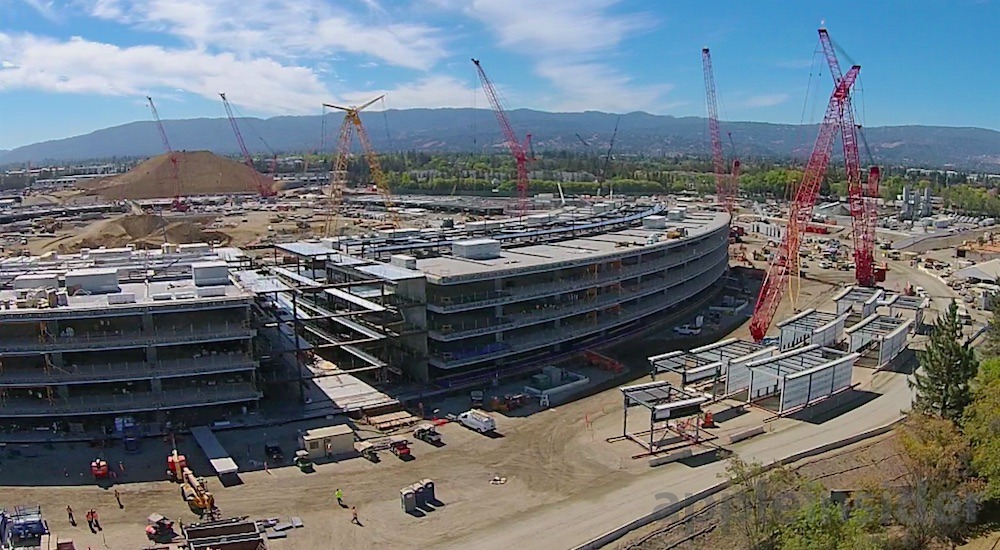 Apple's web site states, "we have approached this [Campus 2 construction] project with the same care and attention to detail we devote to designing any Apple product. We will replace 2.65 million square feet of environmentally and operationally obsolete buildings with a 2.8-million-square-foot iconic, 21st-century research and development campus."
Expected occupation by the end of next year
Granted final approval just two years ago, Apple's Campus 2 project is rapidly moving toward its occupancy goal of 2016.
Apple's cofounder Steve Jobs unveiled the huge project in 2011, noting that the central 2.8-million-square-foot "Spaceship" structure would house at least 12,000 employees, surrounded by bucolic landscaping including orchards of fruit trees and other greenery, featuring open space and walking paths to reclaim most of the 150-acre plot previously covered by asphalt parking lots.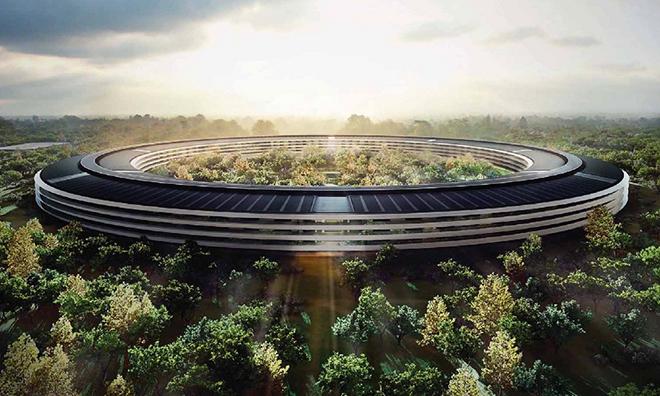 Next to the center of Campus 2, Apple's parallel Phase 2 project is also well underway, adding additional office space, workshops, research and development labs and incorporating a small data center powered by renewable energy.
Note: Readers should be aware that Apple's Campus 2 site is extremely hazardous to photograph using an aerial drone, in part because the site is so large it is nearly impossible to fly over even one quarter of the site within constant visual or radio contact using consumer drone, and in part because the site is partially within an FAA restricted zone because of the nearby San Jose International Airport. There is constant low flying aircraft traffic over the site. We strongly encourage inexperienced aerial drone pilots not to attempt to fly in or around the site.